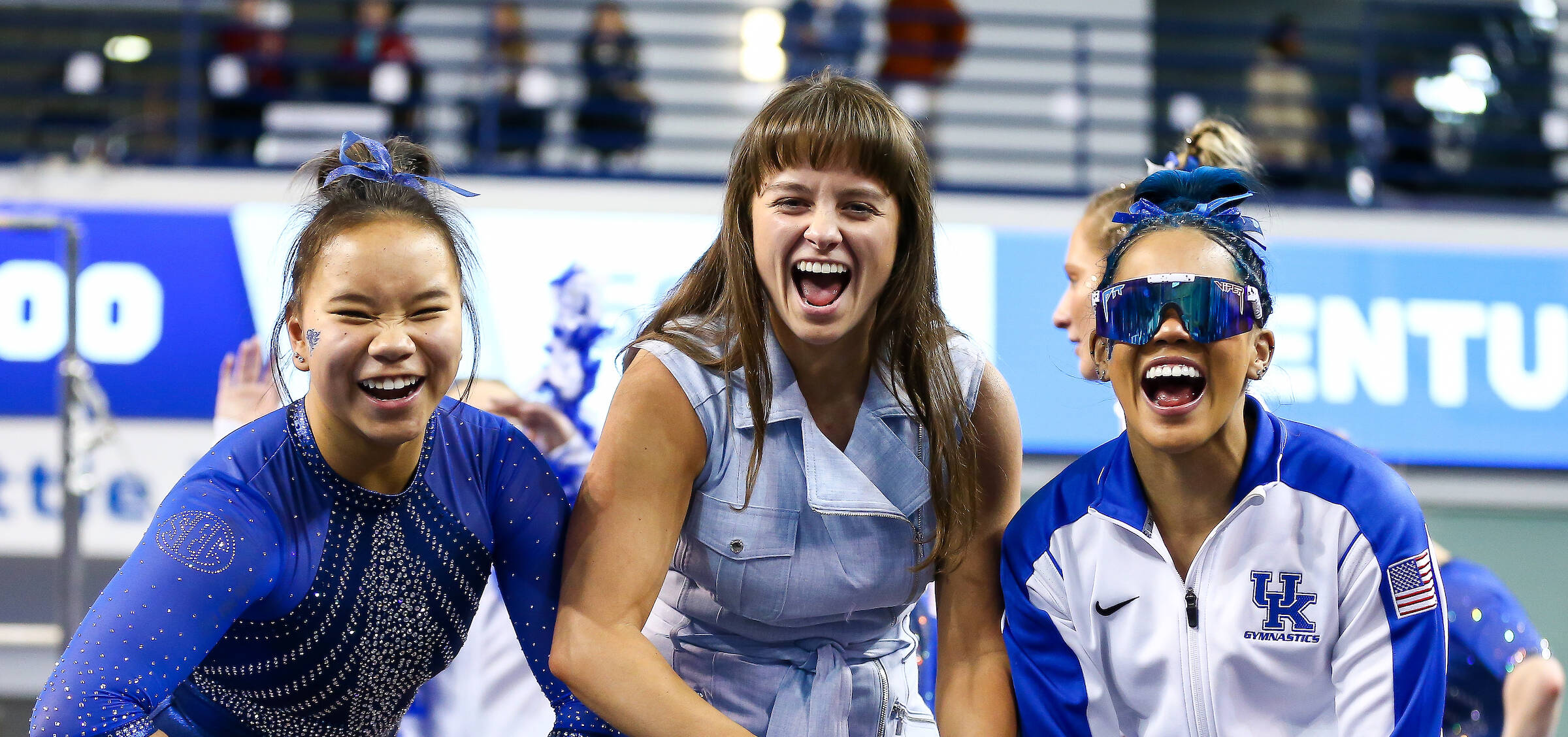 February 9, 2023 - 12:03 PM
Wildcats Return to Memorial Coliseum to Host Eastern Michigan
LEXINGTON, Ky. – No. 10 Kentucky Gymnastics will be back home in Memorial Coliseum on Friday to host Eastern Michigan at 7 p.m. EST.
The Wildcats are coming off their first road win of the season at Missouri, 197.2755- 196.625. For the 16th time in her career, and fourth time this season, senior Raena Worley was the all-around gymnast of the night. Her 39.700 combined score was the highest of the season thus far.
Senior Shealyn Luksik scored the top mark for the Cats on the uneven bars with a 9.900, tying Missouri's Helen Hu for the event title. Junior Bailey Bunn set a new season record with a 9.875. Sophomore Annie Riegert followed suit and set a new career and season high at 9.850 on the apparatus.
Worley had the top mark on vault, the second rotation of the night, with a 9.950 which tied her career best and set a new season high. Senior Ashlyn Laclair set a new all-time high and season best of her own, with a 9.825.
The floor exercise was the third rotation where Worley scored a 9.950 again to receive a first-place finish on the event. Kentucky's highest scoring rotation was the fourth and final – the balance beam. The Cats totaled 49.400 to end the night. Junior Isabella Magnelli notched the top-score of the event, for the second week in a row, with a 9.950, tying Hu. Bunn scored her new personal best for the season with a 9.900 on the apparatus.
Eastern Michigan is looking for its first win of the season, coming off a road loss to conference opponent Central Michigan, 192.050-196.250. The Eagles look to end a five-meet road stretch Friday in Lexington.
The Wildcats and Eagles faced off just once prior to Friday's meet. In the 2017 season opener, Kentucky defeated Eastern Michigan 195.075-192.060 at the George Gervin GameAbove Center.
Single-meet tickets to all Kentucky gymnastics home meets are now on sale through the UK Athletics Ticket Office. UK students may attend meets for free following the presentation of a valid UK Student ID upon entry.
Live stats for the meet  will be available on UKAthletics.com. Big Blue Nation can also stream the meet on SECN+.
For the latest on the Kentucky gymnastics team, follow @UKGymnastics on Twitter, Facebook and Instagram, as well as on the web at UKAthletics.com.