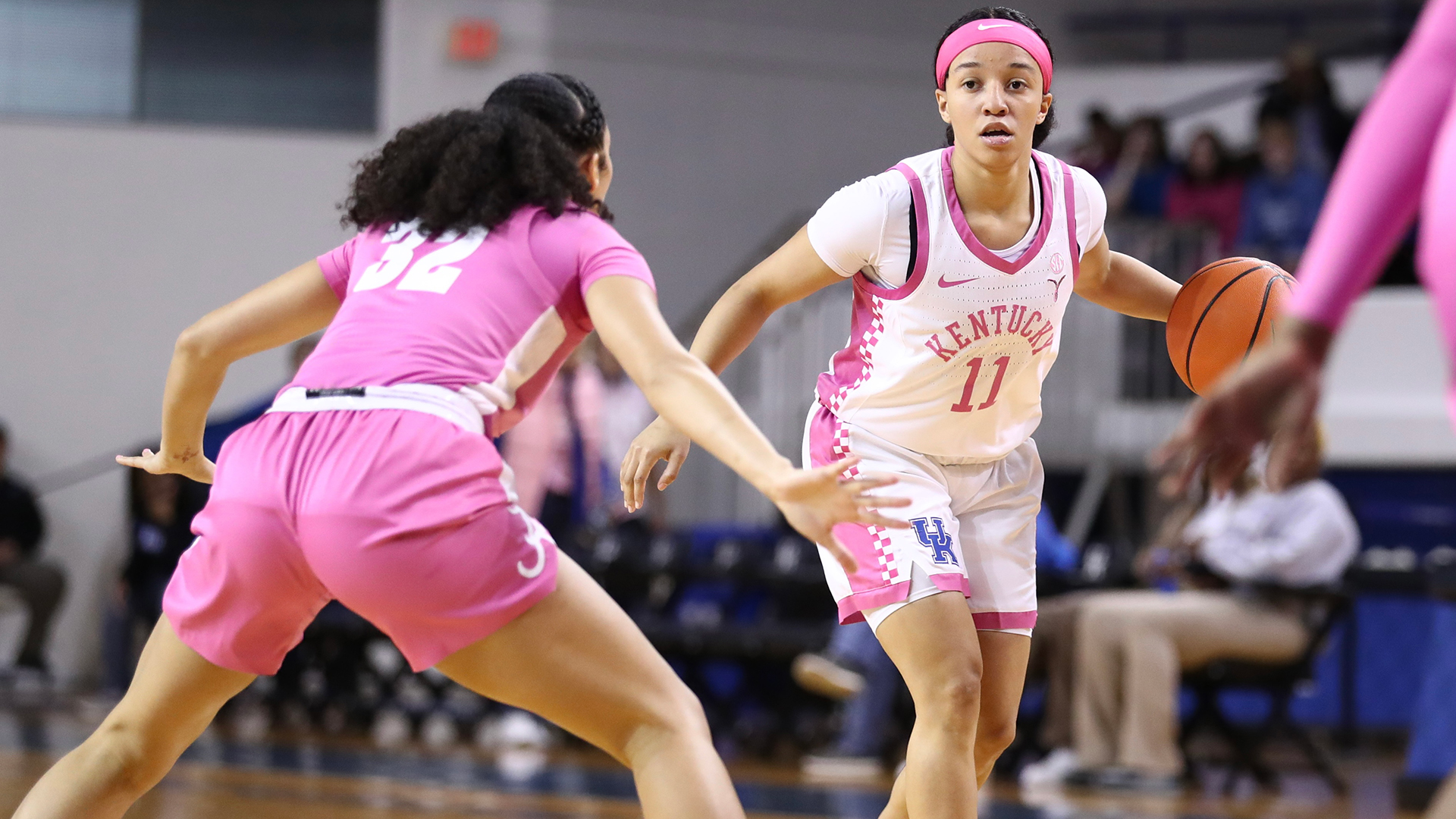 February 9, 2023 - 10:08 PM
Kentucky-Alabama Postgame Quotes
KENTUCKY WBB PLAYER QUOTES
KENTUCKY VS. ALABAMA
MEMORIAL COLISEUM, LEXINGTON, KY
FEB 9, 2023
UK Head Coach Kyra Elzy
On three-point shots run in the second half …
"They're a great three-point shooting team. Obviously, they've shot the ball well all conference season long. We gave them some open threes early that didn't go and then we just gave them way too many open threes. We did not close the gap. Make them put the ball on the floor, 13 for 28, ballgame. You look at the stat sheet across we've either won or tied in most statistical categories but at the end of the day 13 of threes – ballgame."
On having Rhyne Howard back in Memorial Coliseum …
"Great to have Rhyne home, one of the greats that played at Kentucky. The love and support that she has for this program is, you know, amazing. She watches all the games, she sends text to me and the staff nonstop, she has a pride for this program. She loves this program and that's always good. This will always be home. I wish I could have suited her up tonight at halftime. She's like, 'you want me to go in coach?' I was like, yes, sure, yes, we'll take you! She has a pride and love for this program. That's what its all about."
On Eniya Russell contribution to the game …
"I thought tonight she came in, she's practiced well these last couple of weeks and she gave us a big spark. Attacking in transition, made some great passes and that's what we need from her. She's really talented. She has a chance to really make us different from what she brings to the perimeter and right now its just trying to get her to be consistent. I think she's starting to turn the corner which is good to see."
On how she wants to see the team finish … 
"You talk about five games left that's an eternity and, you know, one at a time. That's all you can focus on the next game up is the most important. We're not going to lay down we cannot give up obviously, not where we want to be. But we can control our own destiny in the remaining games and keep fighting keep learning keep growing and going to work and obviously winning is the name of the game and find a way to get over the hump." 
On what she has taken away from the last couple of games and their current performance… 
"You know, I feel like they stepped up to the challenge and really wanted to star in their role. I thought Ade (Adeyeye) gave us a big punch today. Nine boards four for five from the field. That's exactly what we need defensive intensity. Nyah (Leveretter) defensively thought (Ajae) Petty came in tried to do some things of getting on the boards, but we need them and they got to continue to learn and grow but they do make us different. 
On her thoughts on the turn out and support for Play for Kay… 
"I said it on the radio thank you to Big Blue Nation fans for coming out. Obviously, the play for Kay is a very important game as a pioneer Legend of this game with Coach Kay Yow. But this just brings awareness in for us to be able to use our platform for awareness to raise money, whatever the case may be. Every minute a woman is diagnosed with breast cancer, so we have to continue in the fight. As we have young ladies on the floor, you never know who it's going to hit who it's going to impact and for us to be able to make a small bit of change that's very important for us. And thank you to our athletic department and our marketing for doing an amazing job with this game." 
UK Player Quotes
#11, Jada Walker, G
On what happened differently in the second half …
"I don't think it was anything they did. I feel like we just got a little stagnant in the second and third, and then they put a two (and a) three up. And it's nothing we haven't seen before, but I guess we just didn't take the opportunities at shots when we had them and penetrate the caps."
On seeing Rhyne Howard come back …
"She talked to us after practice, and she was just telling us to win—to find a way to win. And to do everything possible to just win…that was really it."
On what the mindset is for the rest of the season …
"I think we were so outcome based. Like worrying about what the outcome will be instead of the process of it all and (how) to have a better outcome."
#25, Adebola Adeyeye, F
On the progress of the post group …
"I just feel like in practice we've been really honing in on rebounding and being together as a group, so I feel like just coming out and doing what we need to help the team, like being aggressive, talking, getting crazy on the boards just helped the team to improve."
On what changed in the second half ….
"We were a little bit stagnant and not as active as we were before, so just realizing that for the next game and going into the game with the mindset of those are the areas we need to improve and get better at."
On the physicality of the game…
"It was tough but inside we were tougher. We didn't really focus on them but we focused on what we needed to do, grabbing the rebound, not feeling if there is people there, and just being relentless. I feel like that's kind of like our otto for bigs, just be relentless. Every SEC game is tough so we just have to know that they're not going to back down and we're not either."