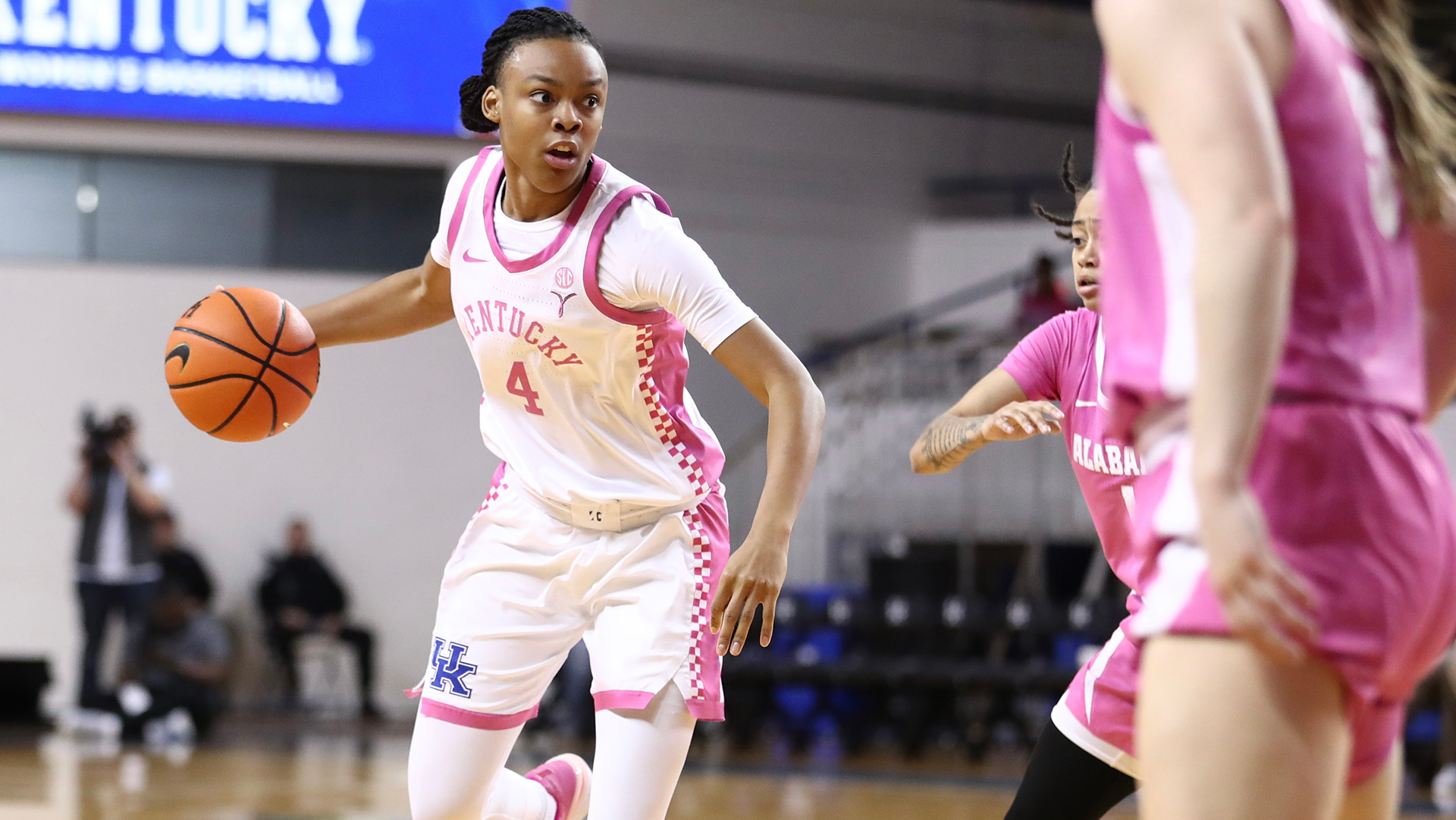 February 9, 2023 - 10:22 PM
Kentucky-Alabama Postgame Notes
WOMEN'S BASKETBALL POSTGAME NOTES
KENTUCKY VS. ALABAMA
THURSDAY, FEB. 9, 2023
MEMORIAL COLISEUM – LEXINGTON, KY.
  
Alabama 72, Kentucky 65 – FINAL 
 
Team Records and Series Notes   
The University of Kentucky women's basketball program is in its 49th season with an

892-582 (.605) all-time record.  

 

 

The Wildcats are now

10-13 overall and 2-9 in the league. 

 

The

Crimson Tide are now 18-6 overall and 7-4 in the league.

 
Kyra Elzy is in her third season as the head coach of the Wildcats, holding a

47-34 overall record.  

 

She has

a 19-23 overall record in the SEC.

 

Kentuc

ky remains the all-time leader against Alabama, 35-18, in a series that began in 1978.

 

UK

leads UA, 16-7, in games played in Lexington.

 
Kentucky will face Ole Miss in Oxford, Mississippi, on Monday, Feb. 13 at 7 p.m. ET on SEC Network.

 
Team Notes   
Kentucky used the starting combinati

on Jada Walker, Maddie Scherr, Robyn Benton, Blair Green and Nyah Leveretter for the 17th game this season. UK is 7-10 using that starting combination.  

 
Alabama

 won the opening tip. 

 

Blair Green

 was the first Kentucky player to score.

 

Adebola Adeyeye

 was the first substitute off the bench for Kentucky for the 14th time this season.

 

Kentucky trailed Alabama

, 15-13, at the first quarter media timeout (3:49).

 

Including one bucket before the

media timeout, Kentucky used the last four minutes and 43 seconds of the first quarter to go on a 9-0 run.

 

That series included a 5-0 run by Jada Walker

 alone on a pair of layups, including an and-one play.

 

Kentucky led Alabama, 20-15, at the end of the first quarter.

 

The Wildcats were shooting 53.3 in the first quarter, holding the Crimson Tide to 31.6 percent from the floor.

 

The second quarter began with a game of runs.

 

The Wildcats

stretched their 9-0 run into a 15-0 run to start the second quarter, which was capped by a coast-to-coast layup from Eniya Russell.

 

Th

at scoring run prompted the Crimson Tide to call a timeout. Out of that timeout the Tide went on a 9-0 run off three straight 3-pointers to get within two points of a tied game.

That scoring run prompted the Wildcats to call a timeout. Out of that timeout, t

he two teams traded buckets the rest of the second quarter, going 7-7 during that timeframe.

 

Ken

tucky led Alabama, 33-31, at halftime.

 

Neither team scored a field goal for the first three minutes and 33 seconds of the third quarter, but

Nyah Leveretter did draw a foul and knocked down a pair of free throws during that stretch.

 

Alabama broke the silence with a layup at

6:27, which turned into a 9-0 run over the next three minutes.

 

Scoring was back-and-forth over the next two minutes (3:22-1:17), until Alabama turned a

3-pointer into a 6-0 run.

 

Kentucky called a timeout with a minute

remaining the third quarter after that run.

 

Out of the timeout, Robyn Benton drained a 3-pointer to get within six points.

 

She got fouled on the Crimson Tide's inbound on the next possession, as the Tide knocked down one of their two shots.

 

Alabama outscored Kentucky, 18-9, in the third quarter, leading UK, 49-42, at the period break.

 

The Crimson Tide scored off a turnover to begin the fourth quart

er. Two possessions later, the Tide scored a 3-pointer to draft a 5-0 run.

 

The two teams would go back-and-forth in scoring over the first five minutes and 39 seconds of the fourth quarter, with neither team going on a r

un larger than two possessions.

 

Kentucky snapped that tit-for-tat with a 5-0 run for themselves, beginning with a layup by Adebola Adeyeye at 4:21 and ending with a free throw by Ma

ddie Scherr at 2:48.

 

Alabama scored on an and-one play, before Kentucky knocked down a free throw and back-to-back 3-pointers to get within six points right under the minute mark.

 

Alabama drew a foul on its very next

possession, going to the free throw line and knocking down two.

 

UA would score seven points off free throws the rest of the game, as Kentucky attempted to gain

possession.

 

Despite both Scherr and Benton scoring 3-pointers during that final 30-second stretch, Kentucky lost to Alabama, 72-65.

 

Kentucky outscored Alabama in pointed off turnovers (16-13), points in the paint (28-16), second-chance points (17-2) and bench points (17-15).

 

The Wildcats also went 10-of-12 at the line, while the Crimson Tide went 13-of-21 at the line.

 

A difference maker in the game was at the arc, as the Cats were 7-of-

21 and the Tide was 13-of-28 from long range.

 

UK and UA tied, 33-33, in rebounds.

 
Player Notes   
Sophomore guard

Jada Walker

 led Kentucky with 15 points.

 

She added four rebounds, two assists, two steals and a block.

 

Walker, who leads the conference in steals, has had at least one steal in 10 straight games

.

 

It is the longest active streak on the team.

 

She has dished out at least two assists in three straight games.

 

Graduate guard

Robyn Benton

 had 14 points, including going 4-of-7 from the arc.

 
She has scored in double digits in all 2

2 games she has played in this season.

 

She made at least one 3-pointer for the 1

7th straight game.

 

She a

lso logged three rebounds, two assists and a steal.

 

Benton has dished out at least one assist in nine straight games.

 
Junior guard

Maddie Scherr

had 11 points.

 

She has now scored at least

10 points in nine straight games.  

 

She added

three rebounds and an assist.

 
Junior

guard

 Eniya Russel

 scored four points to go along with a career-high tying five rebounds.

 

She also added

a career-high tying four assists, a block and a steal.

 

G

raduate forward 

Adebola Adeyeye 

nearly recorded a double-double, logging a season-high nine points and a season-high tying nine rebounds.

 

She also had

 a season-high three blocks and an assist.