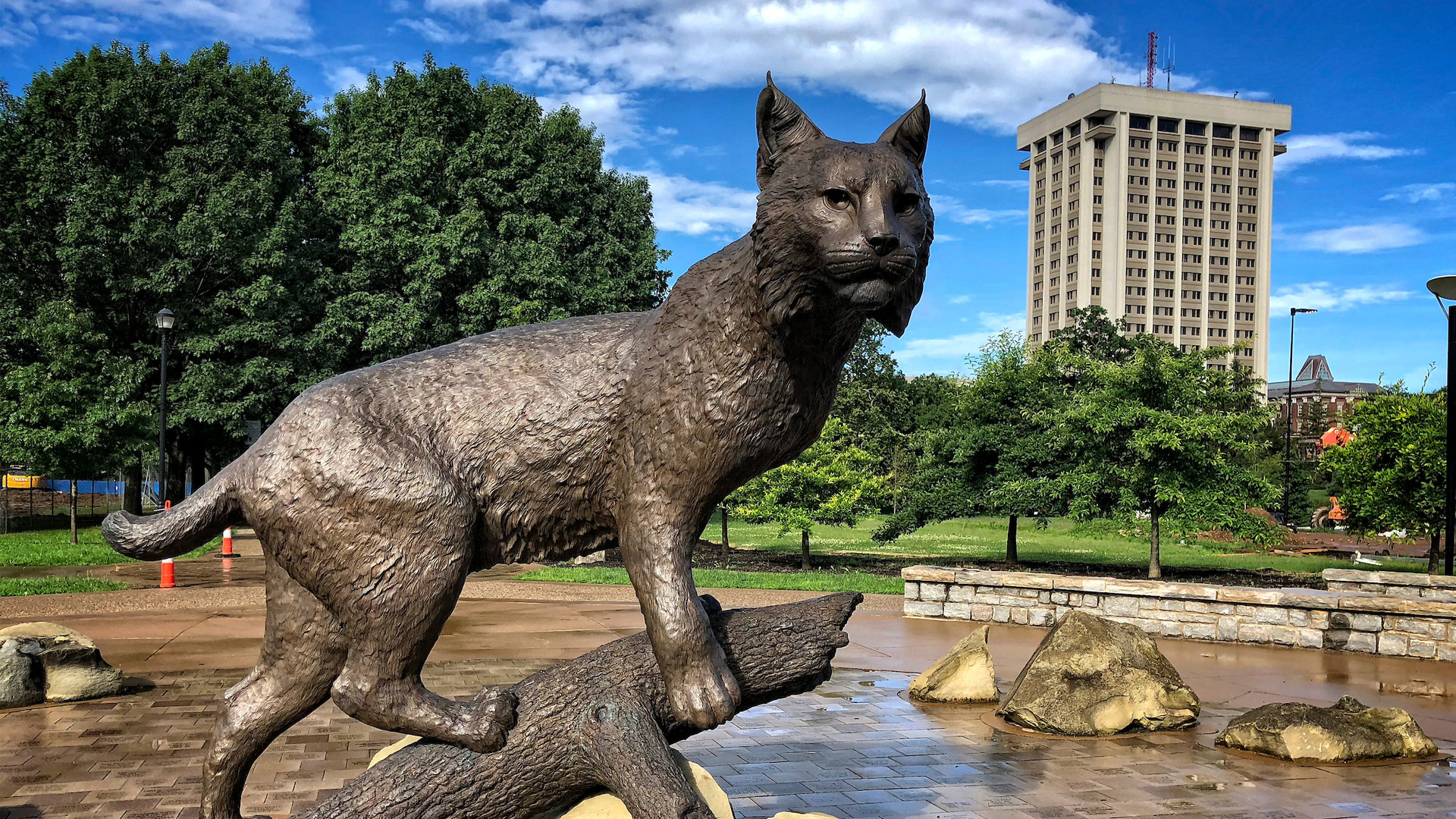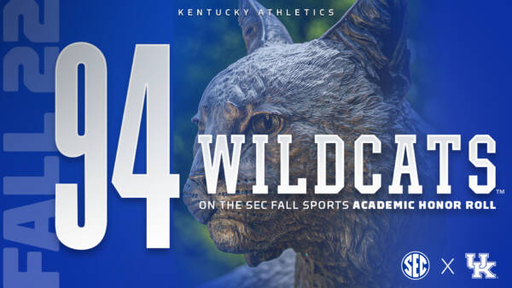 BIRMINGHAM, Ala. – A total of 94 University of Kentucky student-athletes earned a place on the 2022 Fall Southeastern Conference Academic Honor Roll, announced Thursday by SEC Commissioner Greg Sankey. UK had the fourth-highest number of honorees in the league.
The 2022 Fall SEC Academic Honor Roll is based on grades from the 2022 Spring, Summer and Fall terms. UK had 11 representatives from men's cross country, 12 from women's cross country, 34 from football, 15 from men's soccer, 13 from women's soccer and nine from volleyball. Among other qualifications, a student-athlete must have a 3.0 grade-point average for the preceding academic year or a cumulative 3.0 GPA in order to be named to the list.
Earlier this year, UK Athletics announced that the 2022 fall semester was the 21st straight for the department with a 3.0 cumulative grade-point average. Wildcat scholarship student-athletes combined to achieve a GPA of 3.243 in the fall of 2022. In November, UK student-athletes tied the school record in the NCAA's Graduation Success Rate with a mark of 92 percent. UK has broken or tied the GSR school record every year since the NCAA began measuring that statistic in 2005. UK's 92 percent is three points above the Division I national average of 89 percent. Including the 2022 spring and fall commencements, 156 Wildcat student-athletes earned degrees or certifications during the calendar year – 14 of whom were master's degree graduates.
In addition to the academic success, Kentucky teams also had success on the fields and courts of competition in the fall. Men's soccer had a 15-1-5 record, won the Sun Belt regular-season and tournament titles and advanced to the Sweet 16 of the NCAA Tournament. Volleyball went 22-8 and won its sixth-consecutive SEC championship, advancing to the NCAA Tournament Sweet 16. Football went 7-6 and extended its school-record streak of seven straight bowl appearances. Women's cross country finished sixth out of 32 teams at the NCAA Regional and the men were 10th out of 32 teams at the regional. Women's soccer went 7-1-0 in non-conference play, marking its best non-conference record since 2015.
For the latest on the UK Athletics, visit UKathletics.com.
Kentucky – Sport – Major
Dylan Allen – M Cross Country – Finance and Sales
Jake Allen – M Cross Country – Accounting and Finance
Theo Bachmann – M Cross Country – Digital Media and Design
Matthew Duvall – M Cross Country – Marketing
McLean Griffin – M Cross Country – Finance and Management
Alexander Justus – M Cross Country – Pre‐Finance
Ethan Kern – M Cross Country – Finance, Economics and Pre‐Computer Science
Jonah Mitchell – M Cross Country – Kinesiology and Health Promotion
Harper Moore – M Cross Country – Kinesiology
Jackson Watts – M Cross Country – Human Health Sciences
Aaron Withrow – M Cross Country – Finance, Accounting and Financial Planning
Margaret Aydt – W Cross Country – Kinesiology
Perri Bockrath – W Cross Country – Business
Tori Herman – W Cross Country – Finance
Kaylie Kenne – W Cross Country – Human Health Sciences and Clinical Healthcare Management
Mallory Liggett – W Cross Country – Kinesiology and Business
Bryanna Lucas – W Cross Country – Kinesiology and Business
De Anna Martin – W Cross Country – Marketing and Management
Phoebe McCowan – W Cross Country – Human Health Sciences
Natalie Molotky – W Cross Country – Kinesiology
Jenna Schwinghamer – W Cross – Country Kinesiology
Eliza Scoggin – W Cross Country – Marketing
Juliann Williams – W Cross Country – Pre‐Social Work
Samuel Anaele – Football – Communication
Alexander Bascom – Football – Business Administration
Richard Bascom – Football – Business Administration
Brenden Bates – Football – Communication
Isaiah Beasley – Football – Psychology
John Bruner II – Football – Management
Jager Burton – Football – Communication
Izayah Cummings – Football – Management
Cade Degraw – Football – Management
Jordan Dingle – Football – Clinical Leadership and Management
Justice Dingle II – Football – Communication
Jamarius Dinkins – Football – Pre‐Integrated Strategic Communication
Michael Drennen II – Football – Management
Braxton Eiserman – Football – Art Studio
Luke Fulton – Football – Management
Colin Goodfellow – Football – Kinesiology
D'Eryk Jackson – Football – Communication
Will Levis – Football – Finance
Jordan Morrow – Football – Communication
William Nalty II – Football – Kinesiology and Health Promotion
Clay Perry – Football – Management and Marketing
Andru Phillips – Football – Integrated Strategic Communication
Chance Poore III – Football – Finance
Paul Rodriguez – Football – Pre‐Integrated Strategic Communication
Matthew Ruffolo – Football – Finance
Jackson Schulz – Football – Communication
Kaiya Sheron – Football – Communication
Martez Thrower – Football – Health Promotion
Carrington Valentine – Football – Journalism
John Varga Jr. – Football – Finance and Marketing
Jai Williams – Football – Architecture
Quintin Wilson – Football – Kinesiology and Health Promotion
Jordan Wright – Football – Kinesiology
La'vell Wright – Football – Communication
Theodore Asensio – M Soccer – Mechanical Engineering
Eythor Bjoergolfsson – M Soccer – Economics
Benjamin Damge – M Soccer – Finance and Accounting
Andrew Erickson – M Soccer – Marketing and Communication
Daniel Evans – M Soccer – Health Communication
Lucca Franceschini – M Soccer – Kinesiology and Health Promotion
Luis Dennis Grassow – M Soccer – Sociology
Casper Dirch Hagel Grening – M Soccer – Pre‐Management
Nick Gutmann – M Soccer – Kinesiology and Health Promotion
Clay Holstad – M Soccer – Business Administration
Cooper Kieran – M Soccer – Pre‐Marketing
Enzo Mauriz – M Soccer – Management
Robert Screen – M Soccer – Agricultural and Medical Biotechnology
Martin Soereide – M Soccer – Pre‐Finance
Mason Visconti – M Soccer – Kinesiology and Health Promotion
Paige Archbold – W Soccer – Kinesiology
Emily Duncan – W Soccer – Kinesiology
Sara Makoben‐Blessing – W Soccer – Psychology
Tallulah Miller – W Soccer – Pre‐Finance
Emma Nicholson – W Soccer – Kinesiology
Marie Olesen – W Soccer – Environmental and Sustainability Studies
Emilie Rhode – W Soccer – Neruoscience
Jordyn Rhodes – W Soccer – Kinesiology and Health Promotion
Hannah Richardson – W Soccer – Business
Peyton Rimko – W Soccer – Business Administration
Stephanie Stull – W Soccer – Biomedical Engineering
Ulfa Dis Kreye Ulfarsdottir – W Soccer – Mathematical Economics
Anna Young – W Soccer – Kinesiology
Eleanor Beavin – Volleyball – Journalism
Bella Bell – Volleyball – Community and Leadership Development
Maddie Berezowitz – Volleyball – Finance and Management
Elise Goetzinger – Volleyball – Chemistry
Emma Grome – Volleyball – Kinesiology
Erin Lamb – Volleyball – Kinesiology
Reagan Rutherford – Volleyball – Management
Azhani Tealer – Volleyball – Journalism
Riah Walker – Volleyball – Management, Marketing and Sales