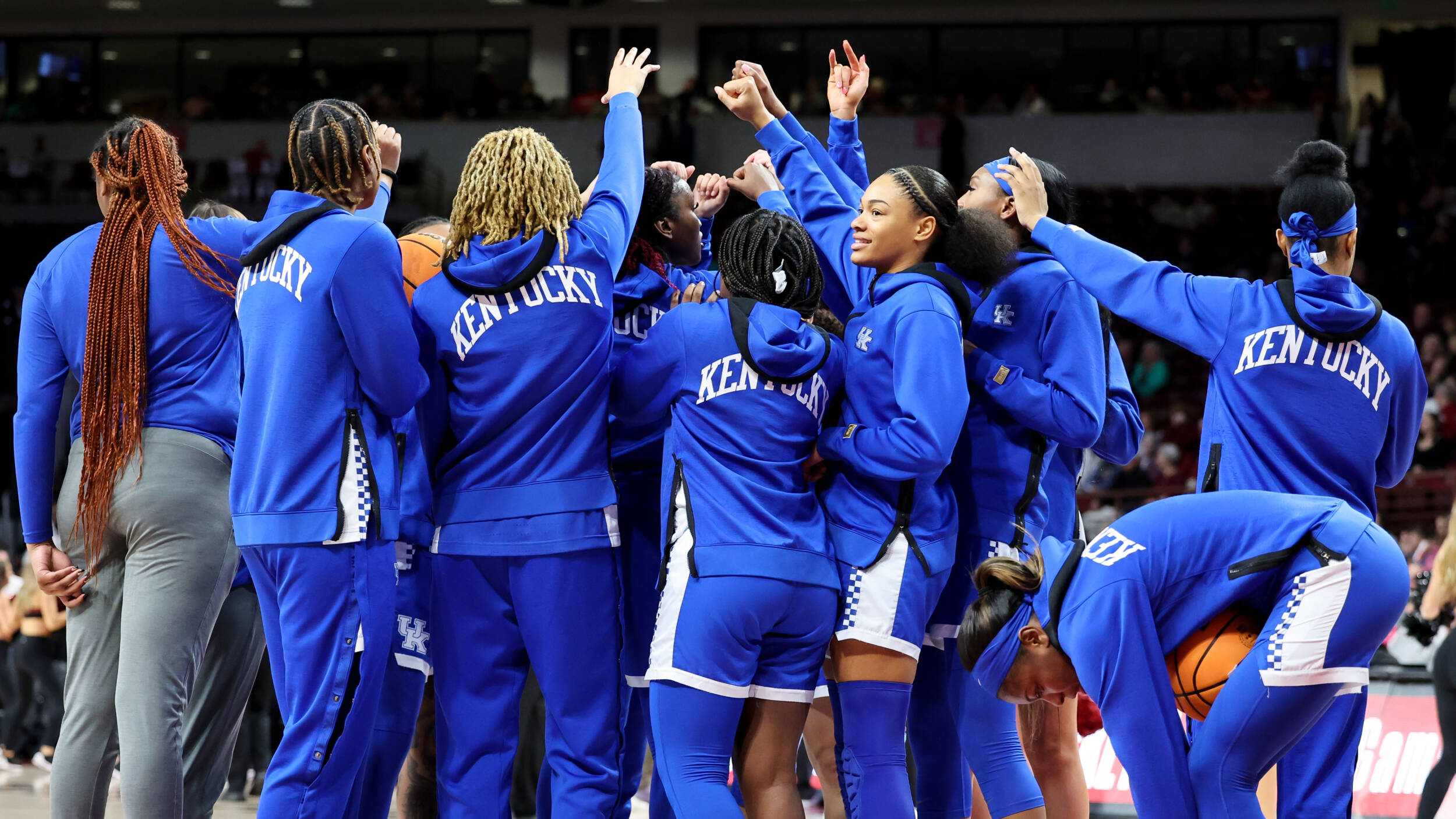 February 8, 2023 - 03:54 PM
Kentucky Plays Host to Alabama on Thursday for Pink Game
LEXINGTON, Ky. – The University of Kentucky women's basketball program will play host to Alabama on Thursday, Feb. 9 at 7 p.m. ET inside Memorial Coliseum. The game, which will mark the program's annual Play4Kay game, will be broadcast on SEC Network+, with Jeff Piecoro and Christi Thomas on the call.
Kentucky has a 10-12 overall record and a 2-8 Southeastern Conference record this season, with Robyn Benton leading the team in scoring with 17.3 points per game overall and 19.0 points per game in conference action. She has scored in double digits in all 21 games that she has played in in 2022-23. Jada Walker is also averaging double-digit scoring with 13.5 points per game on the season. After eight straight games scoring at least 10 points, including two straight 20-plus scoring games, Maddie Scherr is now averaging 10.9 points per game.
The Wildcats are ranked first in the conference and 10th nationally in turnovers forced per game (21.6), while they're also ranked first in the league in turnover margin (4.14) and second in the league in steals per game (10.6). The Cats have outscored their opponents, 495-389, in points off turnovers this season, while more than 32.1 percent of their points scored have been off turnovers. Meanwhile, a trio of Cats are ranked in the league's top five in steals per game, including Walker (1st, 2.45), Scherr (4th, 2.32) and Benton (5th, 2.14).
Scherr is the only player in the conference that has at least 100 assists (105) and 50 steals (51), while ranking first in the league in assists per game (4.8), first in the league and third in the nation in FT% (93.3), second in the league in assists (105) and second in the league in steals (51).
The Wildcats have started to find a groove from behind the arc in conference action. The Cats have knocked down at least six shots from long range in seven of their 10 SEC games. They only accomplished that feat in four of their 12 nonconference games this season.
Darren Headrick will have the call on the UK Sports Network on 630AM WLAP in Lexington for the sixth straight season. Free live audio will be available online at UKathletics.com and live stats will be available online at KentuckyStats.com.
The Kentucky-Alabama Series
Inside The Series
Kentucky leads the all-time meetings with Alabama, 35-17, in a series that began in 1978.

UK leads UA in games played in Lexington, 16-6.

The Wildcats have defeated the Crimson Tide the last 10 straight games, dating back to 2015.

The last time the Cats lost to the Tide was on Jan. 23, 2014, 55-57, in Memorial Coliseum.
The Cats have only lost to the Tide twice since 2006.

Kentucky's largest margin of victory was +27 on Jan. 18, 1983 on the road, 104-77.
Kentucky's largest margin of defeat was -29 on Dec. 20, 1983 at home, 78-49.
Last Time Against Alabama
Former Wildcat Dre'una Edwards scored 24 points off the bench, as Kentucky rallied late to top Alabama, 67-63, on Feb. 13, 2022 at Coleman Coliseum.

Edwards made 10-of-23 shots from the floor, including one of five from behind the arc, and made all three of her free throws in the game. She added seven rebounds, three steals and two assists for the Cats.
All-American Rhyne Howard, playing with her shooting hand taped, scored nine points in the game. She added nine rebounds, three blocked shots, a steal and an assist for the Cats.

Kentucky got 39 points off the bench in the game compared to Alabama's nine. The Cats forced 18 turnovers in the game and converted those into 18 points. Kentucky also held an advantage in second-chance points, 17-8, and fastbreak points, 15-5.
Golden Guards
Kentucky guards Robyn Benton (5th, 19.0), Maddie Scherr (13th, 15.2) and Jada Walker (16th, 13.8) are all in the Southeastern Conference's top 20 in scoring in league action, while UK is the only team in the conference with three players in the top 20.
Meanwhile, those three guards are also in the conference's top five in both FT% and in steals per game.

Free-Throw Percentage

Maddie Scherr (1st, 93.3)
Robyn Benton (3rd, 83.0)
Jada Walker (4th, 82.7)

Steals Per Game

Jada Walker (1st, 2.45)
Maddie Scherr (4th, 2.32)
Robyn Benton (5th, 2.14)