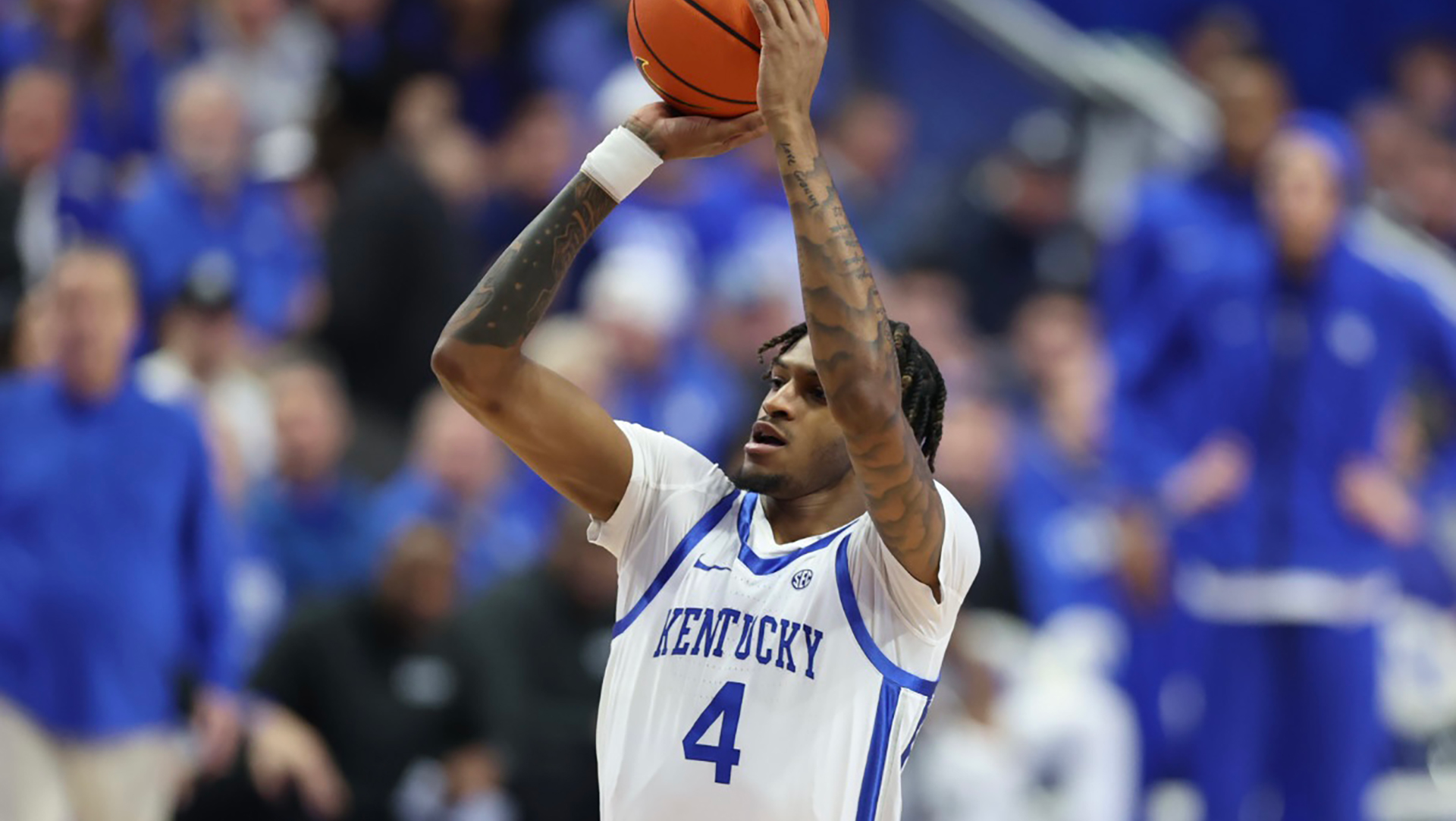 February 8, 2023 - 12:23 AM
Kentucky-Arkansas Postgame Notes
KENTUCKY MEN'S BASKETBALL POSTGAME NOTES
RUPP ARENA AT CENTRAL BANK CENTER | LEXINGTON, KY
FEB. 7, 2023
ATTENDANCE: 19,855
Final Score: Arkansas 88, Kentucky 73
Team Records and Series Notes
Kentucky is now 16-8 overall, 7-4 in the Southeastern Conference, ending a six-game winning streak in conference play.
Arkansas is 17-7 overall, 6-5 in the SEC, and has a five-game win streak in league action.
Kentucky leads the series 33-14 but Arkansas has won the last three meetings.
UK leads 15-5 in games played in Lexington.
Next up: Kentucky embarks on a two-game road swing, beginning Saturday at noon at Georgia in a game that will be televised on ESPN.
Team Notes
Kentucky won the rebounding, 31-26. UK is 16-3 this season when outrebounding the opponent.
Arkansas shot 62.7% for the game, connecting on 32 of 51 shots from the field. The last time UK allowed an opponent to shoot at least 60% from the field was when March 4, 2007, at Florida when the Gators shots 64.0% (32-50).
Arkansas connected on 20 of 24 attempts (83.3%) from the foul line. Kentucky's last six opponents have connected on at least 80% of their free throws, totaling 79 of 89 (88.8%) from the stripe.
Player Notes
Cason Wallace led the Wildcats with 24 points, his second-straight 20-point game and third of the season. It his most points this season against an SEC opponent.

He also led the Cats with five assists and three steals.

Jacob Toppin tallied 11 points and eight rebounds, his seventh-straight game in double-figure scoring.

He paced the Cats in rebounding for the fourth time this season.

Chris Livingston had 13 points, his third double-figure game of the season and first against an SEC opponent. It is one point shy of his season high.
Antonio Reeves came off the bench to tally 11 points, his 18th double-figure game of the season and ninth in the last 10 games.
Daimion Collins came off the bench to post a season-high seven points in only eight minutes of action.

In the last three games, he has totaled 14 points and four rebounds in 15 minutes of playing time.
Coach John Calipari
Calipari is 13-9 vs. Arkansas, including 10-7 at UK.
Calipari has an 826-249 all-time on-court record and is 381-109 in 14 seasons at UK.
UK is 313-61 (83.7%) against unranked competition under Calipari.
Rupp Arena
Kentucky is 645-80 (89.0%) in the 47-year history of Rupp Arena.
Kentucky is 218-20 (91.6%) in Rupp Arena under Calipari.
In the First Half
Kentucky opened with a starting lineup of Cason Wallace, CJ Fredrick, Chris Livingston, Jacob Toppin and Oscar Tshiebwe for the seventh time this season. UK is now 5-2 with this starting lineup.
Antonio Reeves was the first substitute at 14:02.
Tied at 26, Arkansas had a six-point run for the largest lead of the half by either team.
The teams continued to battle back-and-forth and UA took a 42-41 lead at halftime.
Six Wildcats scored at least four points in the half, led by Wallace's 11.
UK is now 2-8 this season when trailing at halftime.
In the Second Half
Kentucky opened the second half with the starting lineup.
Arkansas scored the first basket, then got two steals and breakaway dunks for a 47-40 lead, prompting a UK timeout at 18:39 on the clock.
UA scored 11 points on its first five possessions of the half, stretching the lead to 52-43.
Kentucky got as close as 54-50.
Ahead 64-58, Arkansas added an 8-0 run for a 72-58 lead.
Arkansas' largest lead was 16 points at 78-62.