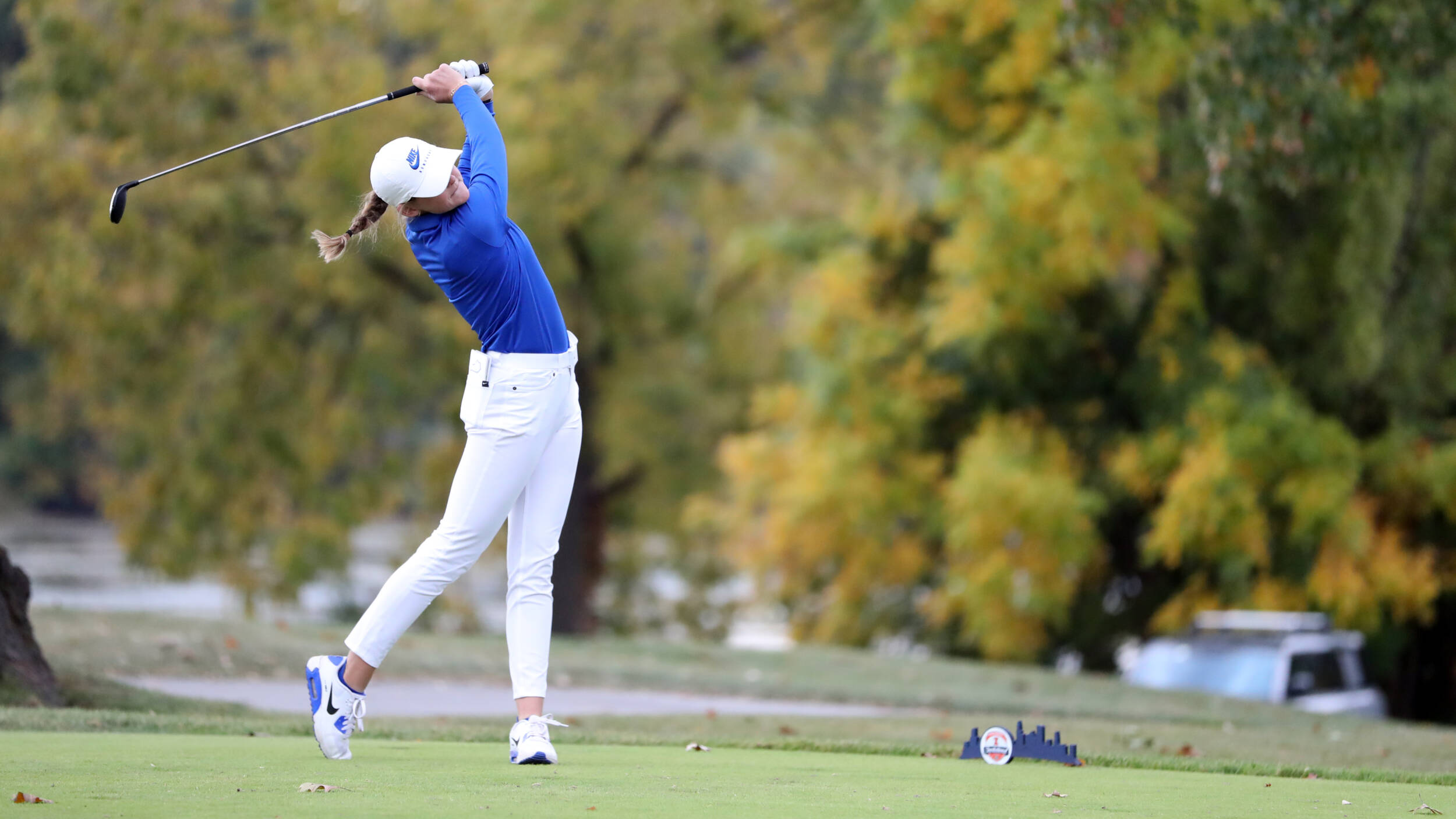 February 7, 2023 - 05:46 PM
Wildcats Record Third-Best Tournament Total in Program History
ORLANDO, Fla. – The University of Kentucky women's golf team improved its position on the team leaderboard after each round this week, concluding the UCF Challenge at Eagle Creek Golf Club in Orlando, Florida, in fifth place with a 20-under-par 844. The final score marked the Wildcats' second-best tournament total through five events this season and the third-best tournament total in program history.
Best 54-Hole Tournament Totals in Program History
1. 2022-23 Illini Women's Invitational 830 -34
2. 2021-22 UCF Challenge 833 -31
3. 2022-23 UCF Challenge 844 -20
The Wildcats remained solid in sixth place all day, before sliding into the fifth place at the conclusion of the third round on a 4-under-par 284 Tuesday. All three of the team's rounds at the UCF Challenge – 283, 277, 284 – are top-five team rounds this season.
Best 18-Holes Team Rounds in 2022-23 (through 15 rounds total)
1. Illini Women's Invitational (1) 275 -13
2. UCF Challenge (2) 277 -11; Illini Women's Invitational (2) 277 -11
3. Illini Women's Invitational (3) 278 -10
4. UCF Challenge (1) 283 -5; Ruth's Chris Tar Heel Invitational (2) 283 -5
5. UCF Challenge (3) 284 -4; Cougar Classic (par 71) (1) 287 +3
Laney Frye paced the lineup all week, stringing together three rounds of 69 for a share of ninth place on a 9-under-par 207. It marked the first time in her collegiate career that she has recorded all three rounds of a tournament in the 60s, while her 9-under-par 207 is tied for her second-best tournament total at Kentucky.
Meanwhile, the junior is riding a streak of nine straight rounds under par. She is two rounds of par-or-better shy from breaking her own school record for most par-or-better rounds in a single season, currently boasting 13 in 2022-23.
Moreover, the Lexington, Kentucky, native has finished in the top 10 in four of her five tournaments in 2022-23.
She now has a 70.1 stroke average on the season (15 rounds / 1,052 strokes).
Neck-and-neck with Frye throughout the UCF Challenge, Ivy Shepherd finished in a tie for 11th place on a season-best, 8-under-par 208. It shattered her previous season best by eight strokes, which she recorded at the Illini Women's Invitational last October (216).
In the final round, the Peachtree City, Georgia, native put up a 2-under-par 70. It was part of a phenomenal spring opener for the graduate, who recorded the top three scores of her season (69, 69, 70) at the UCF Challenge.
Marissa Wenzler, a senior from Dayton, Ohio, recorded just her second tournament total under par in her collegiate career, turning in a 3-under-par 213 for a share of 26th place at the UCF Challenge. That is eight strokes better than her tournament total at the event a season ago, while it marked her second top-30 finish through five tournaments in 2022-23.
It also marked the second time this season and in her career that all three of her rounds in a single tournament were under par.
María Villanueva Aperribay produced a 1-over-par 73 in the final round for a 1-over-par 217 tournament total and a share of 45th place. The senior from San Sebastián, Spain, strung together four straight birdies Tuesday, on hole Nos. 16-1. Marta López Echevarría, a sophomore from Roquetas de Mar, Spain, who made her lineup debut this season, matched her second-round 74 with a third-round 74 Tuesday. She earned a tie for 74th place on a 7-over-par 223, which marks a career best for the underclassman.
The Wildcats will turn right around and compete at Therese Hession Regional Challenge presented by Northrop Grumman at Palos Verdes Golf Club in Palos Verdes, California, from Feb. 12-14. It is the second of five regular-season tournaments for the team.
For the latest on the Kentucky women's golf team, follow the team on Twitter, Facebook, and Instagram, as well as on the web at UKathletics.com.
Scorecard
T9 Laney Frye 69, 69, 69 (-9, 207)
T11 Ivy Shepherd 69, 69, 70 (-8, 208)
T26 Marissa Wenzler 70, 71, 72 (-3, 213)
T45 María Villanueva Aperribay 76, 68, 73 (+1, 217)
T74 Marta López Echevarría 75, 74, 74 (+7, 223)