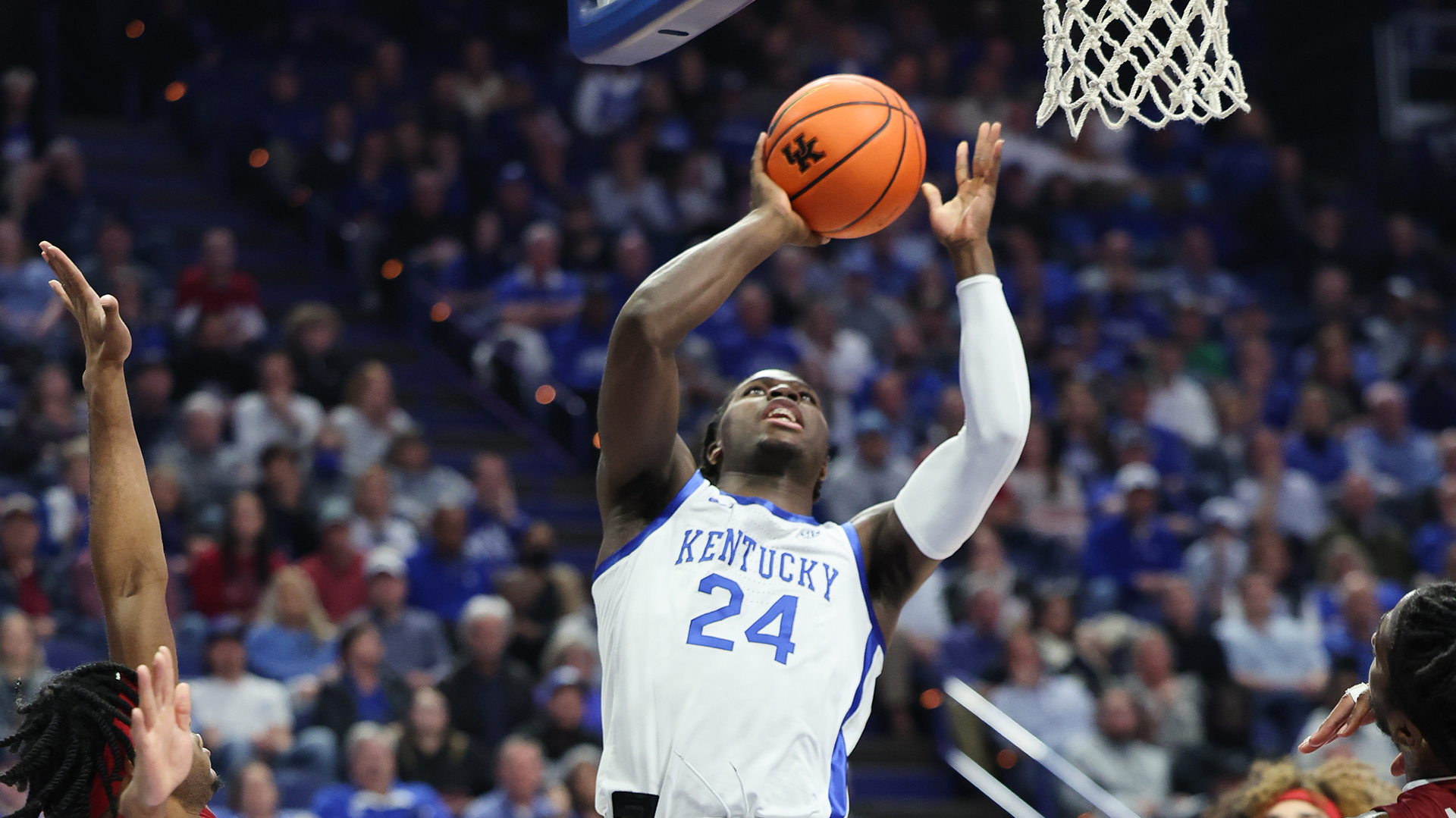 February 7, 2023 - 11:49 PM
Kentucky-Arkansas Postgame Quotes
University of Kentucky Basketball Media Conference
Tuesday, February 7, 2023
Lexington, Kentucky, USA
Coach John Calipari
Press Conference
Arkansas 88, Kentucky 73
JOHN CALIPARI: Give Arkansas credit. They were physical, they drove the ball. Our rim protection was awful. I can't get guys to body up and do this stuff, and they did a great job of bodying up us. The blocks were not like out of — they just jumped with two hands, they bodied up, and if you threw it into their arms, it was a block. We've just got to do it. That's why I went with Daimion (Collins) a little bit. I thought he was good again today.
You could see Sahvir (Wheeler). We had 15 turns. We've been averaging 10, 11 turns, but playing Cason (Wallace) as much as we did, we struggled with it.
But they shot 72 percent in the second half. Come on. You're not going to win a game if they're shooting 72 percent. We tried some zone. We did some different things. We switched. They got downhill, and just no one in there wanted to body up, which is what they did to us. But we'll learn.
They were way better than us today. We've just got to figure it out, and we've got a day off and we'll come back and go.
Yes?
Oscar (Tshiebwe), seven points, seven rebounds, just six shots. What did they do to take away his opportunities in there, and what did you see from him?
JOHN CALIPARI: Well, there was one point I said we're throwing it to him every time, and we were trying to get it into him. I thought he worked at times, and other times they were getting around the post. They trapped him or they just bodied him. I was doing some stuff to let him get some jump shots, to just get him going, and he's got to be better for us, and he will be. He will be.
With Oscar struggling in the second half, the way Daimion played in the first half, why not more Daimion down the stretch?
JOHN CALIPARI: You know, you as a coach, you go with what got you there, and I wanted to — it was a bigger picture for Oscar than just this game. It was like, let's get him going just to get him right.
John, their shooting in the second half, do you think it was more of what they did or what you didn't do?
JOHN CALIPARI: It was both. I mean, they made shots, now. We did all the right things, and all of a sudden they make a shot at the shot clock and it goes down, or a three. They played well, and we weren't defensively — come on, we're a pretty good defensive team. We weren't tonight. We just weren't.
As competitive as the first half was, how surprised were you the way you opened the first minute?
JOHN CALIPARI: I was just so disappointed. Turnover, turnover, dunk, layup. I'm looking around, I've got to call a timeout a minute into the half, and literally like, come on, how did you lose that, how did you not get that ball.
But you know, that's why I said, okay, here we are, let's fight our way back. We did some good things and got it close, seven and six and five, but the game was a physical game. If you weren't ready for that, you were going to get knocked off point.
Coach, you had a career high from Chris Livingston tonight. Most of those came in the first half. What did they do to get him off track of what he was doing there in the first half in the second half?
JOHN CALIPARI: They crowded the court a little bit on him. He missed some shots. He had shots in the second half, and he missed some of them, but he did good. The kid is getting better and better and more confident. He mixes it up, and that's all I can ask.
He's got the reason this happened tonight. He was one of the bright spots.
How do you play around CJ (Fredrick) and kind of get him going and things like that?
JOHN CALIPARI: He had rib problems today. His ribs were bothering him, and the only thing I keep saying is as the ball is coming to you, you've got to have your feet moving so you can catch and shoot it. If you're flatfooted, you're having to ball fake every time. So, we need him to get some of those shots up. But his ribs were — he's another one that probably should not have played, and you could see that he was hurting the whole time, but he was giving everything he had.
FastScripts Transcript by ASAP Sports
KENTUCKY MEN'S BASKETBALL POSTGAME QUOTES
KENTUCKY VS. ARKANSAS
RUPP ARENA – LEXINGTON, KY.
FEBRUARY 7, 2023
UK Student-Athletes
#22, Cason Wallace, G
On what changed in the second half compared to starting strong in the first …
"We just started off pretty slow and had a few turnovers early. That really set the tone for the second half."
On what the three guards from Arkansas brought to the table …
"They're good in the pick-and-roll. They kept getting downhill on us, something we've got to clean up on our own. I give them props on what they did well, but we got to be better in our pick-n-roll in defense."
On how prepared UK was for the physicality of the game …
"I feel like we were pretty prepared. There's not a game that we go into that isn't physical. We've played physical teams before, so it wasn't really anything new."
On if it was disappointing to lose momentum …
"Nah, we're going to learn from this. We're not going to hang our heads on it…we're not going to let this define how the rest of our season goes. I feel like it's going to help us stay more sharp and mentally locked in down the road."
#24, Chris Livingston, F
On today's result…
"It's disappointing. They beat us last year, so we tried to come out here and play with a lot more energy than we have been."
On what went wrong in the second half…
"Defense. You're not going to win a basketball game if the other team is shooting 70-plus percent from the field. I think we had six turnovers at halftime, but we had nine in the second half. There was a lack of fight and a lack of defensive intensity. I've got to be better. I didn't rebound as much as I should. On the defensive end, we gave them second chance points and opportunities. With the lack of fight, I've just got to be better."
On how Arkansas found success…
"I give them credit; they're a really good team. We still had a lot of breakdowns. Ball screen coverage—that kind of got exposed—and like in the Kansas game, our pick and roll coverage was really bad. Arkansas did the same thing. They made three passes then drove it and we weren't really protecting the rim. On the other end, when we drove to the rim, there were consequences. For them, there were too many easy buckets."
#4, Damion Collins, F
On getting his grove now later in the season considering what happened at the beginning….
"Everybody has been there for me. Just with the coaches putting in work in practice and staying ready and staying confident and staying ready for my opportunity."
On BBN giving him standing ovations the past two games…
"It is great, we have some of the best fans in the country. They come every game and cheer us on win or lose. It is just really great."
On what was working well for him the first half…
"It was just executing what coach drew up for me. I couldn't do it without my teammates. They have my back. That's pretty much what was working well."
On what was the most important thing for helping him what he went through…
"Everybody in my life has been there for me, they are all behind me and play a part of me. They all are helping me get back in my groove."
KENTUCKY MEN'S BASKETBALL POSTGAME QUOTES
KENTUCKY VS. ARKANSAS
RUPP ARENA – LEXINGTON, KY.
FEBRUARY 7, 2023
Arkansas Head Coach Eric Musselman
On his overall thoughts on tonight's performance…
"I thought, you know, defensively we got much better in the second half. But, you know, offensively, it's a team that's gaining more confidence. We did a really, really good job moving the basketball tonight and kind of shipped in the defense. But defensively, you know, interior defense was really good. Thought we did a good job on 34, Oscar (Tshiebwe).I thought both Mitchell's gave us great physicality inside and then our guard play to start the second half with Anthony Black his steals we're extremely important. Obviously, we have not been turning people over as much as we would like. But tonight, you know that changed and Kentucky has done a great job of playing with pace and getting out in scoring on the break. And tonight I thought it was it was our best transition offense that we've had all year."
On if he's found something with Jordan (Walsh) coming off the bench…
"Well, I mean, I think we could still change lineups based on opponents and but certainly the last two games you know, Jordan has done a fabulous job for us coming off the bench and given us defensive energy and you know, he's done a good job. The prior game of rebounding the ball tonight I thought he did a really good job of cutting without the basketball and just a great, great win for us and you know, really proud of the team for leading for 33 minutes. That's really hard to do on the road and with the crowd like they had tonight."
On where this game stands on being a well-rounded performance…
"We just know we're playing really good basketball at the right time. I think we're a team that continues to improve. You know, I've seen some great growth defensively the last two games, but some crucial stops at crucial moments in the game. You know, so just really, really proud of how the team has continued to evolve and continue to improve."
On Anthony Black's toughness and resiliency…
"I mean, Anthony's toughness is incredible. And you know, I've talked about I mean, these guys playing through injury and you know, I mean, Makhel (Mitchell) continues to, you know, get rehab every day. On his ankle. Ricky's back got tight again tonight. You know, during a couple of huddles, he had to stand up because sitting down and it got tight. And then obviously, you know, Anthony, whether it's, I mean, he blew his shoe out at one time. He's got three or four, you know, things that are that are kind of bothering him and I just really respect these guys for playing through and then given it up for the team, because there's three guys that are not fully healthy, I can tell you that and we tried to have to manage that in practice as well."
On Mahkel Mitchell playing through injury…
"Mahkel is phenomenal. I mean, when he was in the game that night, we were we were plus 20 You know, five block shots, seven blocks for the team. You know, Seven of Nine from the field. He did an absolutely incredible job of finishing. He hit that one huge, mid-range shot. You know, I thought that you know, the game kind of ended when we melt the shot clock. Devo(Davonte Davis) made a shot with one second to go on a dribble drive and Makhel hit that mid-range shot as the shot clock went off. So we did a great job burning you know, basically a minute off the clock and scored four points, you know, right as far as the shot clock ended, but you know, our locker room is feeling good. I thought the competence level today at shoot around was probably at a at a season high. You know, when we had our film sessions, I thought we had you know, great confidence just a great win for us for sure."

On this team playing their best basketball when they need to (going from no road wins to two in a row the second win being at Rupp) …
"Yeah, I mean, we've talked about it since the summer began that with all the new faces and then obviously with, you know, with two major pieces not having played in a long time, we knew we were going to continue to evolve. I mean, we're not the same team that we were in Hawaii, we're not the same team as we were when we played at Oklahoma, just based on personnel and availability of players. And you know, there's not many teams in the country that could play with these type of injuries that we've dealt with and the quality of the players that have not been able to participate with us and still find a way. This is a resilient group. Again, I'm really proud of them. The huddles were great tonight, there was great communication amongst all five guys that were sitting in the chair. There was good communication by our bench, trying to help the guys that were on the floor. So a really great win and a team that had struggled you know, three games losing, you know, three games by threatening this team's a basket or two away from having a great record."
On Devo's (Davis) leadership and playmaking on both ends of the floor tonight …
"Yeah, I thought all three guards, you know, Anthony (Black), Ricky (Council), and Devo were phenomenal you know, Devo's passing tonight and his seven assists. He's been shooting the ball so well. And I can't tell you from a shot selection standpoint how proud I am of him playing to win tonight because he's been shooting three at a really high level. And he took what the defense gave him you know, he was one of two from three. Sometimes when somebody takes 10 threes and makes four the next game, they come out and they hunt for that shot. So I'm just really proud of his maturity and his game management tonight. He's defending at an incredible level and I thought his basketball decision making was probably the best since I've been around and you know, he played to win the game and he tried to do every possible thing that he could to help us come out of Rupp with the win."
Arkansas Student-Athletes
#4, Davonte (Devo) Davis, G
On what this win does for the team confidence…
"It feels good. Like I said, we had confidence coming in here. I haven't lost to Kentucky yet since I've been playing for Arkansas, so I for sure had some coming in. Just knowing that the last time I played in Rupp with a team two years prior to this year, we came in and won you know what I mean. It was tough, of course it's Kentucky you know what I mean. So a really well-coached program all around, it's a blue blood, so we just wanted to come in here and fight and I think we as a collective group did."
On what he thought of the way the ball was shared tonight…
"We came into the game wanting to attack the pick and roll. We knew that their coverages wasn't that good. Just knowing that Oscar (Tshiebwe) wasn't up to par on the pick-and-roll, so we knew that we wanted to just continue to just attack the goal and feed the bigs running down to the paint."
On shooting so well against Kentucky…
"I think we took care of the ball pretty well. I think we managed our shots the right way, you know what I mean. When it came down to the last few possessions we needed to execute and we did that by either getting a basket or getting to the free throw line. So, I think we as a collective group did pretty well executing I guess you can say.
#0, Anthony Black, G 
On shooting so well…
"I mean we're confident in our team and our offense, we are unselfish like that. I mean I think we can shoot a high percentage like that every game. You know, had a lot of run outs and we just took good shots overall. Even ones that didn't drop, I thought we took pretty good shots."
On Makhel's (Mitchell) defense on Tshiebwe…
"Over the last couple games he's been contributing a lot. I think the biggest thing he did for us was protect the paint. It might've been one of the best players in college basketball, he held him to quiet night compared to what he usually does and what he did last year. So, I think he just did a good job accepting the challenge and playing really hard and just being a dog, playing really hard for us at the five spot."
On the second half defense…
"Going into halftime we kind of knew we messed up a lot of things in the first half. We were still fortunate to have a one-paint lead. Coming out, we just wanted to crank up the defense and just get stops. That kind of led to run out dunks and got us a lot of momentum. We try to come out always with some energy the second half, we did a good job of that today."