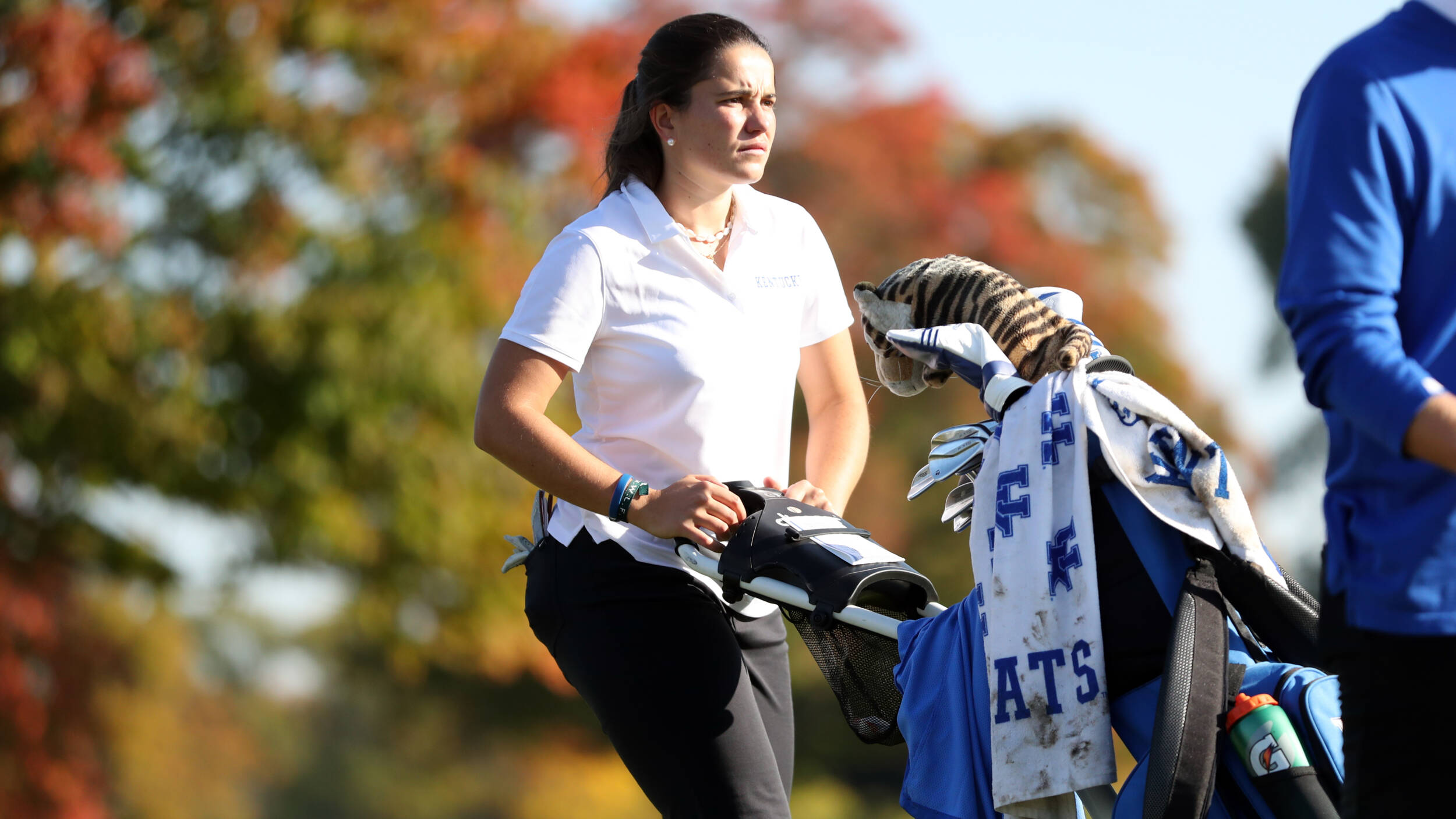 February 6, 2023 - 04:46 PM
Villanueva Aperribay Posts Career-Low 68, Kentucky Improves Two Spots on Team Leaderboard
ORLANDO, Fla. – Four Wildcats produced rounds under par in the second round of the UCF Challenge at Eagle Creek Golf Club in Orlando, Florida, on Monday. That helped the University of Kentucky women's golf team to an 11-under-par 277, jumping a couple of spots on the team leaderboard to sixth place ahead of the final round.
The Wildcats' 277 in the second round tied for the third-best team round in program history, only behind the school-record 275 earned earlier this season and the 276 earned in the first round of the UCF Challenge just last season.
The Wildcats' 277 in the second round tied for the third-best team round in program history. 😮‍💨#KWG pic.twitter.com/9OCVwCS6WG

— Kentucky Women's Golf (@KentuckyWGolf) February 6, 2023
María Villanueva Aperribay improved eight strokes from her first round to her second round, turning in a 4-over 76 Sunday before assembling a 4-under 68 Monday. The senior from San Sebastián, Spain, has recorded a 69 on six instances in her collegiate career but the 68 marks her career low. Villanueva Aperribay's impressive scorecard, which included five birdies, helped her go from a share of 84th place after Sunday, to a share of 39th place after Monday, sitting at even-par 144 through 36 holes.
"I'm very proud of Maria," said head coach Golda Borst. "She stepped up big time for us today. She's a great player, and it's just awesome to see her put a round like that together. Everything looked easy for her and it's great to see a smile on her face."
Maria is -4 through 12 holes!!! 🔥

That gets her back to even on the tournament thus far.

Follow along: https://t.co/Nfqvv1oiRC. pic.twitter.com/ypSN990eqM

— Kentucky Women's Golf (@KentuckyWGolf) February 6, 2023
In fact, all four scores that were counted toward Kentucky's team total in the second round were under par.
"I saw some determined Cats out here today" Borst said. "Yesterday's round was solid, but there's no doubt they all wanted more out of their round individually. They were ready to tee it back up today and they all grinded until the very end, taking advantage of some of the holes on the back nine. It also helped that we played the par 3s a lot better, and we converted more on the par 5s."
Laney Frye and Ivy Shepherd continued their success from the first round Sunday, putting together another set of matching 3-under-par 69 rounds in the second round Monday. The two are both tied for 13th place through 36 holes, sporting 6-under-par 138 tournament totals. The Wildcats are just one stroke from dipping into the top 10.
It marked Frye's eighth straight round under par, and Shepherd's third straight round of par-or-better. Frye, a junior from Lexington, Kentucky, rallied her second eagle of the tournament, doing so on the par-5 No. 16. Shepherd, a graduate transfer from Peachtree City, Georgia, opened up her round with a double on the par-4 No. 1, but rallied 12 pars and five birdies on the rest of the course. Meanwhile, Shepherd's 69 ties yesterday for her season best.
Marissa Wenzler, a senior from Dayton, Ohio, put together a 1-under-par 71 Monday, kicking off the spring season with two straight rounds under par. The Wildcat had an answer for every blemish on her scorecard and then some, recording trio of bogeys but four birdies. She is sitting at tied for 22nd place on a 3-under-par 141.
Improving her round from the first day to the second day, Marta López Echevarría recorded a 2-over-par 74 Sunday. It marks the sophomore's second-best score in her collegiate career, helping her to a 5-over-par tournament total for a share of 79th place ahead of the final round.
The Wildcats are just three strokes shy of the top five and 12 strokes shy of the top three. Northwestern took the top of the leaderboard down the stretch Monday, posting an 18-under-par 270 for a 34-under-par 542 tournament total.
Kentucky will compete in the final round Tuesday, teeing off in a shotgun start at 8:45 a.m. ET.
For the latest on the Kentucky women's golf team, follow the team on Twitter, Facebook, and Instagram, as well as on the web at UKathletics.com.
Scorecard
T13 Laney Frye 69, 69 (-6)
T13 Ivy Shepherd 69, 69 (-6)
T22 Marissa Wenzler 70, 71 (-3)
T39 María Villanueva Aperribay 76, 68 (E)
T79 Marta López Echevarría 75, 74 (+5)