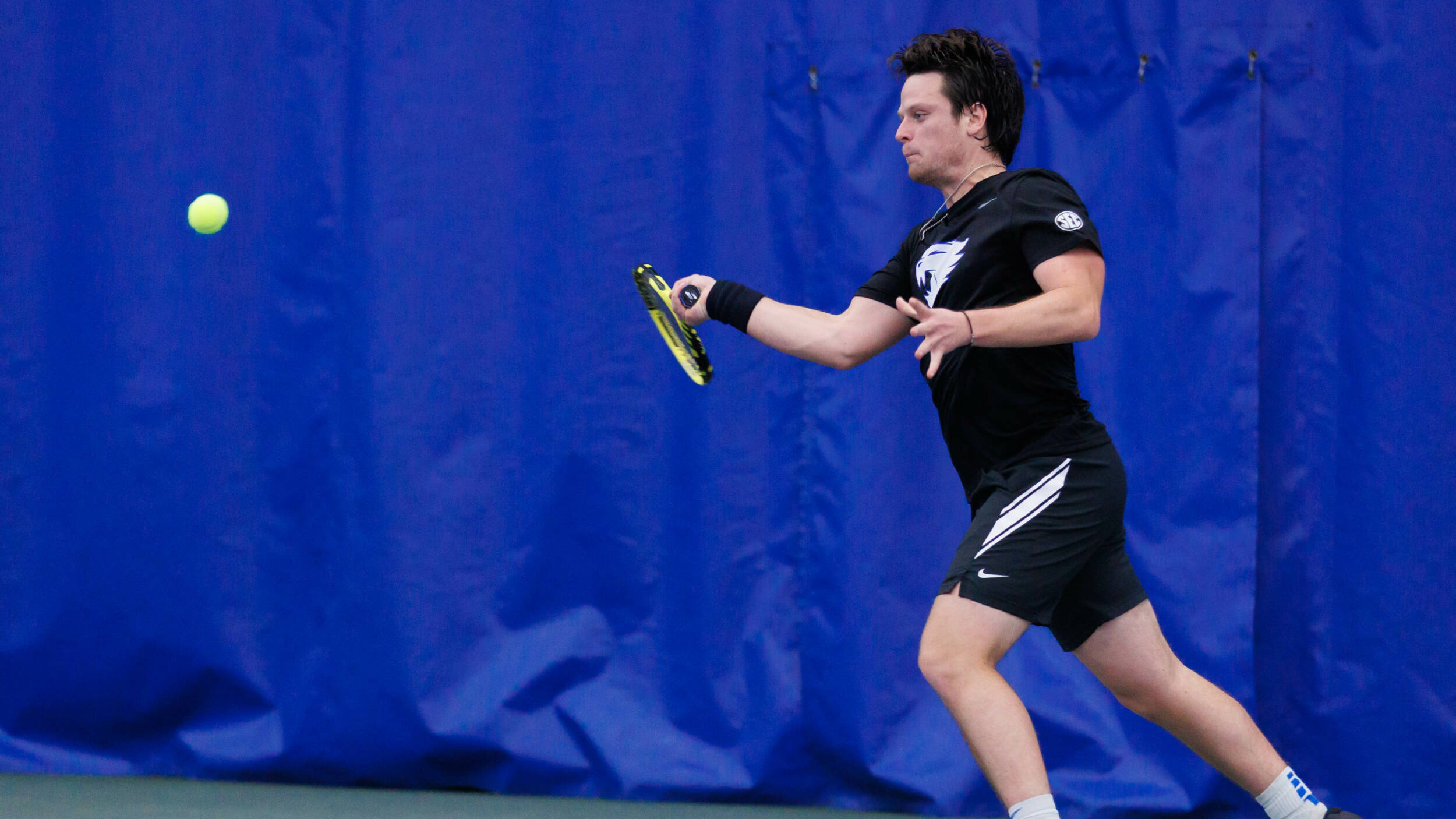 February 5, 2023 - 02:13 PM
Men's Tennis Pushes Record to 8-0 with Sweep of Virginia Tech
BLACKSBURG, Va. – No. 5 Kentucky men's tennis (8-0) completed its first road trip of the spring season with a 7-0 win over Virginia Tech (5-2) on Sunday at the Burrows-Burleson Tennis Center.
The win rounds out a successful weekend for the Wildcats, which also saw them defeat No. 1 ranked Virginia on Friday.
Kentucky began the day by taking the doubles' point for the seventh time in eight matches this season. Second doubles pair Alexandre LeBlanc and Jaden Weekes cruised to a 6-2 result on court two, while Joshua Lapadat and JJ Mercer remained unbeaten on the year with a 6-4 victory at third doubles.
The Wildcats continued to dominate in singles, taking the first set on all six courts. Taha Baadi, who was the final match on court versus Virginia on Friday, was the first to complete his match this time around, breezing past the Hokies' Manuel Goncalves at third singles, 6-2, 6-3. Weekes kept his singles' record unblemished with a commanding 6-1, 6-3 triumph at four singles, before Lapadat earned the clinching fourth point with a 7-5, 6-1 win over No. 121 Alvaro Ariza on court two.
The two teams elected to play out the remaining matches, which would all finish in UK's favor. Alafia Ayeni picked up an impressive straight-set victory over No. 32 Ryan Fishback at first singles, while Kentucky's sixth singles, JJ Mercer, battled to a 7-6 (1), 6-3 win of his own. In the final match remaining on court, UK freshman Charlelie Cosnet emerged victorious in a third set tiebreaker, 6-3, 3-6, 7-6 (5), completing the sweep for the Cats. The win marks the fourth time this season in which Kentucky has held its opponent without a point.
The Wildcats will be back in action this Friday (Feb. 10) to take on rival Louisville on the road. The match will begin at 5 p.m. at the Bass-Rudd Tennis Center.
Results
Doubles
Court 1: No. 13 Chrysostom/Fishback (VT) vs. Ayeni/Draxl (UK) – 5-1 (unfinished)
Court 2: LeBlanc/Weekes (UK) def. Ariza/Sculley (VT) – 6-2
Court 3: Lapadat/Mercer (UK) def. Orso/Harper (VT) – 6-4
Order of finish: 2, 3, 1
Singles
Court 1: Alafia Ayeni (UK) def. No. 32 Ryan Fishback (VT) def.– 6-4, 7-6(4)
Court 2: No. 14 Joshua Lapadat (UK) def. No. 121 Alvaro Ariza – 7-5, 6-1
Court 3: No. 108 Taha Baadi (UK) def. Manuel Goncalves (VT) – 6-2, 6-3
Court 4: Jaden Weekes (UK) def. Hugo Maia (VT) – 6-1, 6-3
Court 5: Charlelie Cosnet (UK) def. Michael Shepheard (VT) – 6-3, 3-6, 7-6 (5)
Court 6: JJ Mercer (UK) def. Alberto Orso (VT) – 7-6 (1), 6-3
Order of finish: 3, 4, 2, 1, 6, 5
For the latest on UK Men's Tennis, follow the Wildcats on Twitter and Instagram at @UKMensTennis.