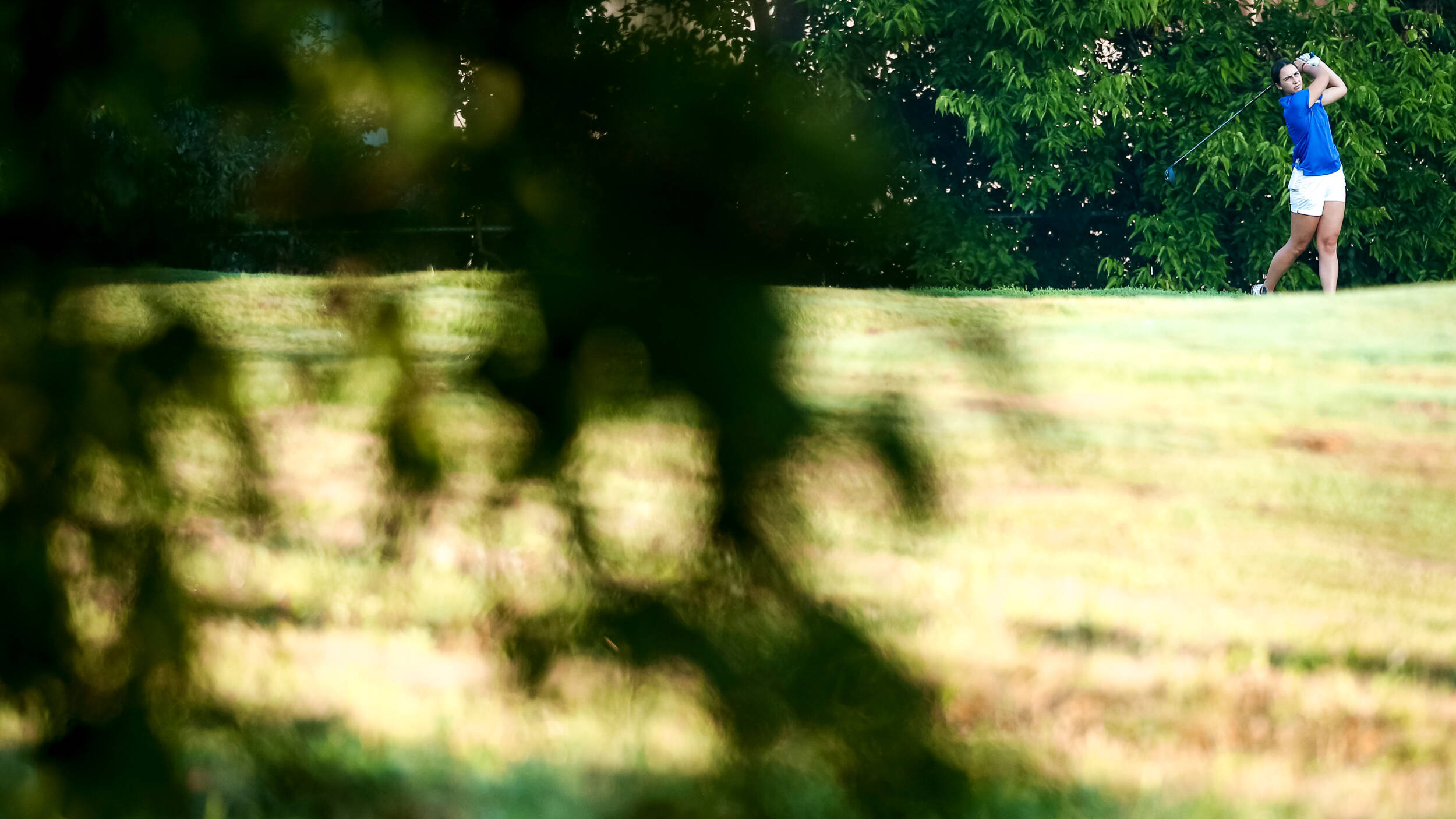 February 4, 2023 - 08:00 AM
Kentucky Women's Golf Begins Spring Season, Competes at UCF Challenge
ORLANDO, Fla. – The University of Kentucky women's golf team will make its spring debut at the UCF Challenge at Eagle Creek Golf Club in Orlando, Florida, from Feb. 5-7. Eighteen teams will compete on the par-72, 6,397-yard course throughout the 54-hole, stroke-play tournament.
The Wildcats will tee off the first hole Sunday beginning at 10:08 a.m. ET, paired with Michigan State and Northwestern.
The field includes five teams ranked in the Golfstat Top 25, including No. 2 Wake Forest, No. 7 Texas A&M, No. 11 Mississippi State, No. 20 Kent State and No. 23 Iowa State. The College of Charleston, Kansas, Miami, Michigan State, Northwestern, North Florida, North Texas, Old Dominion, Penn State, UCF, UNCW and Virginia Tech make up the rest of the field.
So close. 🙏 pic.twitter.com/BJk1PdAsDD

— Kentucky Women's Golf (@KentuckyWGolf) January 31, 2023
Kentucky had a lot of success at this tournament a year ago, finishing runner-up out of 18 teams. UK strung together some of the best rounds in program laurels – 276, 279 and 278 – to produce a then-school-record, 31-under-par 833. At the time, all three of those scores were in the top-five, all-time lowest team rounds in school history, including the record-setting, 12-under-par 276 assembled in the first round.
Moreover, Jensen Castle, then a junior, produced rounds of 66, 69 and 66 to record the best scorecard of her career at 15-under-par 201 for second place at the tournament last season.
Kentucky will use the lineup Laney Frye, Marissa Wenzler, María Villanueva Aperribay, Ivy Shepherd and Marta López Echevarría. The fivesome averaged a 73.4 scoring average in the fall, with four out of the five players competing in all 12 rounds except for López Echevarría. The UCF Challenge will mark the sophomore's second lineup appearance of her career, and her first this season.
Frye, a Lexington, Kentucky, native is nearly pacing the team on a 70.4 scoring average though 12 rounds last fall. She recorded a par-or-better round in 10 of her 12 rounds, while recording the three best tournament totals of her collegiate career (206 (-10), 207 (-6) and 210 (-6)). Those tournament totals helped her earn a trio of finishes inside the top 10.
Improving more than an entire stroke from Fall 2021 to Fall 2022, Wenzler is boasting a 73.4 scoring average through 12 rounds to begin the season. She had a career outing at the Illini Women's Invitational on Oct. 10 and 11, assembling a 68, 69 and 71 for an 8-under-par 208 and a share of 11th place. Those rounds were three of the top four round in her career, including her personal-best 68.
Senior Villanueva Aperribay (73.5), graduate transfer Shepherd (74.0) and sophomore López Echevarría (76.0) round out the lineup.
The Wildcats are coming off two straight tournament titles to conclude the fall season, topping the 15-team field at the Illini Women's Invitational on a school-record, 34-under-par 830 before winning the Ruth's Chris Tar Heel Invitational with a 4-under-par 860. The Cats, who have reset the team scoring average every season for the last six seasons, are averaging a 286.0 per round, which is on pace to break the school record again.
For six straight years, we have improved our team scoring average… history in the making. 😮‍💨#KWG pic.twitter.com/f7fXk4UyUe

— Kentucky Women's Golf (@KentuckyWGolf) January 24, 2023
Kentucky can expect a chance of showers Sunday, but mostly sunny skies and warm temperatures in the mid-to-upper 70s Monday and Tuesday at Eagle Creek.
For the latest on the Kentucky women's golf team, follow the team on Twitter, Facebook, and Instagram, as well as on the web at UKathletics.com.