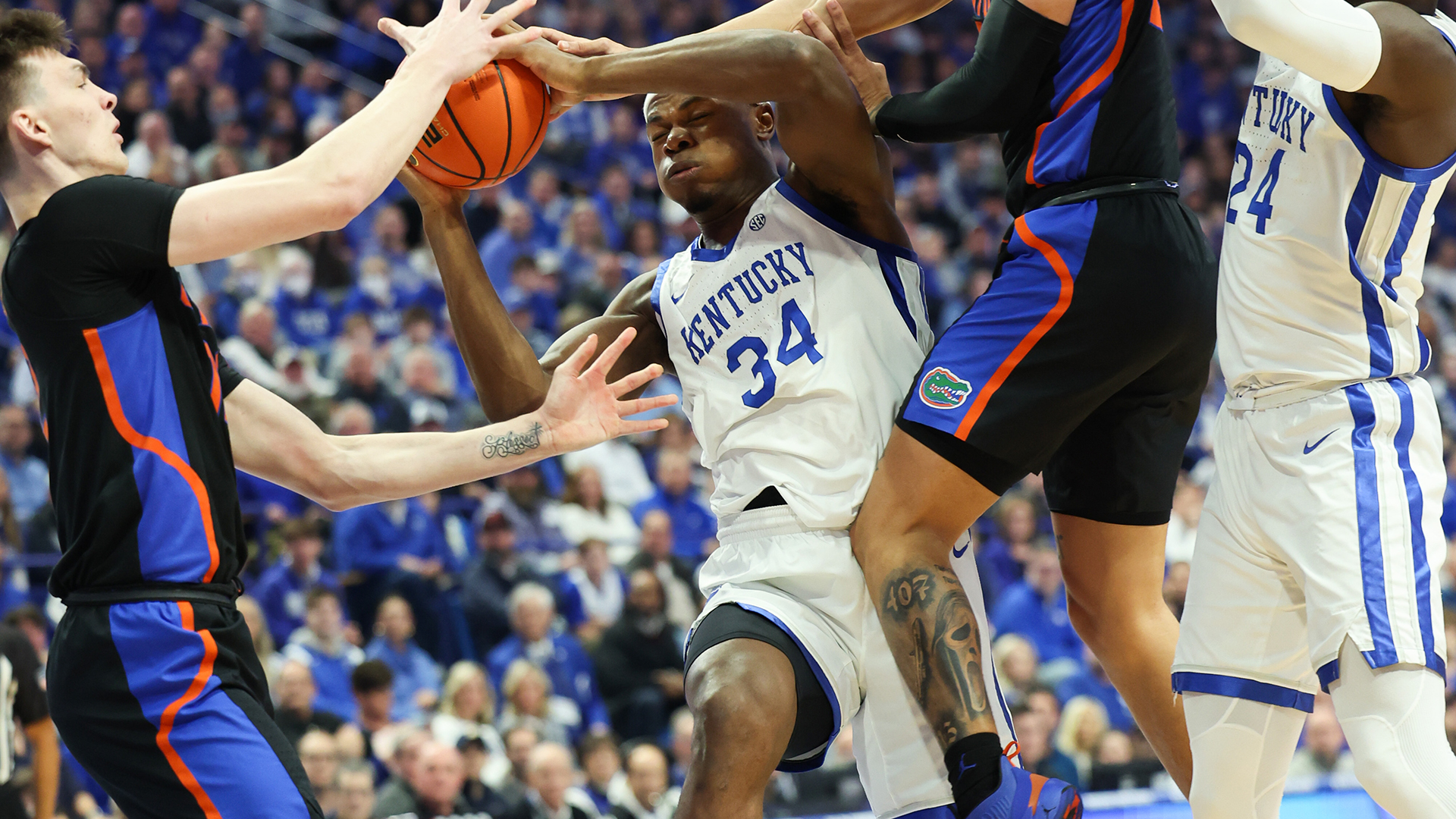 February 4, 2023 - 11:57 PM
Kentucky-Florida Postgame Notes
KENTUCKY MEN'S BASKETBALL POSTGAME NOTES
RUPP ARENA AT CENTRAL BANK CENTER | LEXINGTON, KY
FEB. 4, 2023
ATTENDANCE: 20,315
Final Score: Kentucky 72, Florida 67
Team Records and Series Notes
Kentucky is now 16-7 overall, 7-3 in the Southeastern Conference, and has a six-game winning streak in conference play.
Florida is 13-10 overall, 6-4 in league action, and ended a three-game SEC streak tonight.
Kentucky leads the series 105-41 and has won three in a row.
UK leads the series 55-11 in games played in Lexington.
Next for UK: on Tuesday, the Wildcats play host to Arkansas at 9 p.m. The game will be televised on ESPN.
Mike Pratt Jersey Retirement
At halftime, the late Mike Pratt became the 45th jersey retired in the rafters of Rupp Arena.
Pratt's radio broadcast partner, Tom Leach, was the master of ceremonies for the event. Also speaking were Pratt's widow, Marcia, and Dan Issel, Pratt's teammate and the leading scorer in Kentucky men's basketball history.
Kentucky has never lost a game when a jersey has been retired.
Team Notes
Kentucky scored the game's first five points and never trailed in the game, but the Wildcats didn't put it away until the final seconds.
Kentucky's six-game SEC win streak is the longest since an eight-game league skein in 2020.
Kentucky has allowed 71 points or fewer in seven consecutive SEC regular-season games for the first time since the 2014-15 team did it 12 games in a row.
Kentucky led by as many as 14 points and the Wildcats are 323-13 (96.1%) under Calipari when leading the opponent by at least 10 points at any time during the game.
Player Notes
Cason Wallace led the Wildcats with 20 points, most this season against an SEC opponent. He scored 10 of UK's final 16 points, including both ends of a 1-and-1 with 13 seconds left that iced the verdict.

He also had a career-high three blocked shots.

Jacob Toppin tallied 17 points and 10 rebounds, his fifth double-double of the season. It's also his sixth-straight game in double-figure scoring.
CJ Fredrick tallied 12 points, making 3 of 6 from long range.

It was his sixth game this season with at least three 3-pointers.
He has 10 double-figure scoring games this season, four of which have come in the current six-game SEC win streak.

Oscar Tshiebwe had a tough night shooting with only four points, but he didn't let that affect his boardwork as he amassed a game-high 15 rebounds.

Although only in his second season at Kentucky, he became the 11th player in UK history to surpass 800 rebounds and now how 801 as a Wildcat.
Coach John Calipari
Calipari is 23-9 vs. Florida, with all but one win coming at UK.
Calipari has an 826-248 all-time on-court record and is 381-108 in 14 seasons at UK.
UK is 313-60 (83.9%) against unranked competition under Calipari.
Rupp Arena
Kentucky is 645-79 (89.1%) in the 47-year history of Rupp Arena.
Kentucky is 218-19 (91.9%) in Rupp Arena under Calipari.
In the First Half
Kentucky opened with a starting lineup of Cason Wallace, CJ Fredrick, Chris Livingston, Jacob Toppin and Oscar Tshiebwe for the sixth time this season. UK is now 5-1 with this starting lineup.
Sahvir Wheeler was the first substitute at 15:51.
Kentucky scored the first five points of the game and eventually led by as many as 13 points at 24-11.
Florida replied with a 11-2 spurt and the lead suddenly dwindled to 26-22 with 2:55 left.
Two drives by Toppin and a 3-pointer by Fredrick rebuilt the halftime score to 33-22.

Toppin and Fredrick led the Wildcats with seven points each.

22 points is UK's best defensive half of the season against an SEC opponent.
UK is now 14-0 this season when tied or leading at halftime.
In the Second Half
Kentucky opened the second half with the starting lineup.
Florida whittled the count to 37-33 but a 6-0 UK spurt restored the lead to 10.
Trailing 59-45 with 8:19 to go, an 11-2 Gator run sliced the lead to 61-56.
Wallace replied with a 3-pointer at the expiration of the shot clock, and a minute later, a driving layup at the expiration of the shot clock kept the visitors at bay, 68-62.
With 51 seconds left, Daimion Collins hit both ends of a 1-and-1 to make it 70-64.
Florida swished a 3-pointer with 36 seconds left to make it 70-67.
After Toppin missed a 1-and-1, Wallace rebounded a Florida miss and was fouled. He made both ends of a 1-and-1 and with 13 seconds left and UK held on 72-67.