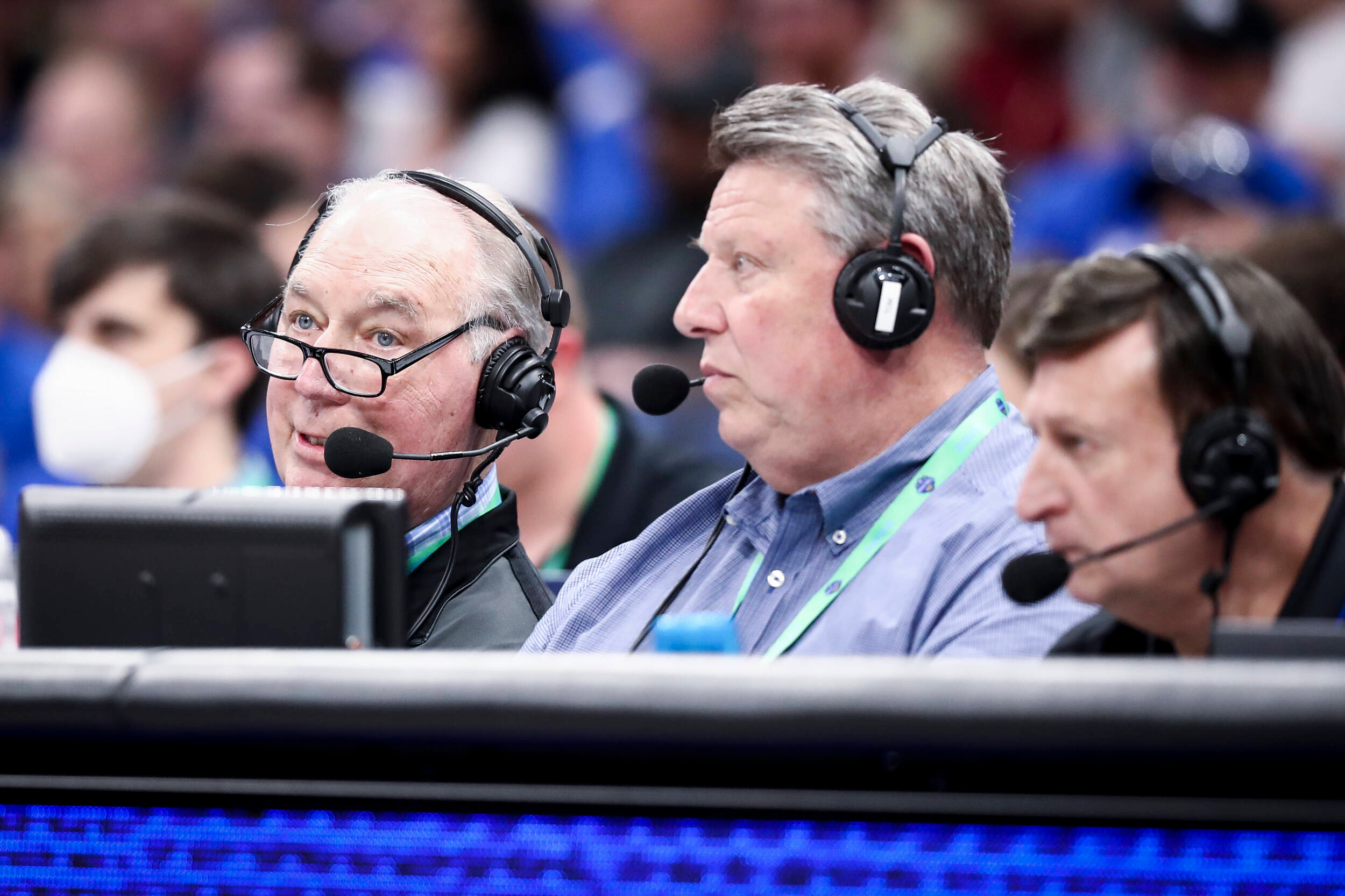 February 3, 2023 - 04:23 PM
Mike Pratt Jersey Retirement Ceremony to be Held Saturday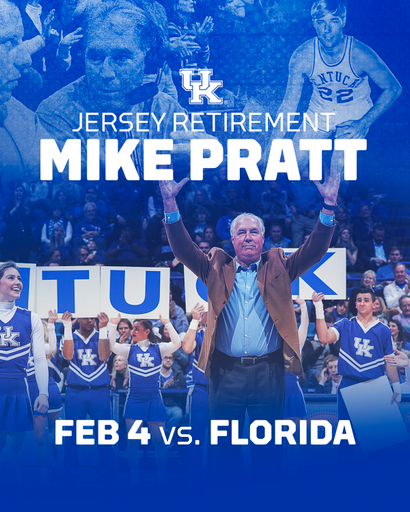 LEXINGTON, Ky. – The jersey retirement ceremony for Mike Pratt, who earned All-America and Academic All-America honors as a University of Kentucky basketball player and served 21 seasons as an analyst on UK radio broadcasts, will be Saturday during halftime of the game vs. Florida.
"It is with deep gratitude that we recognize the contributions of Mike Pratt by raising his banner in the rafters of Rupp Arena," athletics director Mitch Barnhart said.  "From his time as an All-America and All-SEC player, helping lead us to championship seasons, to his two decades of insightful commentary on our radio broadcasts, Mike occupies a special place in the hearts of the Big Blue Nation and the history of UK Athletics.  We look forward to honoring the Pratt family at this event."
Pratt, who died June 16, 2022, will be represented by his wife, Marcia, and additional members of the family.
A native of Dayton, Ohio, Pratt began his Kentucky career in 1966-67 as a member of UK's freshman team.  He was a three-year starter for the Wildcats' varsity squad, from 1967-68 through 1969-70. He totaled 1,359 points and 718 rebounds while averaging 16.8 points and 8.9 rebounds during the 81 games of his career.  His best performance came in a 102-100 win against Notre Dame in Louisville's Freedom Hall on Dec. 27, 1969. Pratt poured in a career-high 42 points and added eight rebounds. He was a perfect 10 of 10 at the free-throw line.
The 6-foot-4 forward was a second-team All-America selection in 1970 and two-time first-team All-Southeastern Conference choice by the league's coaches (1969 and '70). He also earned Academic All-America honors as a senior. He was part of one of the best trios in program history under legendary head coach Adolph Rupp. The trio, which included Dan Issel and Mike Casey, led UK to three SEC championships and two Elite Eight appearances in the NCAA Tournament.  During those three years, Kentucky compiled a 71-12 overall record, including 48-6 in league action.  (Casey did not play the 1969-70 season because of injury but did return a year later.)
Following his time at Kentucky, Pratt played two seasons with the Kentucky Colonels of the American Basketball Association and was later an assistant coach on UNC Charlotte's 1977 Final Four Team, before becoming head coach of the 49ers in 1978.
Following a stint as a professional scout, he then moved into broadcasting in 1985. Pratt worked with the Charlotte Hornets Television Network, ESPN and Fox Sports South.
Pratt rejoined Kentucky in 2001-02 as the analyst, alongside play-by-play announcer Tom Leach, for UK Sports Network radio broadcasts of the Wildcats' men's basketball games.  Pratt held that role for 21 years, through the 2021-22 season, calling games coached by Orlando "Tubby" Smith, Billy Gillispie and John Calipari. He was on the call for 558 wins, highlighted by Calipari's 2012 National Championship victory. The Wildcats also claimed the SEC regular-season title eight times, the SEC Tournament crown eight times, and advanced to four Final Fours and nine Elite Eights during Pratt's time on the radio team.
"I could not be more excited for Mike and his family to be honored in this way," Calipari said. "His jersey in the rafters ensures he will be remembered forever and there is not a player or representative of this program that is more deserving of this special recognition."
Pratt was inducted into the UK Athletics Hall of Fame in 2009, the Kentucky Sports Hall of Fame in 2010 and the Ohio Basketball Hall of Fame in 2019.  His will be the 45th retired jersey to hang in the rafters of the arena.
Pratt was elected by the Retired Jersey Subcommittee of the UK Athletics Hall of Fame Committee.  The UK Athletics Hall of Fame was started in 2005 to recognize and honor persons whose participation and contributions enriched and strengthened the University's athletics program.  There is a five-year waiting period, after leaving UK, to be eligible for inclusion into the Hall of Fame.  Hall of Famers are eligible for jersey retirement five years after they have been elected to the Hall of Fame.