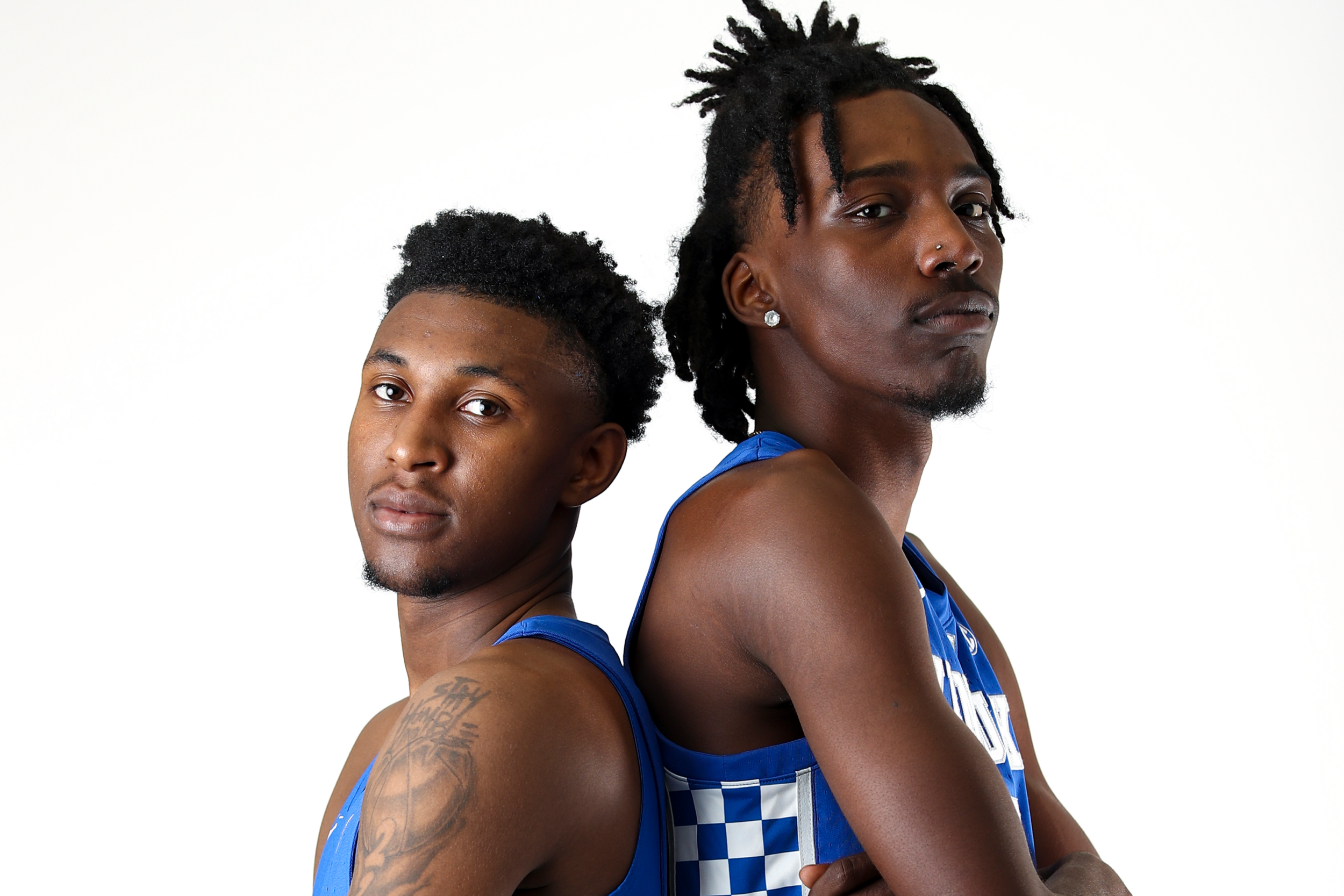 February 2, 2023 - 03:22 PM
Three UK Signees Named Finalists for Player of the Year
LEXINGTON, Ky. – Kentucky men's basketball signees Aaron Bradshaw, Justin Edwards and D.J. Wagner have been named semifinalists for the Naismith Trophy High School Player of the Year, awarded annually by the Atlanta Tipoff Club.
Bradshaw and Wagner are five-star prospects suiting up for Camden High School. Bradshaw is averaging 12.3 points, 8.5 rebounds and 1.6 blocks per game as a senior, while Wagner is generating 21.5 points, 3.1 rebounds and 2.5 assists per game. Edwards is also a five-star prospect and plays for Philadelphia Imhotep Institute Charter High School which is ranked among the top-10 programs in the nation. Edwards is the first player from the Philadelphia public league since 1993 to be named a McDonald's All American.
Ron Mercer is the lone former Wildcat to win the high school honor after a stellar senior season with Oak Hill Academy in 1995.
Bradshaw is ranked as high as the No. 4 overall player in the class by both 247Sports and ESPN.
"The most impactful trait we can have on the defensive end is the ability to block shots, and Aaron is elite at that," Calipari said of Bradshaw's game at the time of his signing. "He also has all of the tools that a versatile big in today's game needs. Aaron's motor continues to improve, he has great size and mobility. As a 7-footer, he can change the game on both ends of the court. He has a high ceiling and has only begun to scratch the surface of the kind of player he can be."
Edwards is ESPN's No. 1 ranked player in the 2023 class.
"Justin has the ability to impact the game in a variety of ways," Calipari said in the fall. "He has terrific size, can play multiple positions and can score the ball at all three levels. I really like how active he is defensively and his desire to rebound every ball. He already has a great understanding that he can positively impact winning without scoring. That isn't something you can teach, and I know Justin is going to demand the same of his teammates."
Wagner is rated as high as No. 2 by ESPN.
"I have known D.J. his entire life and I've always wanted to coach him," Calipari said upon Wagner's signing. "Above all he is a competitor. He attacks the offensive end and is a versatile scorer, but he is equally as tough on defense. I love the spirit he'll bring to practice every day, and I love that he wanted to be at Kentucky. He knows that to get the best of himself, he needs to be surrounded by other talented players who are going to match his competitive energy."
The current Wildcats return to action on Saturday to face Florida at home in Central Bank Center at Rupp Arena. Tip is set for 8:30 p.m. ET on ESPN.
For the latest on the Kentucky men's basketball team, follow @KentuckyMBB on Twitter, Facebook, Instagram and TikTok, and on the web at UKathletics.com.