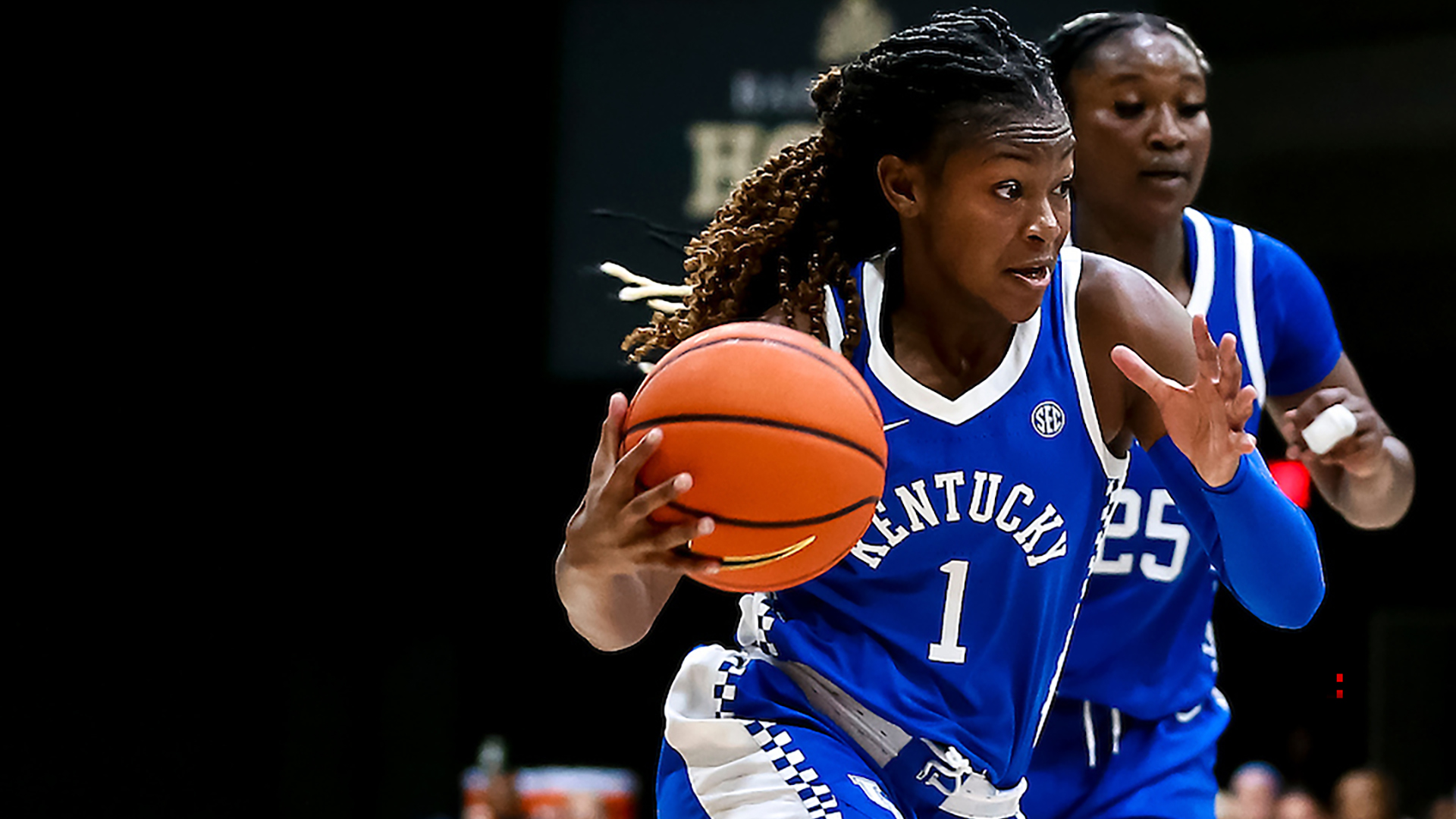 February 2, 2023 - 09:09 PM
Kentucky Falls at No. 1 South Carolina on Thursday
COLUMBIA, S.C. – Robyn Benton scored 24 points but the Kentucky women's basketball team lost at No. 1 South Carolina 87-69 on Thursday night at Colonial Life Arena.
Benton did a lot of her damage at the line, making 13 of her 14 free throw attempts. She had four steals, two blocked shots, two rebounds and an assist in the game.
Kentucky (10-12, 2-8 SEC) got 11 points from both Blair Green and Maddie Scherr.
South Carolina (22-0, 10-0) used its superior size to outscore Kentucky 62-14 in the paint. The Gamecocks grabbed 50 rebounds to just 32 for the Cats.
Kentucky got off to a solid start, scoring the first two points of the game, then leading 5-3. After South Carolina scored seven straight, the Cats answered with a 7-1 run to lead 12-11.
The Cats would lead 16-15 with 2:51 left in the first quarter but South Carolina closed the period on an 11-2 run to lead 26-18 after one period of play.
That run continued at the beginning of the second quarter. The Gamecocks scored the first six points of the period to lead by 14. But, again, UK answered. The Cats went on an 11-3 run to cut it to 35-29. The Cats could not get any closer than six and would trail 50-35 at the half.
In the third quarter, Kentucky came out hot and was able to cut into the South Carolina lead. The Cats scored the first seven points of the period, part of a 13-4 run that got the Cats within six, 54-48. But the Gamecocks scored the next 11 points to extend the advantage. South Carolina led 67-50 after three quarters.
South Carolina would lead by as many as 25 points in the fourth quarter before settling for the 19-point victory.
Kentucky returns to action on Thursday, Feb. 9, hosting Alabama inside Memorial Coliseum. Tipoff is set for 7 p.m. ET and the game can be seen on SEC Network Plus.