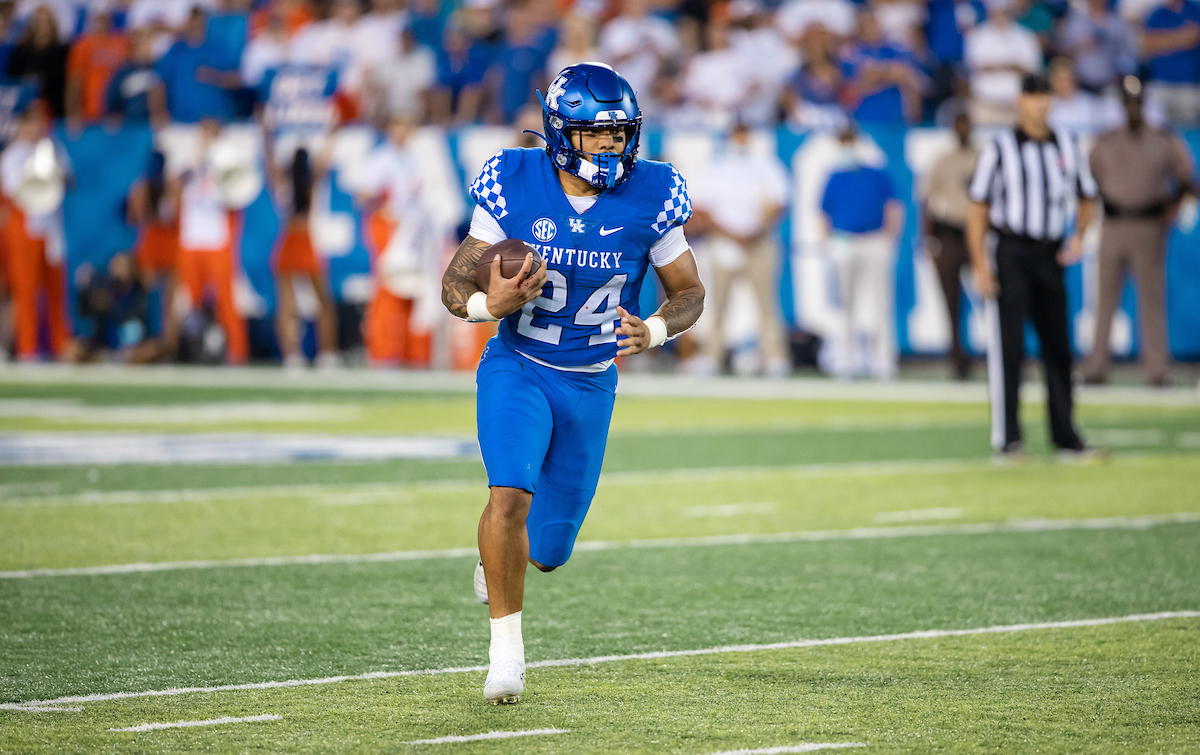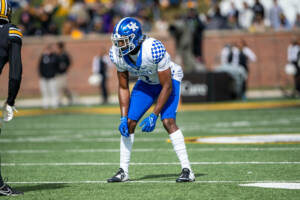 Kentucky running back Chris Rodriguez Jr. and defensive back Keidron Smith are set to participate in the 74th annual Reese's Senior Bowl on Saturday, Feb. 4 at Hancock Whitney Stadium in Mobile, Alabama. Kickoff is at 2:30 p.m. ET on the NFL Network. Rodriguez will suit up for the American Team and Smith will play for the National Team.
Chicago Bears offensive coordinator Luke Getsy is the head coach of the American team, while Atlanta Falcons quarterbacks coach Charles London serve as the offensive coordinator and New England Patriots defensive line coach DeMarcus Covington is the defensive coordinator.
Rodriguez, a 5-foot-11, 204-pound native of McDonough, Georgia, finished his stellar collegiate career ranked third on UK's all-time rushing list with 3,644 yards and became just the fourth player in program history to eclipse the 3,000-yard rushing mark. He also had 32 career rushing touchdowns, the second-most in school history, and his 35 career total touchdowns were the third-most in school history. He also averaged 6.2 career yards per carry, which ranks third in program history and charted a school-best 20 100-yard games.
His 1,379 yards rushing in 2021, currently rank fifth on the UK's single-season list. That season, he became the 10th player in school history to rush for 1,000 yards in a season and it marked just the 14th time in school history a Wildcat accomplished that feat. His nine 100-yard games as a junior also set a single-season record.
The two-time team captain graduated in May of 2022 with a degree in community and leadership development.
Smith, a 6-2, 204-pound defensive back of West Palm Beach, Florida, transferred to Kentucky in 2022 after four seasons at Ole Miss and made a noticeable impact on the Wildcats' defense.
In his one season at Kentucky, he started in 12 of 13 games and played was named second-team All-Southeastern Conference by the league coaches and Pro Football Focus after totaling 46 tackles, five pass breakups, a team-high-tying two interceptions, a forced fumble, a fumble recovery and a tackle for loss.
For the Rebels, he appeared in every game during his career which included 47 contests with 29 starting assignments.
Altogether he totaled 269 career tackles, 26 pass breakups, seven interceptions, six forced fumbles and one fumble recovery in 60 career games. He had at least one interception in each of his five collegiate seasons and finished with 46 or more tackles in each of his five seasons.
Smith, who earned a degree in finance from Ole Miss in May of 2022, also recently played in the NFLPA Collegiate Bowl in Pasadena, California, finishing with one tackle for the National Team.
The Reese's Senior Bowl has had 106 total players selected two straight years in the NFL Draft. The 106 figure represented 40 percent of the NFL Draft, and 45 of the top 100 players selected.  The Reese's Senior Bowl is the only one coached by entire staffs from two National Football League clubs.
Since 1950, Kentucky has had 51 players participate in the Senior Bowl, including 14 in the Mark Stoops era (2013-present).
Tickets to the Senior Bowl are on sale at 888.736.2695 or online at seniorbowl.com.