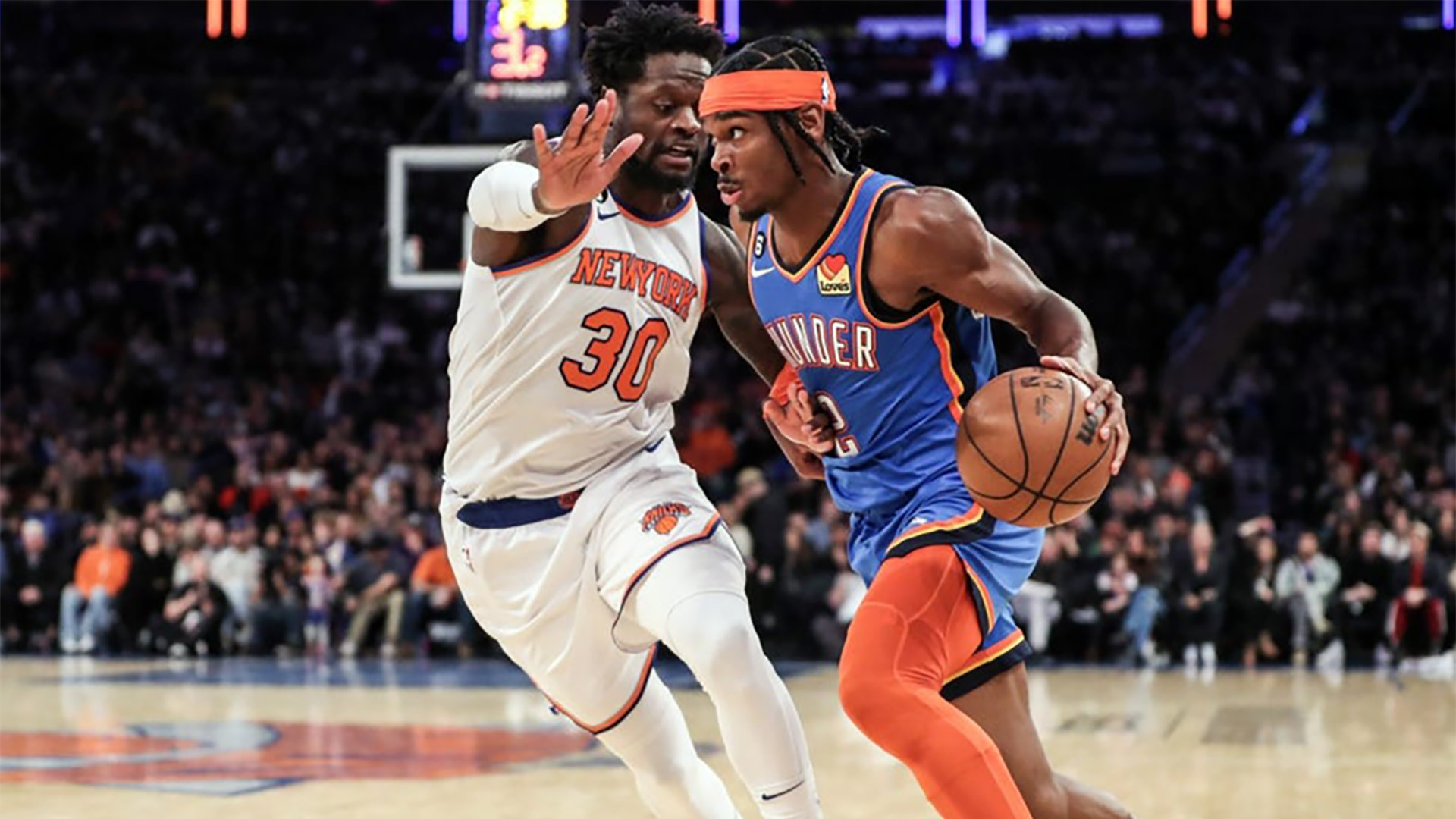 February 2, 2023 - 07:32 PM
Adebayo, Gilgeous-Alexander, Randle Named 2023 NBA All-Stars
LEXINGTON, Ky. – Three Kentucky men's basketball alumni in Bam Adebayo, Shai Gilgeous-Alexander and Julius Randle were named to the 2023 NBA All-Star Game on Feb. 19 in Salt Lake City. Adebayo and Randle will make their second-career appearances, while Gilgeous-Alexander was selected for the first time.
UK's representatives were chosen as reserves by the league's head coaches. The announcements were made Thursday on TNT.
Teams will be set by the All-Star starters who led their respective conferences in fan votes during NBA All-Star voting. LeBron James (Los Angeles Lakers) and Giannis Antetokounmpo (Milwaukee Bucks) will serve as this year's captains and select their teams from the pool of players.
Kentucky has enjoyed unprecedented success at putting players in the NBA under John Calipari. In the 13-plus seasons of the Calipari era, 45 players have been selected in the NBA Draft, more than any other school. Included in the recent run are 34 first-round picks, three No. 1 overall selections (Anthony Davis, Karl-Antony Towns and John Wall) and 22 lottery selections. A staggering 27 players from Kentucky were on 2022-23 NBA opening-day rosters (including two-way and inactive lists), the most of any school.
Calipari's players are not only reaching the next level, but they are also succeeding when they do. Since 2010, nine Calipari-coached players have garnered 31 All-Star selections with the latest picks. Derrick Rose (from Memphis) was named league MVP in 2011. Seven of his players have been tabbed All-NBA (Devin Booker, DeMarcus Cousins, Randle, Rose, Wall, Davis, and Towns), three have been named NBA Rookie of the Year (Rose, Tyreke Evans and Towns), Randle was tabbed the NBA's Most Improved Player in 2021, Tyler Herro won NBA Sixth Man of the Year in 2022 and 15 players from Calipari's first 12 teams at Kentucky have made the NBA All-Rookie teams.
Among all active collegiate coaches, Calipari has more total players (nine) and more total All-Star selections (31) than any other coach.
Adebayo will make his second-career appearance in the NBA All-Star Game in 2023. He's averaging a career-high 21.4 points per game for the Miami Heat in his sixth NBA season. A three-time selection to the All-NBA Defensive Team, Adebayo is the lynchpin to one of the league's best defensive units. He's contributing 1.1 steals and 0.8 blocks per game in addition to 10.0 rebounds per outing.
In one season with the Wildcats, Adebayo was the only player to start all 38 games for a squad that won the Southeastern Conference Tournament and advanced to the Elite Eight. He was an All-SEC Second Team and All-SEC Freshman Team honoree. Adebayo averaged 13.0 points, 8.0 rebounds and 1.5 blocks per game before being selected 14th overall by the Heat in 2017.
Gilgeous-Alexander will be making his first-career appearance in the annual game featuring the league's best players. He is the league's fifth leading scorer, averaging a career-high 30.8 points per game. Gilgeous-Alexander is also contributing 5.6 assists and 4.8 rebounds per game for the youthful Oklahoma City Thunder. He has tallied 30 games with 30 or more points this season. Only Luka Doncic (34) has more.
He averaged 14.4 points per game and 5.1 assists for the Wildcats during the 2017-18 season. Gilgeous-Alexander helped the Wildcats to an SEC Tournament crown and was MVP. Additionally, he was an All-SEC Second Team and All-SEC Freshman Team honoree. In postseason action, Gilgeous-Alexander averaged 20.7 points, 6.3 assists, 5.7 rebounds and 2.0 steals per game in the SEC and NCAA Tournaments combined. He was then drafted 11th overall by the Hornets before his draft rights were traded to the Clippers.
Randle has the New York Knicks in the playoff hunt once again behind a career-best 24.7 points per game. He's adding 10.9 rebounds and 4.1 assists, while also connecting on 45.8% of his shots from the floor. Randle has two 40-plus point efforts, including producing the first 40-point, 15-rebound game for the Knicks since Patrick Ewing in 1996. This will mark his second appearance in the NBA All-Star Game after being selected in 2021, the same season he was voted as the NBA's Most Improved Player. Randle is also a one-time All-NBA Team selection.
One of just three players under Calipari to average a double-double, Randle was the leader of the UK squad that made its memorable NCAA Tournament run to the championship game in 2014. He averaged 15.0 points and 10.4 rebounds per game, while setting UK single-season freshman records in rebounds (417), double-doubles (24) and made free throws (204). He was a Final Four All-Tournament Team honoree, a Midwest Region All-Tournament Team selection, a third-team All-American, an All-SEC First Team pick and the SEC Freshman of the Year. Randle was drafted seventh overall by the Lakers following his one season in Kentucky in 2014.
For the latest on the Kentucky men's basketball team, follow @KentuckyMBB on Twitter, Facebook, Instagram and TikTok, and on the web at UKathletics.com.