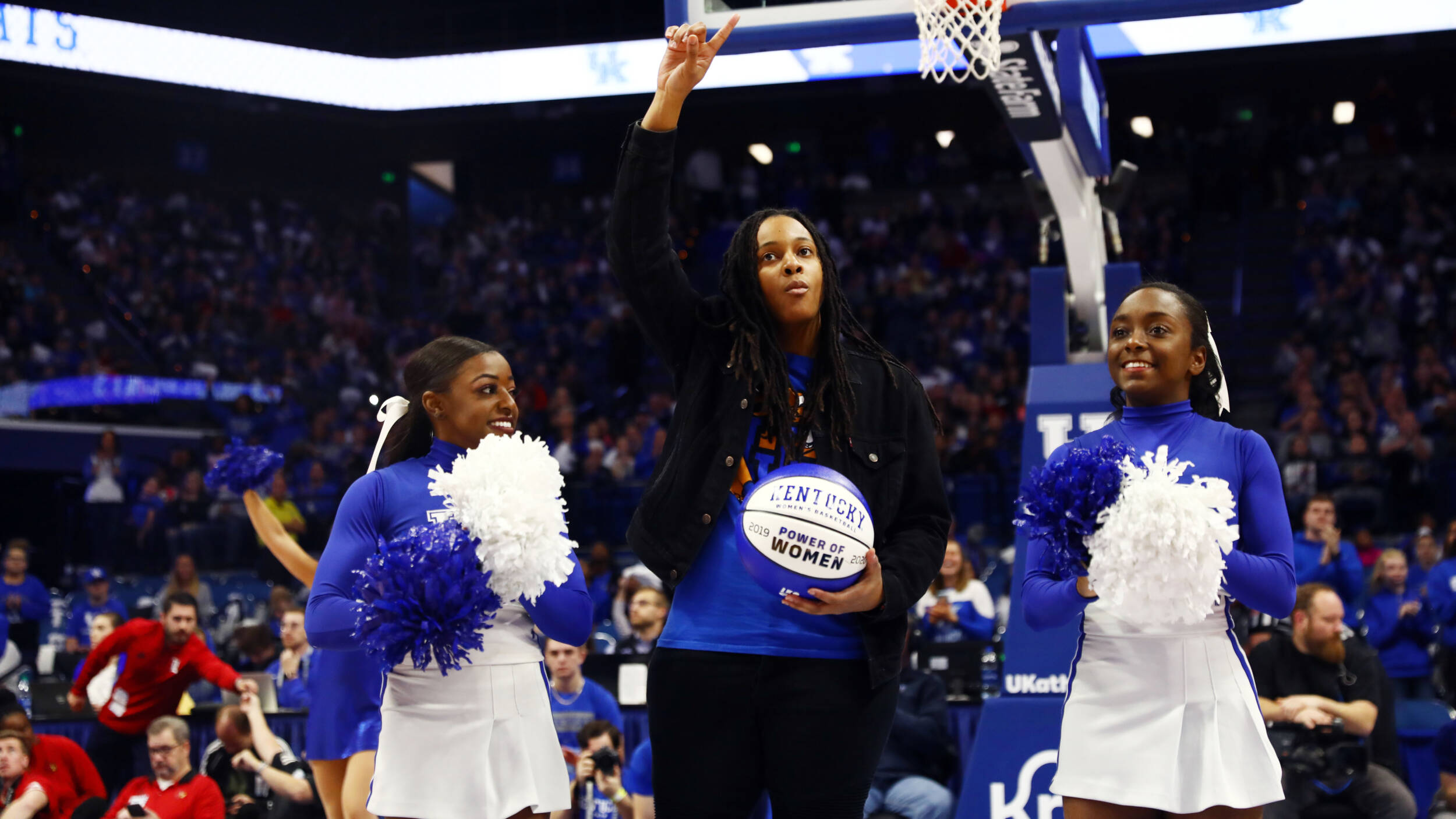 February 1, 2023 - 11:00 AM
Kentucky Women's Basketball Standout A'dia Mathies Named to 2023 SEC Class of Women's Legends
BIRMINGHAM, Ala. – University of Kentucky women's basketball standout A'dia Mathies (2009-13) has been named to the 2023 Southeastern Conference Class of Women's Legends, it was announced by the league Wednesday.
The class will be honored at the 2023 SEC Women's Basketball Tournament from March 1-5 in Greenville, South Carolina. Each legend will be recognized during halftime of their teams first game of the tournament, as well as a group introduction at halftime of the second semifinal game Saturday.
One of the best to ever do it in Blue & White. It's your time to shine, @a1mathies. 🤞😤

GIVE IT UP FOR THE @SEC LEGEND.

Read more » https://t.co/lDP9lSx4AS pic.twitter.com/oDgSpMj2d5

— Kentucky Women's Basketball (@KentuckyWBB) February 1, 2023
Mathies, who played in a school-record 140 games and started in a school-record 139 games from 2009 to 2013, was named to the Associated Press All-America second team (2013) and third team (2012). She was a two-time finalist for the John R. Wooden Award and the Naismith Trophy, while she was also the SEC Player of the Year as a junior (2012) and a senior (2013).
The Wildcat remains the all-time leader in steals (320), games played (140) and games started (139) in program history, while she also ranks third in scoring (2,014), only behind Valerie Still and Rhyne Howard, fourth in field goals made (712) and free throws made (413) and fifth in three-point field goals made (177).
Mathies was the first player in UK history (men or women) to accumulate over 2,000 points, 600 rebounds, 300 assists and 300 steals in a career.
Part of UK's all-time winningest class with an overall 111-30 (.787) record, Mathies helped UK claim the 2012 SEC regular-season title for the first time in 30 years and advanced to four NCAA Tournament Sweet 16s and three Elite Eights.
Mathies was inducted into the University of Kentucky Athletics Hall of Fame Class of 2019.
The SEC Class of Women's Legends showcases former student-athletes and coaches from all 14 conference member institutions.  The women's legends program began in 2001, with classes chosen every year with the exception of 2021 and 2022.
Below is the list of the 2023 SEC Women's Legends:
Jackie Traina, Alabama, Softball, 2011-14
Deena Drossin Kastor, Arkansas, Track & Field, 1992-96
Kasey Cooper, Auburn, Softball, 2014-17
Jaterra Bonds, Florida, Basketball, 2010-14
Allison Schmitt, Georgia, Swimming, 2009-13
A'dia Mathies, Kentucky, Basketball, 2009-13
Kimberlyn Duncan, LSU, Track & Field, 2009-13
Bianca Thomas, Ole Miss, Basketball, 2006-10
Morgan William, Mississippi State, Basketball, 2014-18
Tracy Ellis-Ward, Missouri, Basketball, 1984-88
A'ja Wilson, South Carolina, Basketball, 2015-18
Sheila Frost, Tennessee, Basketball, 1985-89
Gary Blair, Texas A&M, Basketball Coach, 2003-22
Michelle Palmisano, Vanderbilt, Basketball, 1994-97
For more information on the Kentucky women's basketball team, visit UKathletics.com or follow @KentuckyWBB on Twitter, Instagram and Facebook.