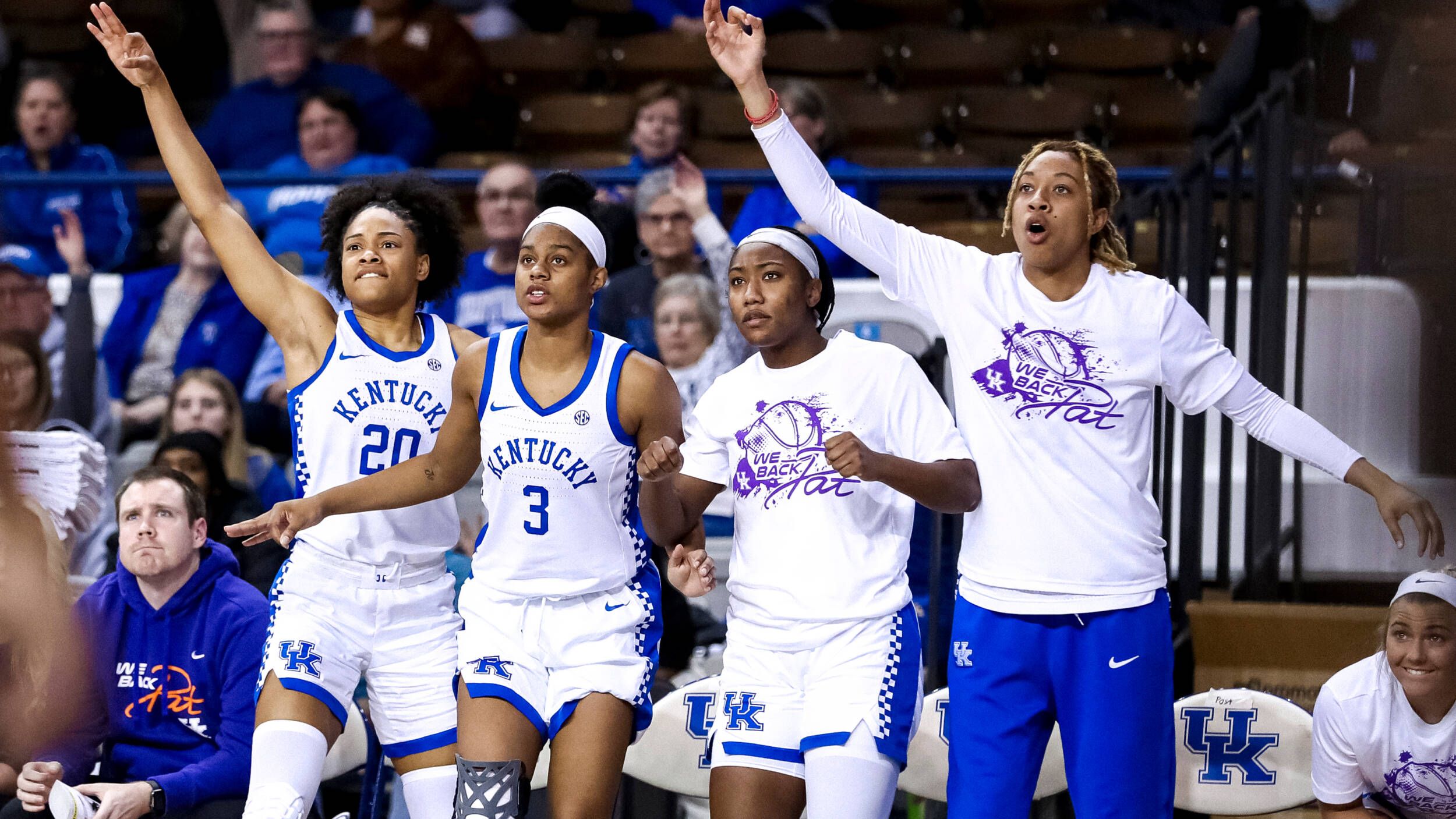 February 1, 2023 - 02:39 PM
Kentucky, No. 1 South Carolina Rematch in Columbia on Thursday
COLUMBIA, S.C. – The University of Kentucky women's basketball program will rematch No. 1 South Carolina on Thursday, Feb. 2 at 7 p.m. ET inside Colonial Life Arena in Columbia, South Carolina. The game will be broadcast on SEC Network, with Courtney Lyle and Carolyn Peck on the call.
Kentucky has a 10-11 overall record and a 2-7 Southeastern Conference record this season, with Robyn Benton leading the team in scoring with 17.0 points per game overall and 18.4 points per game in conference action. She has scored in double digits in all 20 games that she has played in in 2022-23. Jada Walker, who is coming off an 18-point performance to lead Kentucky in its win over Missouri last Sunday, is also averaging double-digit scoring with 13.7 points per game on the season. After seven straight games scoring at least 10 points, including two straight 20-plus scoring games, Maddie Scherr is now averaging 10.9 points per game.
Walker has led the league in steals (51) and steals per game (2.4) all season, while she is also second in the league in free-throw percentage (82.7). Scherr is at the top of the conference in assists per game (5.0), while she is the only player in the conference averaging at least 5.0 in three statistical categories (10.9 ppg, 5.7 rpg, 5.0 apg).
South Carolina leads the all-time meetings with Kentucky, 38-35, in a series that began in 1979. Meanwhile, USC leads UK in games played in Columbia, 23-10. The two teams have met at least twice a season every season since 1996.
Darren Headrick will have the call on the UK Sports Network on 630AM WLAP in Lexington for the sixth straight season. Free live audio will be available online at UKathletics.com and live stats will be available online at KentuckyStats.com.
Kentucky vs. Ranked opponents
The Wildcats are 81-235 all-time against ranked opponents.

UK is 0-5 against ranked opponents this season.

In its last ranked game of the season, Kentucky fell to then-No. 1/1 South Carolina, 95-66, in Memorial Coliseum on Jan. 12.

Kentucky went 4-7 against ranked teams in 2021-22, including defeating three of its last four ranked opponents of the season.

The Wildcats' latest ranked win was against then-No. 1 South Carolina, 64-62, to win the 2022 Southeastern Conference Tournament in Nashville, Tennessee, on March 6, 2022.

That was also Kentucky's last ranked win when UK was unranked.

Kentucky is 7-24 all-time against a ranked-South Carolina team.
Fool Me Once…
Kentucky got sweet "revenge" when it blasted Missouri last Sunday, 77-54, at home.

The Wildcats opened up their conference season at the Tigers' place on Dec. 29, and despite holding as much as a 12-point lead in the first half, and hanging on for a tie as late as the fourth quarter, UM thumped UK, 74-71, on the road.

Four players scored in double figures in the latest contest (all four starting guards), as the Cats shot 51.8 percent from the floor (29-of-56) and drained eight 3-pointers.

UK improved to 3-0 on the season when it shoots above 50.0 percent.

Starting guard Blair Green was a difference maker, recording her first 10-plus point game since Jan. 1 on 14 points (6-of-12).

She also grabbed five rebounds in the game, the most since pulling down seven in the win at Minnesota on Dec. 7.

Kentucky used its pressure defense to force Missouri into 22 turnovers in the game and the Cats turned those miscues into 28 points. Meanwhile, the Cats turned it over just 13 times and the Tigers turned those mistakes into just eight points.
40 Minutes of Dread: The Jada Walker Edition
One of, if not the, smallest guards in the Southeastern Conference, Jada Walker is a pest on defense.

The best part is, she is just a sophomore. Last season, she was baptized by fire, starting in 22 games, including the final 18 games of the season en route to the 2022 SEC Tournament Title.

Her ability to make players uncomfortable has helped the small but mighty guard lead the conference in steals (51) and steals per game (2.4) all season, playing a key role in helping the team lead the conference in turnovers and steals.
Beyond her deffense, she is a eruptive scorer, known best for her willingness to drive to the basket.

She scored a career-high 22 points at Mississippi State on Jan. 22, while she has had three 20-plus point games this season.

Fun Fact: Walker is getting coached by the queen of "40 Minutes of Dread" all day, every day, assistant coach Amber Smith. If you don't know, Smith played for the University of Kentucky from 2008-12 and was an intricate part of UK's high-pressure, trapping style of defense that it used to ascend the national stage early in Matthew Mitchell's tenure.