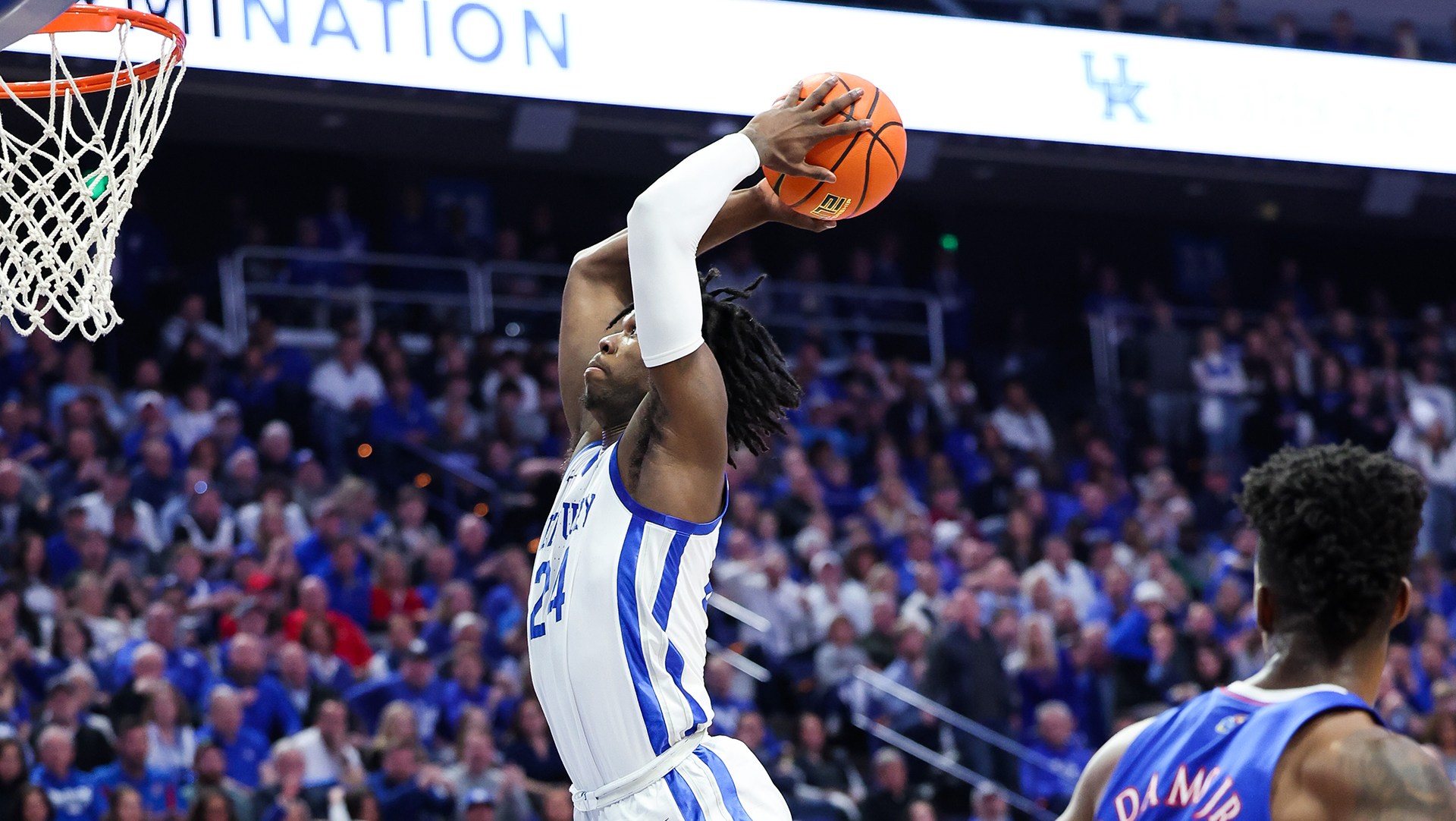 January 30, 2023 - 04:45 PM
Big Blue Preview: Kentucky at Ole Miss
After falling to No. 9 Kansas on Saturday night at Rupp Arena, Kentucky returns to action on Tuesday night, visiting Ole Miss in Southeastern Conference action.
Saturday's game was seen as a chance for the Cats to show the nation that they can compete with anyone in the country. And while the final result was a loss, assistant coach K.T. Turner thought the Cats showed that they belong. That was the feeling in the locker room after the game.
"We can beat teams like that," Turner said. "We were right there in the game with them. We've just got to get better at a couple of things defensively."
Ball screen defense has been a topic of discussion since Saturday's game, when Kansas used a pick and roll to get a number of easy baskets at the rim. That has been a point of emphasis for the Cats ever since.
"We are going to spend time on that today," Turner said. "We watched a lot of film on it. We'll learn from it, get better from it."
Turner does not foresee the Kansas loss affecting the Cats on Tuesday night. He thinks this team is past letting one loss turn into two.
"Our guys were mad. They said it yesterday. We're mad we lost, we had a chance to win the game," Turner said. "The guys are good. Our locker room is really tight. They still have a very positive attitude right now. We've got to be ready for tomorrow night."
As for the Rebels, they enter Tuesday's contest with a 9-12 record, including a 1-7 mark in the SEC. But Turner said don't be fooled by Ole Miss' record.
"They're a really good team. They play hard. They're physical, they're athletic," Turner said. "I think they are a lot better than what their record shows in the SEC, for sure."
While Ole Miss has only won one SEC game, they have been close with some of the biggest names in the conference. The Rebels fell to Tennessee by four points, to Auburn by just nine and to Arkansas by eight.
Tuesday's game at the Pavilion at Ole Miss is set for a 9 p.m. ET tipoff and can be seen on ESPN.
Similar Stories …
In 14 years as head coach of the Wildcats, John Calipari has won a national title, claimed six Southeastern Conference regular-season crowns, six league tournament titles and won more NCAA tournament games than any other coach during this span. He's also led teams plagued by slow starts to memorable late-season runs:
• The 2020 squad suffered a home loss to Evansville in November, lost back-to-back games in Las Vegas prior to Christmas and fell to 16-5 on Feb. 1 with a loss at Auburn. The Wildcats would then rattle off eight straight wins and nine of their last 10 to win the SEC regular-season by a comfortable margin of three games. COVID-19's rise in the United States canceled the SECand NCAA Tournaments
• In 2018, the Wildcats lost four in a row from Feb. 3-14, marking the first four-game losing streak during Calipari's UK tenure. That team went on to win nine of its next 10 games and captured the SEC Tournament title
• The 2017 squad lost three of four games from Jan. 24-Feb. 4 before rattling off 14 straight victories. Within that run, the Wildcats won the SEC Tournament title and marched all the way to the Elite Eight before a buzzer-beater by eventual champion North Carolina ended their tournament run
• In 2014, the freshman class was heralded as the best ever and preseason expectations had fans dreaming of a 40-0 season. However, that team dropped nine regular-season games before putting together one of the most magical NCAA Tournament runs in program history. The Cats overcame double-digit deficits in all but one game and were led by late-game heroics from Aaron Harrison all the way to the NCAA Championship game
The Winner is … Kentucky!
Cason Wallace earned Kentucky's third weekly SEC honor and the second for a Wildcat in as many weeks when he picked up SEC Freshman of the Week laurels on Jan. 30.
The Dallas native averaged 12.0 points, 5.5 boards, 3.0 assists and 2.5 steals for the week as the Wildcats split games at Vanderbilt and at home against No. 9 Kansas.
Wallace earned Southeastern Conference Freshman of the Week accolades on Dec. 27 after posting a career-high 27 points in Kentucky's win over Florida A&M before Oscar Tshiebwe was named conference Player of the Week Jan. 23 after averagaing 22.0 points and 20.5 boards in wins over Georgia and Texas A&M.
Kentucky has dominated the weekly SEC awards with John Calipari at the helm. UK has won more weekly SEC honors (121) than any other school during the Calipari era, including 91 SEC Freshman of the Week awards and 30 SEC Player of the Week honors.