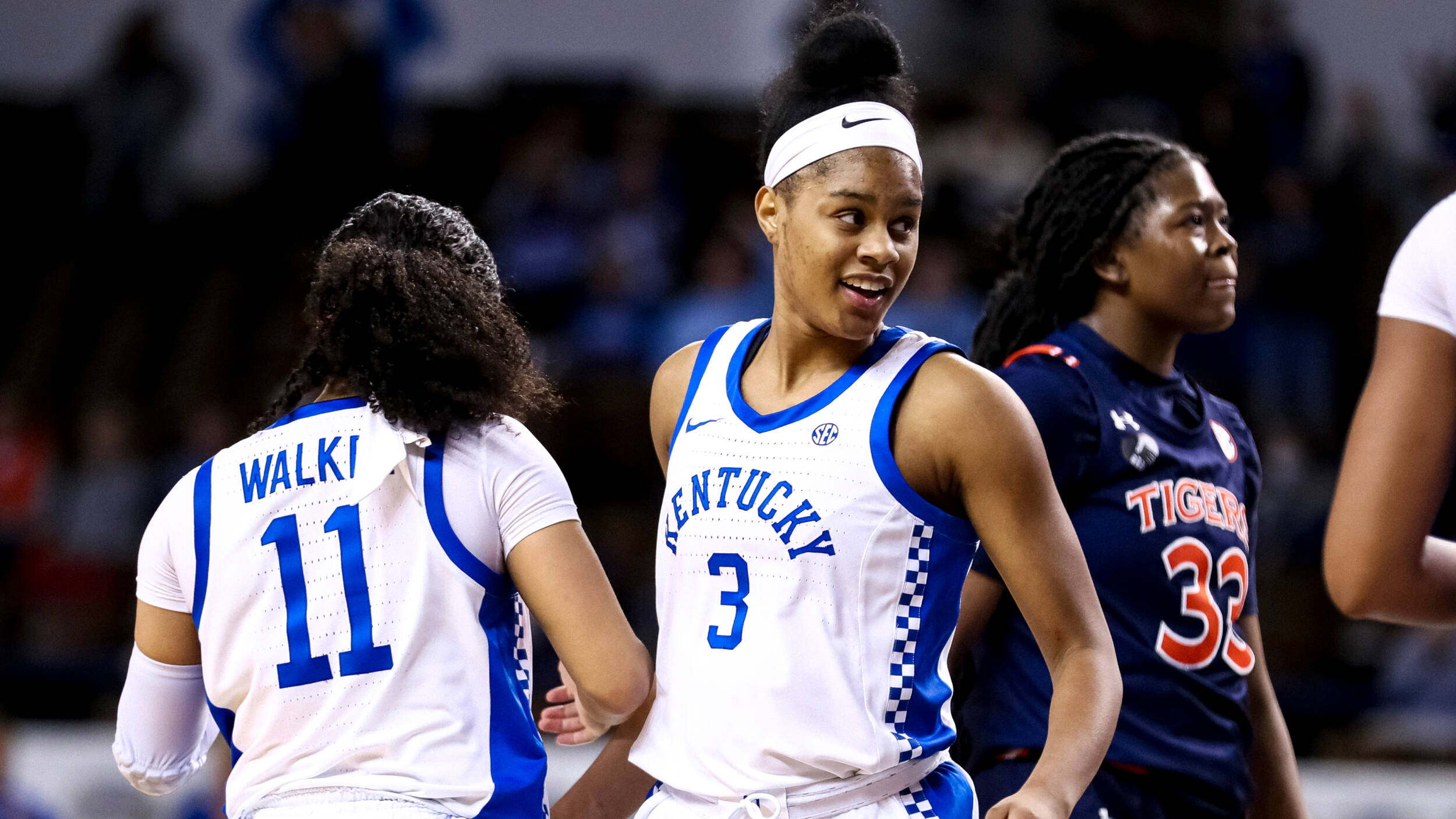 January 28, 2023 - 08:02 PM
Wildcats, Tigers Square Off in Memorial Coliseum on Sunday at 3 p.m. ET
LEXINGTON, Ky. – The University of Kentucky women's basketball program will play host to Missouri on Sunday, Jan. 29 at 3 p.m. ET inside Memorial Coliseum. The game, which will mark the program's annual National Girls and Women in Sports Day celebration, will be broadcast on SEC Network, with Sam Gore and Tamika Catchings on the call.
Kentucky has a 9-11 overall record and a 1-7 Southeastern Conference record this season, with Robyn Benton leading the team in scoring with 17.2 points per game overall and 19.1 points per game in conference action. She has scored in double digits in all 19 games that she has played in in 2022-23. Jada Walker is also averaging double-digit scoring with 13.5 points per game on the season. After five straight game scoring at least 15 points, including two straight 20-plus scoring games, Maddie Scherr is now averaging 10.8 points per game.
Kentucky leads the all-time meetings with Missouri, 10-5, in a series that began in 1989. The Wildcats have won three of the last four meetings with the Tigers, but dropped the most recent matchup on Dec. 29, 74-71, at Missouri in both teams' conference opener.
In six games played in Lexington, Kentucky has never lost to Missouri at home.
Darren Headrick will have the call on the UK Sports Network on 630AM WLAP in Lexington for the sixth straight season. Free live audio will be available online at UKathletics.com and live stats will be available online at KentuckyStats.com.
Hot Hands
Three Wildcats had hot hands in the middle of January action, resetting career highs in scoring in four straight games.
Four Straight Games, Four Straight Career Highs:

Jan. 8 22 pts Maddie Scherr vs. LSU
Jan. 12 25 pts Maddie Scherr vs. South Carolina
Jan. 15 29 pts Robyn Benton at Florida
Jan. 22 22 pts Jada Walker at Mississippi State
I'll Have the Combo
Returning sophomore guard Jada Walker and junior transfer guard Maddie Scherr have taken on familiar, yet new, roles this season, playing as combo guards.

Walker is known for her speed, attacking and explosive play making, while Scherr is known for being methodical, picking a part the defense and making opponents pay for their defensive mistakes.

Fun Fact: Both guards have had games recording double-digit assists this season.
Primetime or Showtime
Her nickname is primetime, but coach calls her showtime.

Regardless of what you call her, Robyn Benton is known for turning on in big moments.
That is evident by her 22.4 points per game in UK's five true road games this season, including the top two scoring performances of her career (29 at Florida, 24 at Mississippi State).

Benton scored a career-high 29 points, including 17 points in the fourth quarter, in Kentucky's win at Florida on Jan. 15.

She also went 10-of-10 from the line in that game. It marked the second time this season she has made 10 free throws (first at Missouri on Dec. 29). Meanwhile, she is shooting 87.9 percent from the line in SEC action this season (29-33).
She made at least one 3-pointer for the 12th straight game.

The graduate guard has scored in double digits in all 19 games that she has played in this season, and she has led Kentucky in scoring in 10 games in 2022-23.

Before this season, she had only led UK in scoring on two instances.

She eclipsed 1,000 career points at Georgia on Jan. 5.

She is the only current Wildcat with at least 1,000 career points.

Fun Fact: Benton has a degree in broadcast journalism and is currently working on a masters in business administration.