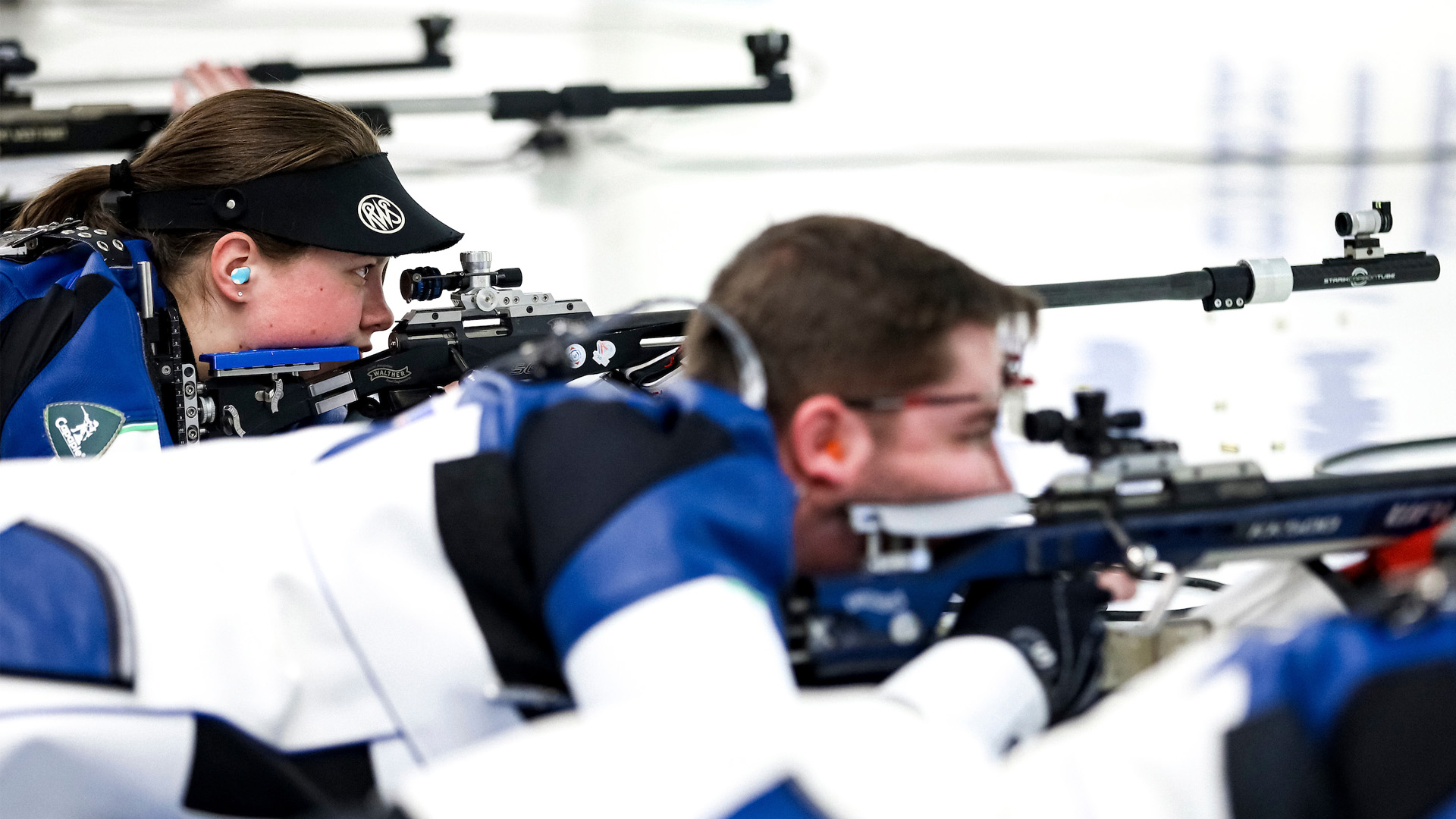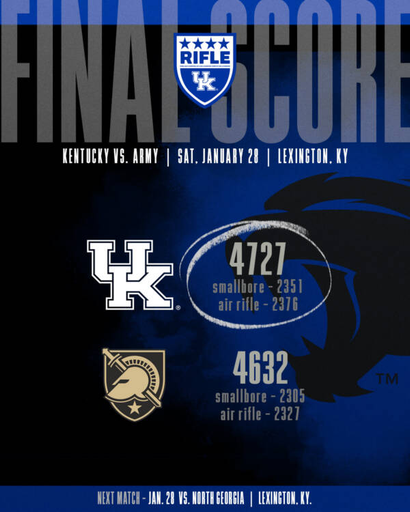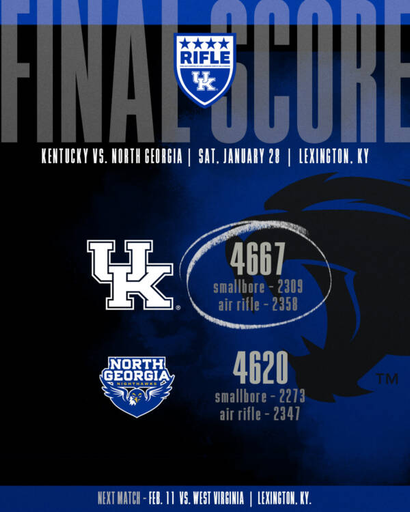 LEXINGTON, Ky. – Splitting its squad between the two matches, the University of Kentucky rifle team posted wins over both Army and North Georgia in separate dual matches on Saturday inside the UK Rifle Range in Lexington, Kentucky.
Kentucky defeated Army 4727-4632 and followed with a 4667-4620 win over North Georgia. The Wildcats will take next weekend off before returning to the UK Rifle Range on Feb. 11 against West Virginia.
"We had some good performances from top to bottom today," UK head coach Harry Mullins said. "I liked being able to split up the squad to give everyone some experience taking countable reps. We have a couple weeks now to really start fine tunning things in training and I look forward to every day in the range with this squad."
Against Army, Kentucky used the lineup of super seniors Will Shaner, Richard Clark and Mitchell Nelson, sophomore Allison Buesseler and freshman Sofia Ceccarello. UK posted a 2351 in smallbore and 2376 in air rifle. It was Ceccarello who led the Wildcats, scoring a 594 in smallbore and 599 in air rifle for an aggregate of 1193. Clark finished second on the team with a 1180 aggregate, earning a 586 in smallbore and 594 in air rifle, while Shaner was right behind him with a 1179. Shaner posted a 584 in smallbore and 595 in air rifle. Nelson and Buesseler wrapped up the scoring. Nelson earned a 587 in smallbore and 588 in air rifle, while Buesseler posted a 582 in smallbore and 574 in air rifle.
Army scored a 2305 in smallbore and 2327 in air rifle. Anusha Pakkam led the team with a 583 in smallbore and 586 in air rifle for a 1169 aggregate.
In the second match of the day vs. North Georgia, the Wildcats used the lineup of seniors Emmie Sellers and Jaden Thompson, sophomore Kayla Kalenza and freshmen Martin Voss and AJ Hotko. UK scored a 2309 in smallbore and a 2358 in air rifle. Voss led the group in smallbore with a 584, while Sellers posted a 580. Hotko posted a 575 followed by a 570 from Kalenza and a 568 from Thompson. In air rifle, Voss led Kentucky with a 593, followed by Hotko and Kalenza with 589s. Sellers posted a 587 and Thompson wrapped the scoring with a 583.
For more information on the Kentucky rifle team, visit UKathletics.com or follow UKRifle on Twitter, Instagram and Facebook.