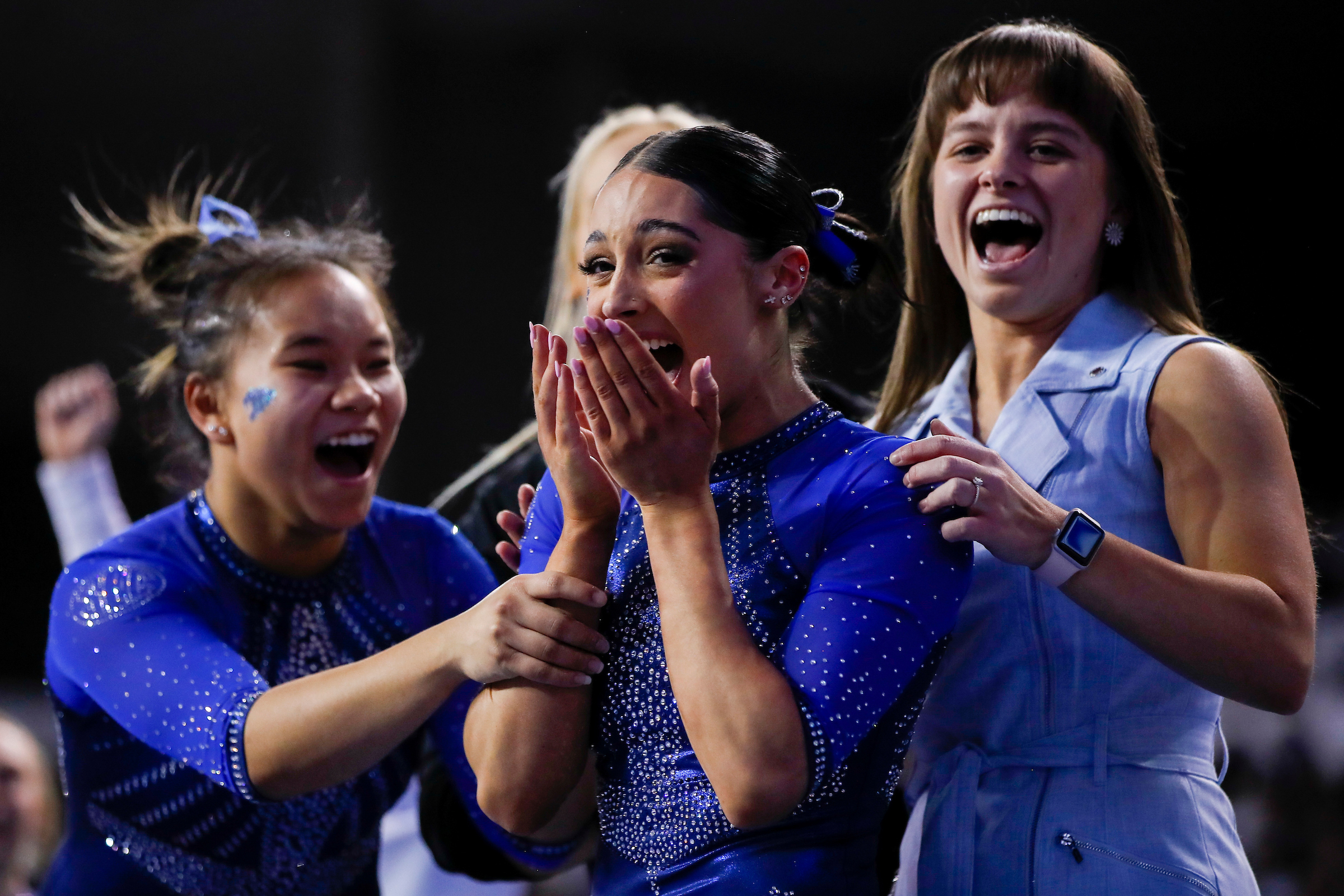 January 27, 2023 - 11:43 PM
Wildcats Set New Standards with Record-Breaking Night
LEXINGTON, Ky. – The No. 10 Kentucky Gymnastics team blew its previous all-time overall score record out of the water with a 197.825 against No. 13 Alabama (197.375) on Friday night in Memorial Coliseum.
The Wildcats' previous all-time best of 197.750 was set last season at the second round of the Auburn Regional. UK's highest meet score at home, 197.650, was set in the last home meet of 2022 where the Cats celebrated senior night with a win over Michigan State.
"The whole night was about keep fighting, keep fighting," Garrison said. "Sometimes, if things aren't going your way, for whatever reason, you can start to let down.
Senior Raena Worley found herself as the top all-around gymnast of the meet with a 39.675 total. She won the title for the third time in four meets so far this season, and 15th time in her collegiate career.
In front of 3,009 UK gymnastics fanatics, the Cats competed in Olympic order which started with vault. Junior Isabella Magnelli was the top-scorer on the apparatus with a 9.925. The high mark tied her current season and career bests. Sophomore Makenzie Wilson set a new season high with a 9.850, while freshman Bridget Bourque made her Kentucky debut with a 9.825. Worley also tied her season high with a 9.850. In addition to Jillian Procasky's 9.825 and Arianna Patterson's 9.875 combined for a vault total of 49.325. The overall total for the apparatus, combined with the next event's total of 49.500, tied the third-highest vault and bars total in program history. The vault total was the highest of the 2023 season thus far as well.
On the uneven bars, Shealyn Luksik was the top performer for Kentucky with a beautiful 9.950-worthy performance. The senior's routine featured a big opening release, a double layout dismount which was completed with a stick. Her score earned her a new all-time high for both her collegiate career and 2023 campaign. Fellow senior, Kaitlin Deguzman, set the tone for Luksik as the routine was followed by DeGuzman's 9.925 execution setting her own career and season bests. Worley capped off the event with a 9.925 and season high of her own. With Bailey Bunn's career-tying 9.850 and Hailey Davis' 9.850, Kentucky tied its third-highest bars score.
The Wildcats started the ramp up the momentum in the third rotation – the balance beam. Magnelli shined once again with a new career and season best of 9.975. As the anchor of the beam lineup, she topped her personal best of 9.925, which was set last week at Georgia, with a near-perfect routine. As the scores on the event began to build, Magnelli was set up perfectly by Luksik's lead-off 9.800 performance, Procasky's 9.900, Bunn's 9.825, and Worley's 9.950. Once again, records were set for the Cats as the event's 49.450 total tied the third-best in program history, set a new bars and beam combination record of 98.950, and the highest ever vault, bars, and beam total of 148.275.
Last but not least, it was time to bring home the victory on the floor exercise. Wilson made her collegiate debut on floor which earned her a 9.875. Patterson followed suit with a 9.875 of her own which tied her career best and set a new standard for her fifth-year season. Magnelli continued to hit high marks with a 9.900 on the final rotation. Davis rocked the house with a 9.950-worthy routine which tied her career-best and set a new high for 2023. With a chance to set a new program high, Worley anchored the event. Only needing a 9.900 on the event, she shut it down with a 9.950 performance which crushed the standing home all-time best and program best.
"The message was, we're going to keep fighting," Garrison stated. "If we're up by five tenths, if we're down by three tenths, we're going to keep fighting. The message was to keep fighting, and that's what they did all night long."
Kentucky's record-setting night was the first meet of the season in Memorial Coliseum and second home meet of the year. The Wildcats will travel to Columbia, Missouri to face the Tigers next Friday before returning back to Memorial for the following two weeks.
2023 single-meet tickets to all five Kentucky gymnastics home meets are now on sale through the UK Athletics Ticket Office. UK students may attend meets for free following the presentation of a valid UK Student ID upon entry.
For the latest on the Kentucky gymnastics team, follow @UKGymnastics on Twitter, Facebook and Instagram, as well as on the web at UKAthletics.com.