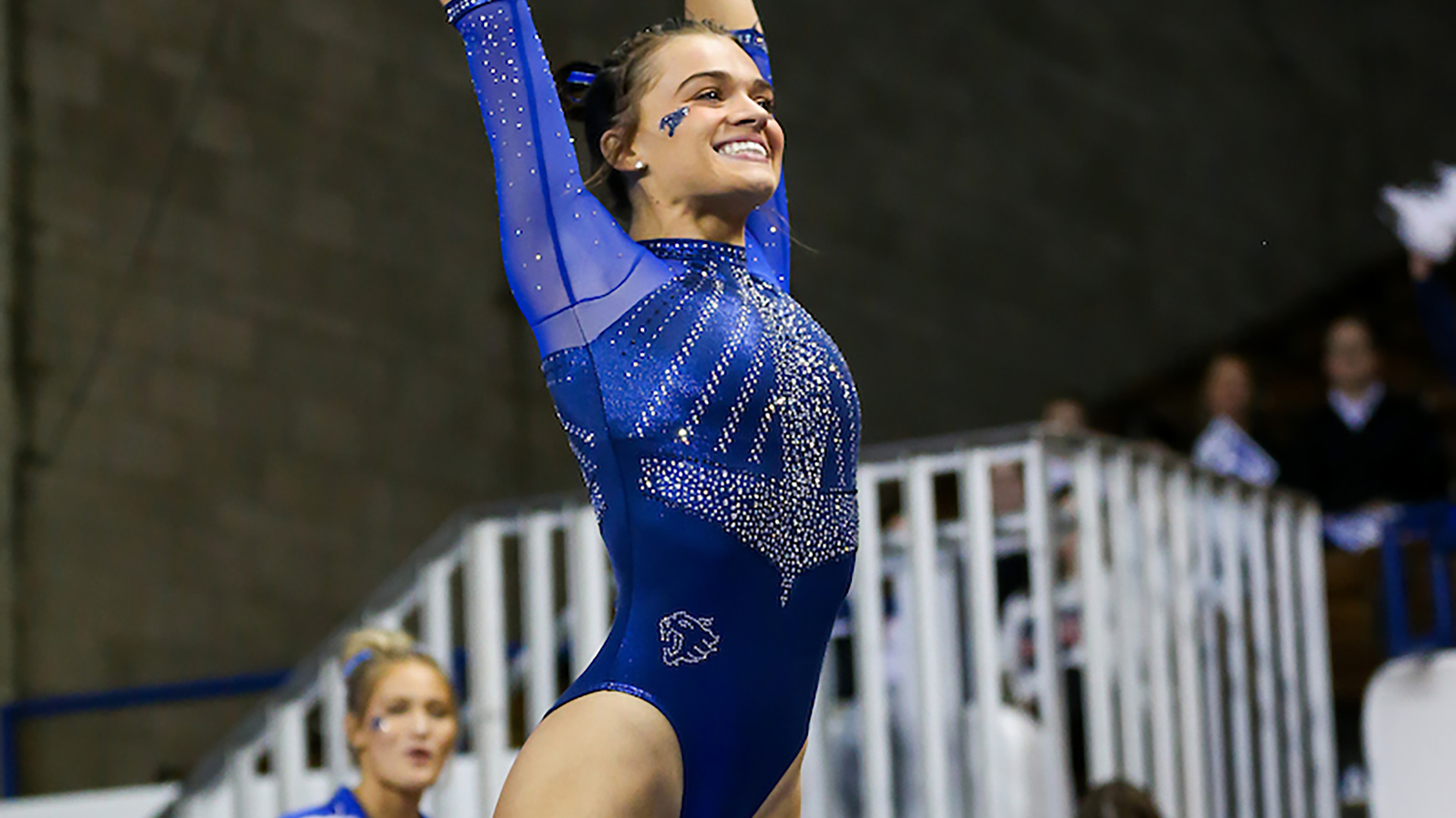 January 27, 2023 - 10:21 PM
Kentucky Gymnastics 'Fights' Past Alabama on Friday
No. 10 Kentucky and No. 13 Alabama were locked in a tight Southeastern Conference gymnastics meet on Friday night at Memorial Coliseum. The Cats had just made a mistake on the floor when head coach Tim Garrison gathered his team. What was his message?
"Our message today was just to keep fighting," said sophomore Makenzie Wilson. "No matter what, it doesn't matter if someone got a 10, someone just fell, just keep fighting. It's important for him to pull us together every single time."
It was Wilson who went next on the floor for Kentucky. Making her career debut in that event, and having just seen a teammate fall in the prior routine, one might think that Wilson felt a ton of pressure. However, just prior to beginning her routine, she outwardly showed that the pressure was not a bother.
"I had a big smile on my face because I knew that what I was about to do was for the team," Wilson said. "Also, it was my debut, but it's all for the team. Always."
Wilson nailed her routine, scoring a 9.850. It was the first of five straight huge floor performances that helped Kentucky beat Alabama 197.825-197.375 on Friday. UK's 197.825 was a program record score, topping the 197.750 the Cats scored twice last season.
Head coach Tim Garrison made it clear to the team that he wanted them to keep battling all night long, no matter what happened.
"The whole night was about keep fighting, keep fighting," Garrison said. "Sometimes, if things aren't going your way, for whatever reason, you can start to let down. The message was, we're going to keep fighting. If we're up by five tenths, if we're down by three tenths, we're going to keep fighting. The message was to keep fighting, and that's what they did all night long."
After a disappointing result last weekend at Georgia, Garrison hoped he would see better things from his team this week.
"What we wanted to see this week was growth," Garrison said. "I felt, in the past, when we've gotten behind, we needed to keep fighting and not worry about all of that stuff. Meets are four events, and that was the message."
The gymnasts also hoped that their hard work this week in practice would pay off, and it did.
"I don't think any of us could have asked for a better night," Wilson said. "We got what we deserve. This team is something extremely special."
As for that program record score, Garrison knows that his team created a big memory on this night.
"There are just so many highlights tonight and that's a big one, that you can see at the end that's shining," Garrison said.
So, where does the team go from here? Wilson does not see a peak in sight for this year's Cats.
"Through the roof. There's no ceiling for us," Wilson said. "We're going to keep climbing and we're not going to stop until we get where we want to be, which is nationals."
With a performance like the one the Kentucky had on Friday, nationals is a realistic goal, especially if the Cats keep fighting.