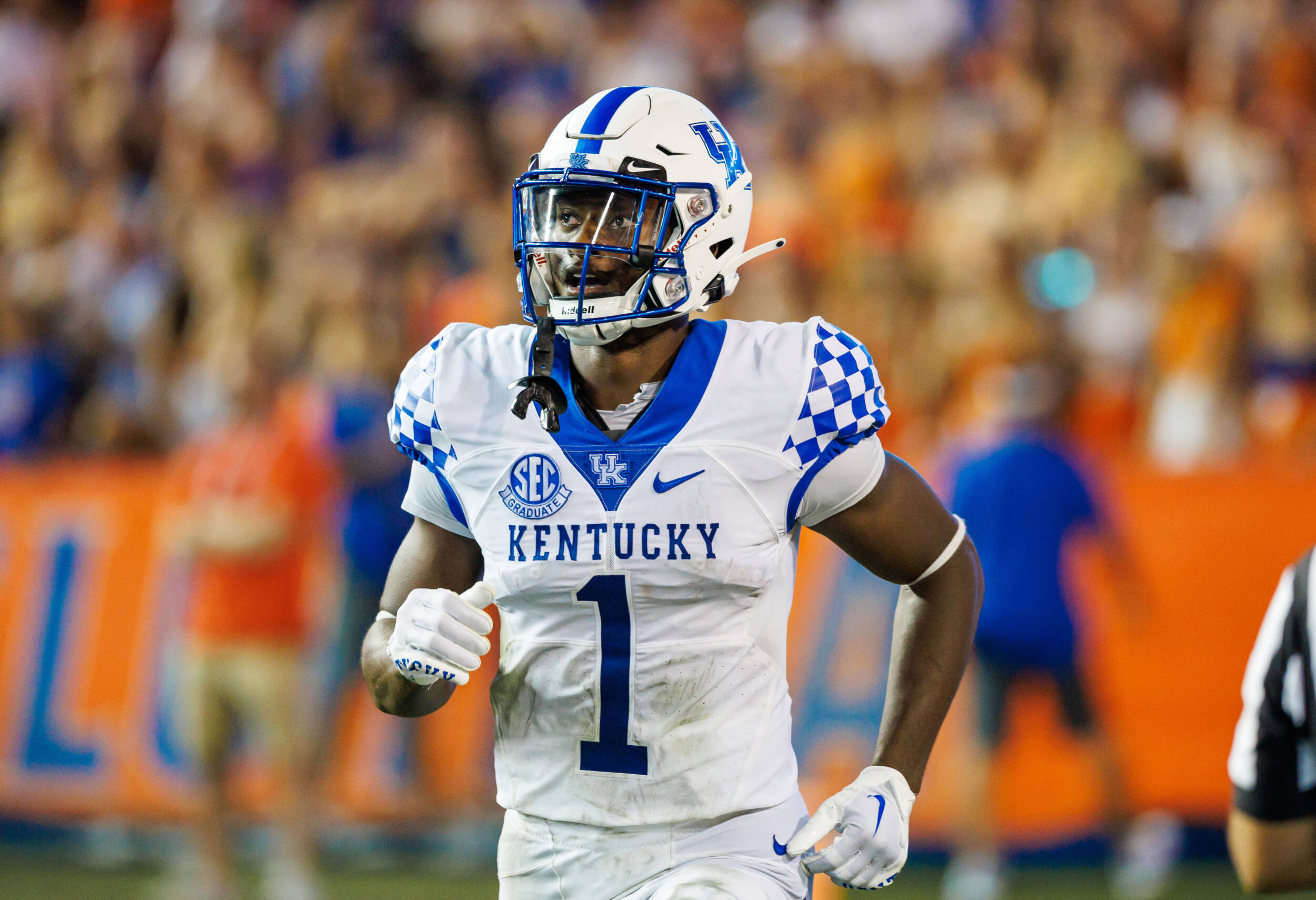 Four University of Kentucky football Wildcats, inside linebacker Jacquez Jones, offensive lineman Tashawn Manning, defensive back Keidron Smith and outside linebacker Jordan Wright, have been selected to play in the 2023 NFLPA Collegiate Bowl set for Saturday, Jan. 28 at the historic Rose Bowl in Pasadena, California. The game will kick off at 6 p.m. ET/3 p.m. PT and be televised on the NFL Network.
The roster will be split into two groups: the American team, led by former Tennessee Titans and St. Louis Rams head coach Jeff Fisher, and the National team, led by legendary Titans running back and current Tennessee State University head coach Eddie George. Manning will suit up for the American team, while Jones, Smith and Wright will participate on the National team.
Jones, a 6-foot-0, 230-pound linebacker from Tuscaloosa, Alabama, finished his collegiate career playing in 52 career games played with 38 starting assignments. He played three seasons at Ole Miss before transferring to Kentucky in 2021.  In five seasons of collegiate football, he totaled 305 career tackles (182 at Ole Miss and 123 at UK) along with 17.5 tackles for loss, 4.0 sacks, six pass breakups, four forced fumbles, two interceptions and one fumble recovery
In two seasons at Kentucky, he started in all 19 games played and was voted a team captain in 2022 by his peers. He led the team in tackles in 2021 with 86 and ranked No. 15 in the Southeastern Conference in total tackles per game (7.17).
Jones graduated in December of 2022 from Kentucky with a degree in sociology and a minor in criminology.
Manning, a 6-4, 330-pound native of Apopka, Florida, played in 30 career games with 14 starts in five seasons at Auburn before transferring to Kentucky for the 2022 season. He immediately contributed to Kentucky's offensive line, earning a starting spot in 12 games at right guard on the Big Blue Wall.
Manning graduated from Auburn in December of 2020 with an interdisciplinary studies degree emphasizing business, leadership and sports coaching.
Smith, a 6-2, 204-pound defensive back of West Palm Beach, Florida, transferred to Kentucky in 2022 after four seasons at Ole Miss and made a noticeable impact on the Wildcats' defense.
In his one season at Kentucky, he started in 12 of 13 games played and was named second-team All-Southeastern Conference by the league coaches and Pro Football Focus after totaling 46 tackles, five pass breakups, a team-high-tying two interceptions, a forced fumble, a fumble recovery and a tackle for loss.
For the Rebels, he appeared in every game during his career which included 47 contests with 29 starting assignments.
Altogether he totaled 269 career tackles, 26 pass breakups, seven interceptions, six forced fumbles and one fumble recovery in 60 career games. He had at least one interception in each of his five collegiate seasons and finished with 46 or more tackles in each of his five seasons.
Smith earned a degree in finance from Ole Miss in May of 2022.
Wright, 6-5, 231-pound outside linebacker from Fort Lauderdale, Florida, played in 54 career games with 22 starts in five seasons at Kentucky. He totaled 168 tackles, 25.0 tackles for loss, 9.5 sacks, 15 pass breakups, 14 quarterback hurries, five forced fumbles, five fumble recoveries, two interceptions.
In 2022, he was elected one of seven team captains by his peers and ranked third on the team in tackles with 62 after playing in 12 games with 10 starting assignments. He led the Wildcats' nationally-ranked defense in tackles for loss (9.5) and quarterback hurries (8).
Wright graduated from UK in December 17, 2021 with a degree in community and leadership development.
Founded in 2012, the NFLPA Collegiate Bowl gives prospective players the best opportunity to showcase their talents to potential employers and fans. Nearly 200 scouts, player personnel staff, general managers and head coaches from all 32 NFL teams are expected to be in attendance to watch live practices, conduct player interviews and review tape.