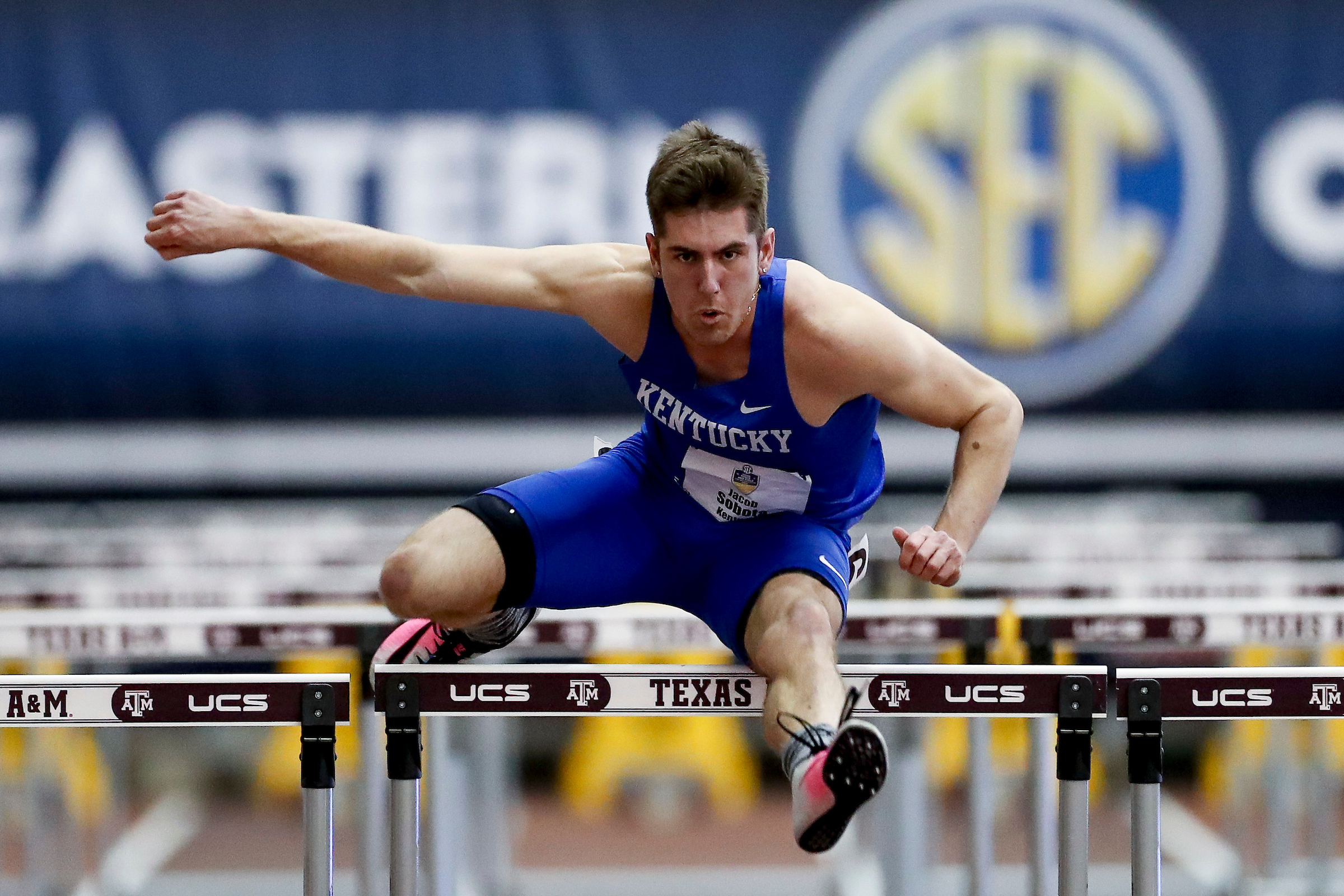 January 26, 2023 - 05:56 PM
Kentucky Track and Field at Razorback Invitational
FAYETTEVILLE, Ark. – The No. 3-ranked Kentucky women's track and field team and the No. 4-ranked men's squad will face stiff competition Friday and Saturday at the Razorback Invitational in Fayetteville, Arkansas.
Eight women's teams currently ranked in the nation's top 25 and eight ranked men's squads will vie at the Randal Tyson Track Center, which also will be the site of the Southeastern Conference Championships on Feb. 24-25.
A total of 16 women's teams and 15 men's teams are slated to compete, including host Arkansas, Arizona State, Baylor, BYU, Florida, Florida State, Iowa, Iowa State, Kentucky, LSU, Oklahoma State, Ole Miss, Oregon State (women only), Stanford, Southern California and Texas A&M. 
On Friday (all times Central), the men's heptathlon begins at 11:45 a.m. and women's pentathlon starts at 12:15 p.m.  Field events begin at 3 p.m. and running events get going at 6 p.m.
Saturday's action begins (all times Central) at 9:10 a.m. with running events and field events resume at noon.
The Wildcats are coming off eight event wins last weekend in split squad action at the Red Raider Open and Vanderbilt Invitational.  Highlights included Masai Russell setting the collegiate record in the 60-meter hurdles, Jenna Schwinghamer breaking the UK record in the 1000m run and Jordan Anthony setting the UK men's freshman record in the 60m dash. 
Follow along with the Cats on Facebook, Instagram, Twitter and on the web at UKathletics.com. 
Friday, January 27 (all times Central)

Heptathlon / Pentathlon

11:45 AM 
Men 
Heptathlon 60m 
Final 
Ja. Sobota 
12:25 PM 
Men 
Hept. Long Jump 
Final 
Ja. Sobota 
1:25 PM 
Men 
Hept. Shot Put 
Final 
Ja. Sobota 
2:30 PM 
Men 
Hept. High Jump
Final 
Ja. Sobota 
12:15 PM 
Women 
Pent. 60 Hurdles
Final 
An. Williams
1:00 PM 
Women
Pent. High Jump 
Final 
An. Williams
2:30 PM 
Women 
Pent. Shot Put 
Final 
An. Williams
3:25 PM 
Women 
Pent. Long Jump 
Final 
An. Williams

 
| | | | | |
| --- | --- | --- | --- | --- |
| 4:30 PM  | Women  | Pent. 800 Meters  | Final  | An. Williams |
|   |   | Pentathlon | Total | An. Williams |
Friday, January 27 (all times Central)
3:00 PM 
Men 
Pole Vault 
Final 
Daniel, Shepler, Ja. Sobota 
3:30 PM 
Women 
Shot Put 
Prelim/Final 
Akinrinsola 
4:15 PM 
Women 
High Jump 
Final 
Mullen
4:30 PM 
Men 
Long Jump
Prelim/Final 
Springfield, Causey III
5:45 PM 
Women 
Long Jump
Final 
Charlton
5:50 PM 
Men
Shot Put 
Prelim/Final 
Jo. Sobota, Ohene-Adu
6:10 PM 
Men 
200 Meters 
Final 
Lightner, Miller, Anthony
6:50 PM 
Women 
200 Meters 
Final 
Russell, Fuller, Ballard, Branch, Brooks, Mosley, Wallace Wright
7:45 PM 
Women 
Distance Medley Relay
Final 
Steely, Miles, Schwinghamer, Herman 
Saturday, January 28 (all times Central)

Heptathlon

10:15 AM 
Men 
Hept. 60 Hurdles 
Final 
Ja. Sobota 
11:00 PM 
Men 
Hept. Pole Vault 
Final 
Ja. Sobota 
2:10 PM 
Men 
Hep. 1000 Meters

 

Heptathlon 

Final 

 

Total

Ja. Sobota 

Ja. Sobota
Saturday, January 28 (all times Central)
9:10 AM 
Men 
3000 Meters – Open
Final
Withrow, Watts, Brush
9:35 AM 
Women 
3000 Meters – Open
Final
Kenne
9:45 AM 
Men 
Mile – Open 
Final 
Alston
10:00 AM 
Women 
Mile – Open 
Final 
Kruger, McCowan, J. Williams
10:30 AM 
Men 
400 Meters – Open
Final 
Nyandoro, Wilson
10:45 AM 
Women
400 Meters – Open
Final 
Wallace, Wright
11:25 AM 
Women 
60m Hurdles
Prelim
Brooks, Ballard
12:00 PM 
Women 
Weight Throw 
Prelim/Final 
Akinrinsola
12:10 PM 
Women 
60 Meters
Prelim
Perrow, Russell, Charlton
| | | | | |
| --- | --- | --- | --- | --- |
| 12:30 PM  | Men  | Mile  | Final  | D. Allen |
| 12:50 PM  | Women  | Mile  | Final  | Herman, Schwinghamer, Steely  |
| 1:18 PM  | Women  | 60m Hurdles | Prelim | Brooks, Ballard |
| 1:20 PM  | Men  | 400 Meters | Final | Lawrence Jr. |
| 1:30 PM  | Women  | Triple Jump | Prelim/Final | Galloway |
| 1:45 PM  | Women | 400 Meters  | Final | Miles, Moss, Mosley |
| 2:30 PM  | Women  | Pole Vault  | Final  | Szerencsits, Phillips |
| 2:30 PM  | Men  | Weight Throw  | Prelim/Final | Browning, Coles, Ohene-Adu |
| 2:32 PM  | Women  | 60 Meters | Final | Perrow, Russell, Charlton |
| | | | | |
| --- | --- | --- | --- | --- |
| 2:35 PM  | Men | 800 Meters | Final | Justus, Swann, O'Donnell |
| 2:45 PM  | Men  | Triple Jump  | Prelim/Final | Palmer |
| 2:55 PM  | Women | 800 Meters | Final | Martin, Lucas |
| 3:15 PM  | Men | 3000 Meters | Final  | J. Allen |
| 4:05 PM  | Men | 400 Meter Relay  | Final | UK |
| 4:30 PM  | Women  | 400 Meter Relay  | Final | UK |