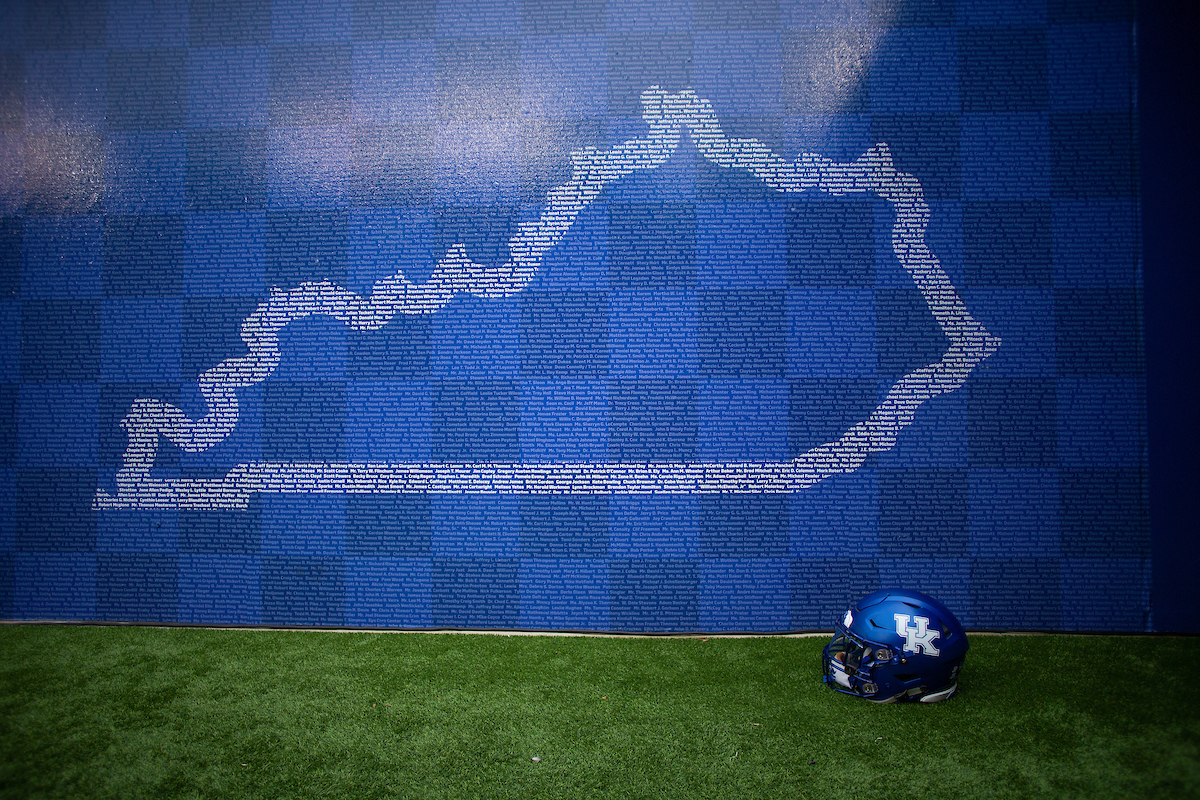 The Kentucky football program held a media opportunity with UK's transfer portal additions on Wednesday. One after another, the players took their turn in front of the media and three words were the focus for nearly every player – relationships, culture and opportunity.
UK head coach Mark Stoops has spent plenty of time developing both relationships and culture during his decade in Lexington. And it's paying off in many ways, including in the transfer portal.
JQ Hardaway a transfer from Cincinnati, cited the relationship he had with the Kentucky coaches as one of the reasons he ended up in Lexington.
"That was big for me," Hardaway said. "The relationship I had with them, I kind of already knew how the program ran. Kentucky was a very close pick for me out of high school, so when I entered the portal, that was the first thing on my mind. And Coach Brad White was the first coach to contact me after I entered the portal."
Quarterback Devin Leary knew that being around the right people and players was important in his decision to transfer from N.C. State.
"My biggest thing was making sure I had the right personnel around me, making sure I had a collaborative relationship with the offensive coordinator and head coach. And thirdly, the scheme. Making sure it's not too crazy different than what I'm used to but at the same time, helping me get to the next level and helping me succeed. Kentucky checked off every single box."
The relationship Leary had with Stoops was a crucial component in Leary choosing UK.
"I just trusted Coach Stoops," Leary said. "He's a players coach and whatever he told me through recruiting, it all came true. So I'm very happy to be here."
Running back Ray Davis did not know many players on the UK roster but he said it wasn't long before he was welcomed to the squad.
"I feel like I've been on this team the past two or three years. Just because these guys have embraced me, they welcomed me in," Davis said. "It's like a family. When I got here the first couple of days, I did feel alone because I didn't know anybody. But that didn't last long. We were embraced and loved."
Offensive lineman Marques Cox, who transferred from Northern Illinois, has been leaning on Eli Cox and Kenneth Horsey to show him the ropes.
"Eli, my cousin (laughing) we call it since we have the same last name, Eli has definitely been helping me, showing me the way we do things around here," Cox said. "How we attack everything with meetings, film, workouts and normal life."
Hardaway, among others, has seen players transfer to Kentucky, then make it to the NFL, something that also attracted him to Lexington.
"That was a big recruiting pitch. Bossman Fat (Kelvin Joseph) was one of them. I was a big fan of Bossman Fat, just to see how he was able to transfer from LSU. The big thing for me is seeing how they treat transfers. Everyone welcomed me like a teammate. That was really big for me."
Between culture, relationships and opportunities, the Kentucky football program has plenty to offer.