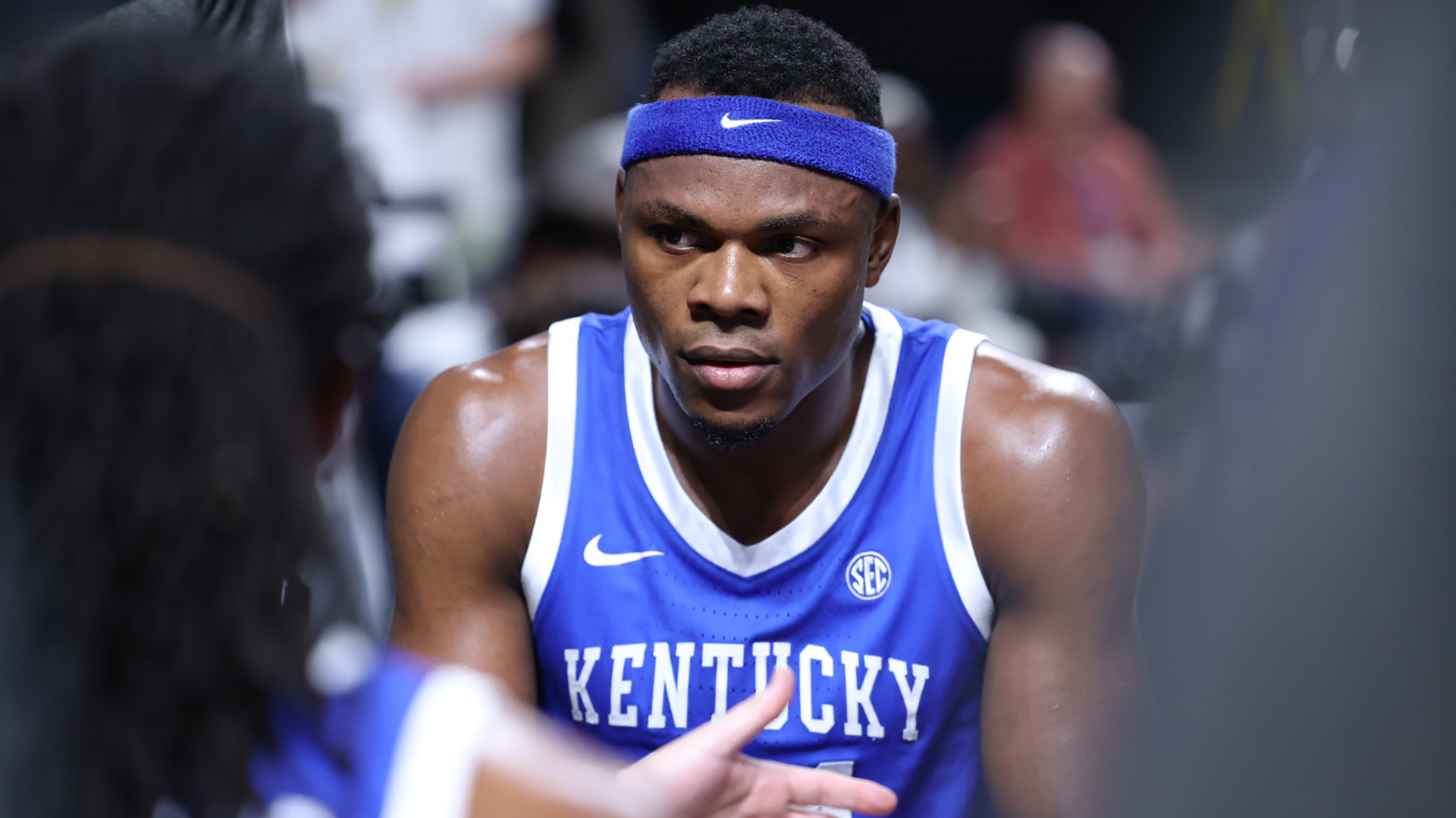 January 24, 2023 - 11:55 PM
Kentucky-Vanderbilt Postgame Notes
KENTUCKY MEN'S BASKETBALL POSTGAME NOTES
MEMORIAL GYMNASIUM | NASHVILLE, TENN.
JAN. 24, 2023
ATTENDANCE: 10,238
Final Score: Kentucky 69, Vanderbilt 53
Team Records and Series Notes
Kentucky won its fourth in a row, tying its longest winning streak of the season, and is 14-6 overall, 5-3 in the Southeastern Conference.
Vanderbilt is 10-10 overall and 3-4 in league play.
Kentucky leads the series 155-47 and has won 14 in a row vs. the Commodores.
UK leads the series 62-29 in games played in Nashville.
Tonight was Kentucky's 78th game played at Memorial Gymnasium (69 vs. Vanderbilt, 5 NCAA Tournament, 3 SEC Tournament, 1 SEC Playoff). This ties Freedom Hall for the most games played by UK in a single arena all-time (excluding home arenas).
Next for UK: on Saturday, the Wildcats play host to No. 9 Kansas in the annual SEC/Big 12 Challenge.
Team Notes
Kentucky limited Vanderbilt to 53 points, 20 points below its season average.
Kentucky is now 86-0 in the Calipari era when keeping the opponent to 55 or fewer points, including 3-0 this season.
Vanderbilt shot 32.7 percent from the field tonight and UK is 229-24 (90.5%) under Calipari when holding the opponent to 40% or less.
Kentucky dominated the rebounding, 37-24. UK is 10-0 this season when winning the rebounding by at least 10 boards during the game.
Kentucky had 17 assists tonight and is 11-0 this season when getting at least 16 assists.
Kentucky led by as many as 20 points and the Wildcats are 321-13 (96.1%) under Calipari when leading the opponent by at least 10 points at any time during the game.
Kentucky shot 56.4% from the field, the eighth game this season the Wildcats have shot at least 50 percent, but just the first time this season away from Rupp Arena.

It was the second-best shooting percentage in the Calipari era in a true road game, only behind a 56.7 percent night at South Carolina on Feb. 8, 2022.

Kentucky had five players in double figures for the third time this season and first time since the Michigan game.
Third time this season that UK has gotten the "TNT" double-double from Tshiebwe and Toppin, also vs. Georgia and North Florida.
When Vanderbilt missed a free throw with 3:10 remaining, it marked the first time in two games that an opponent missed a foul shot after Texas A&M and VU had combined to make 25 in a row.
Kentucky made only one trip to the foul line tonight, making 1 of 2 attempts, both of which are the lowest numbers of the Calipari era – actually by significant margins, as the previous lows were three made on two occasions and six attempts on two occasions.
Player Notes
For the second game in a row, Antonio Reeves came off the bench to lead the Wildcats in scoring with 16 points.

It is his sixth-straight double-figure scoring game and 15th of the season.

Oscar Tshiebwe amassed 15 points and 13 rebounds, his 40th double-double in 52 games at Kentucky.
Jacob Toppin had 12 points and 10 rebounds, his fourth double-double of the season.
CJ Fredrick had 10 points, his fourth double-figure game in the last five outings, and had a season-high five assists.
Cason Wallace had 10 points, his 12th double-figure scoring game of the season, and added five rebounds.
Sahvir Wheeler sparked with four points and five assists, tying Fredrick for game-high honors in that category.
Coach John Calipari
Calipari is 25-4 vs. Vanderbilt, with all but one win coming at UK.
Calipari has an 824-247 all-time on-court record and is 379-107 in 14 seasons at UK.
UK is 311-60 (83.8%) against unranked competition under Calipari.
In the First Half
Kentucky opened with a starting lineup of Cason Wallace, CJ Fredrick, Chris Livingston, Jacob Toppin and Oscar Tshiebwe for the fourth game in a row.
Antonio Reeves was the first substitute at 15:29 and he made a 3-pointer on his first possession.
The teams battled evenly until a six-point Kentucky run put UK ahead 25-20 and the Wildcats never trailed again.
Kentucky scored the last seven points of the half and went to intermission ahead 36-27.

Balanced scoring featured Reeves with nine points, Toppin and Fredrick with eight, and Tshiebwe with seven. Toppin led the boardwork with six rebounds.
In the Second Half
Kentucky began the second half with the starting lineup.
UK opened with a 12-3 spurt, extending the total run to 19-3, making the score 48-30 and coaxing a Vanderbilt timeout at 15:43.
Vanderbilt got no closer than 11 points the rest of the way.