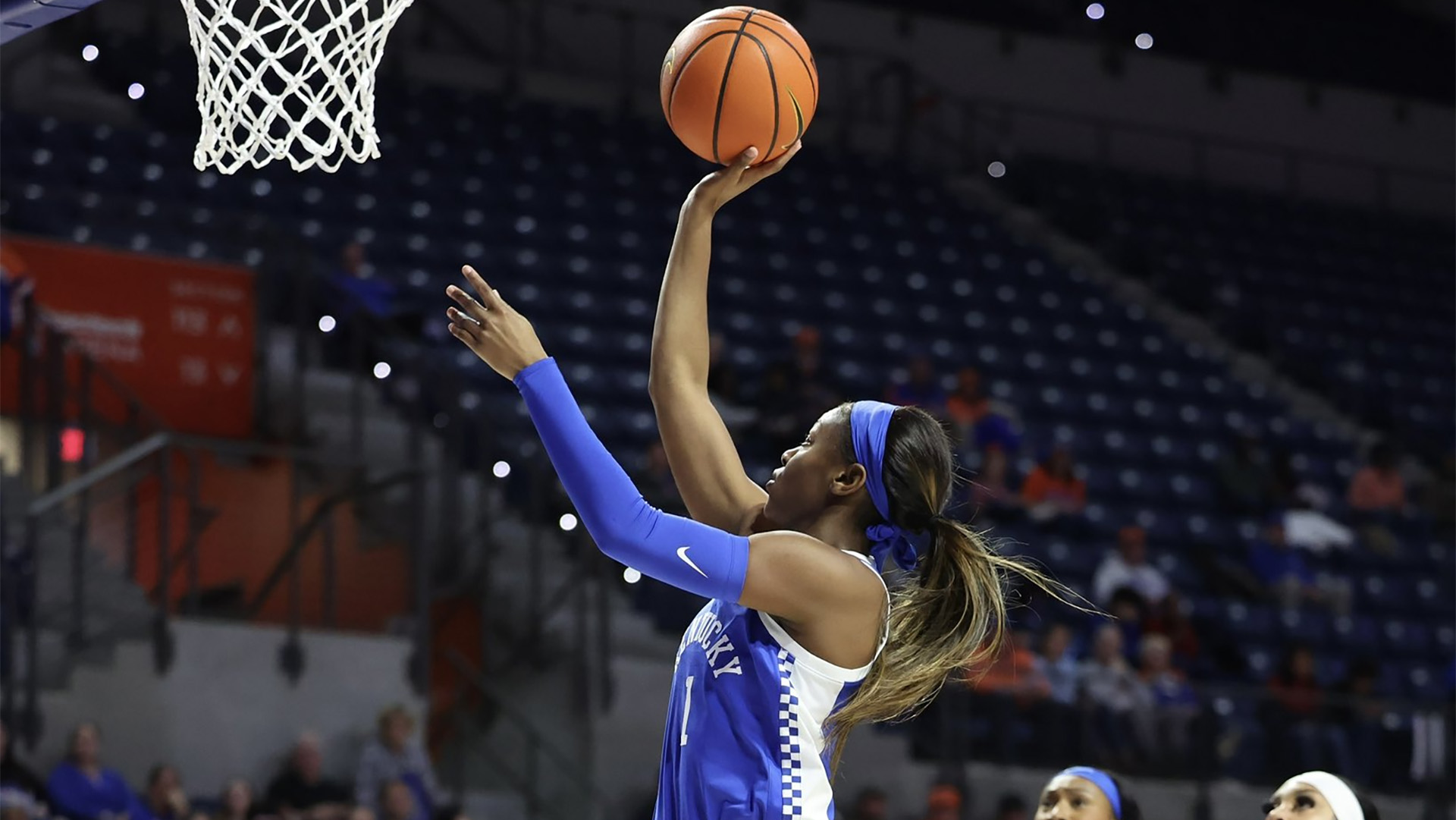 January 22, 2023 - 03:24 PM
Kentucky Falls Just Short at Mississippi State
STARKVILLE, Miss. – Robyn Benton scored 24 points and added a career-high seven assists but the Kentucky women's basketball team came up just short, falling to Mississippi State 77-76 on Sunday at Humphrey Coliseum.
Jada Walker had 22 points for the Cats, while Maddie Scherr had 16 points, six rebounds, five steals and three assists before fouling out.
Kentucky (9-10, 1-6 SEC) got off to a fast start in this one behind Walker's shooting. The sophomore hit a pair of early threes to give the Cats a 6-4 advantage. The second three was the beginning of a 15-4 run that the Cats used to close the quarter, a run that saw freshman Kennedy Cambridge score five late points. UK would lead 18-8 after 10 minutes of action.
In the second quarter, Mississippi State would methodically chip away at the Kentucky lead. The Cats maintained the 10-point advantage, 26-16, before the Bulldogs went on a 9-3 run to get within four, 29-25. MSU would eventually get within three, 31-28, but Cambridge hit two free throws with under a second to play in the half and UK took at 33-28 advantage into the break.
MSU came out hot in the third quarter, scoring the first 10 points of the period to lead 38-33. Kentucky fought back behind Scherr, who hit a pair of free throws, then a layup and another free throw to tie it at 38 apiece. The period would remain very tight and MSU would lead 50-48 with on quarter remaining.
Kentucky started the fourth quarter on a 7-2 run to re-take the lead, 55-52. The Cats would extend the lead to five, 61-56 before MSU scored seven in a row to lead 63-61. The Bulldogs would maintain the lead, eventually stretching it to six, 74-68, with 1:52 to play.
That's when the Cats rallied. Benton would hit a pair of jumpers to get UK within two, 74-72, with 50 seconds to play. After an MSU basket, Kentucky would get another Benton basket to cut the deficit to 76-74.
With 14 seconds to play, MSU inbounded the ball but Walker stole it, raced the length of the court and hit a runner to tie the game at 76 apiece with eight seconds left.
MSU's Anastasia Hayes would be fouled with three seconds left and she made one to make it 77-76. Benton would get one last chance but her runner missed and the Cats came up just short.
Mississippi State (15-5, 4-3) got 21 points from Jessika Carter.
Kentucky (9-9, 1-5 SEC)
Kentucky returns to action on Thursday, hosting Auburn at Memorial Coliseum. Tipoff is set for 7 p.m. and the game can be seen on SEC Network Plus.