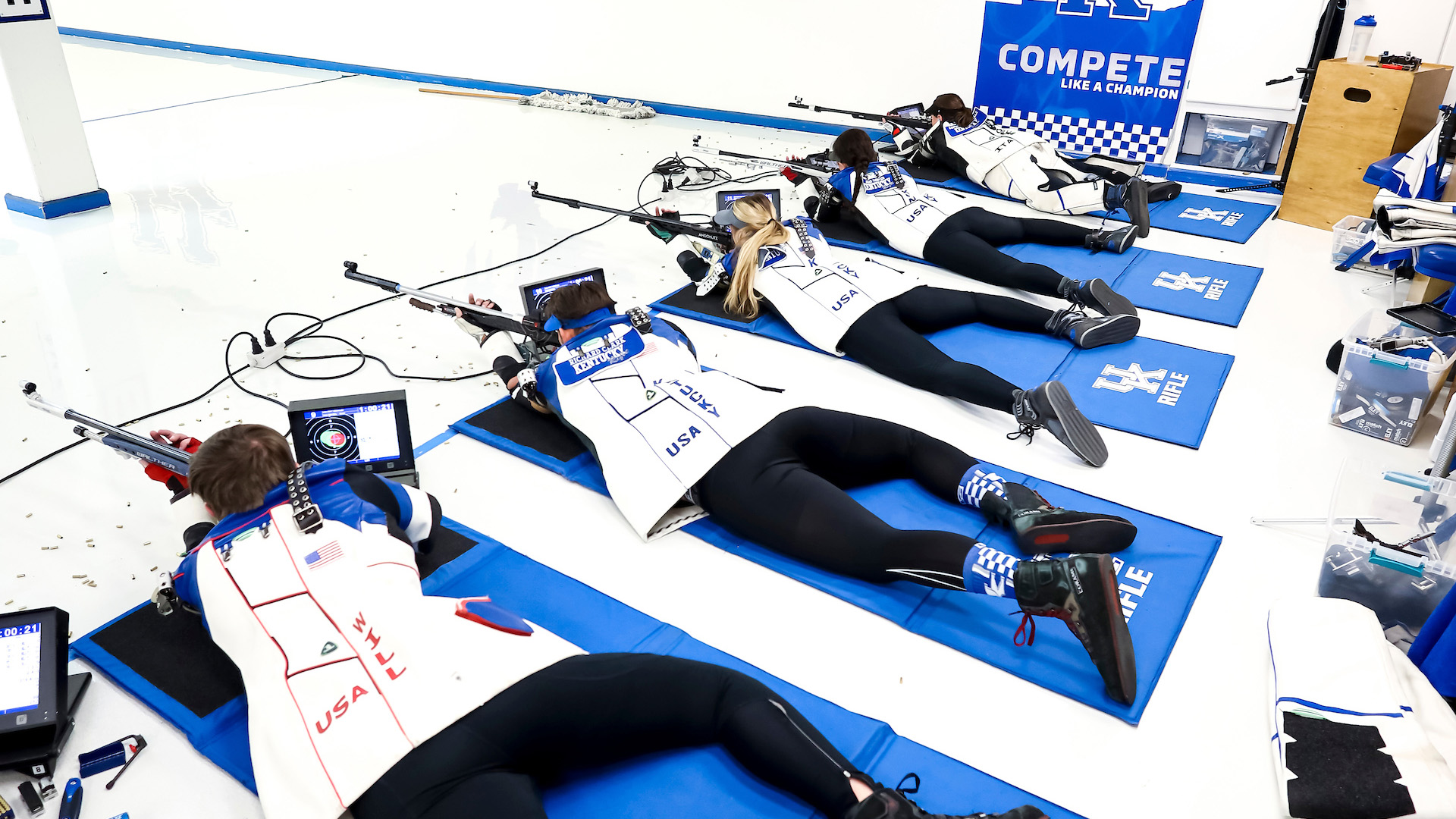 LEXINGTON, Ky. – Behind several strong performances in both smallbore and air rifle, the No. 4 University of Kentucky rifle team posted a strong team score of 4727 at the 2023 Withrow Invitational on Saturday.
The event, which included UAB, Memphis, NC State, North Georgia and host Murray State took place inside the Pat Spurgin Rifle Range on the campus of Murray State University. The teams competed across Friday and Sunday with the Wildcats taking the range Saturday.
"It was good to see some quality performances today," UK head coach Harry Mullins said. "This team is doing all the right things in training to get better and I am confident in what we have moving forward. We need to have a good week of training before hosting Army and North Georgia next weekend in Lexington. It will be nice to get back inside our home range."
Kentucky scored a 2353 in smallbore and 2374 in air rifle to earn the aggregate team score of 4727. It was freshman Sofia Ceccarello who again led the Wildcats, scoring a 589 in smallbore and a team-best 599 in air rifle. UK's best smallbore score came from super senior Mitchell Nelson, who posted a 590 in the discipline, matching that effort in air rifle as well. Fellow super senior Richard Clark scored a 586 in smallbore and 594 in air rifle, while super senior Will Shaner earned a 583 in smallbore and 588 in air rifle. Freshman Martin Voss, who was in both countable lineups, scored a 588 in smallbore and 589 in air rifle.
Sophomore Allison Buesseler scored a 584 in smallbore and 592 in air rifle, while fellow sophomore Kayla Kalenza posted a 574 in smallbore and 591 in air rifle. Seniors Emmie Sellers and Mason Hamilton performed well. Sellers earned a 585 in smallbore and 587 in air rifle, while Hamilton secured a 581 in smallbore and 589 in air rifle.
Kentucky will return to action next Saturday as it plays host to Army and North Georgia inside the UK Rifle Range. Free breakfast will be available inside Barker Hall as spectators will be allowed inside the range for air rifle.
For more information on the Kentucky rifle team, visit UKathletics.com or follow UKRifle on Twitter, Instagram and Facebook.