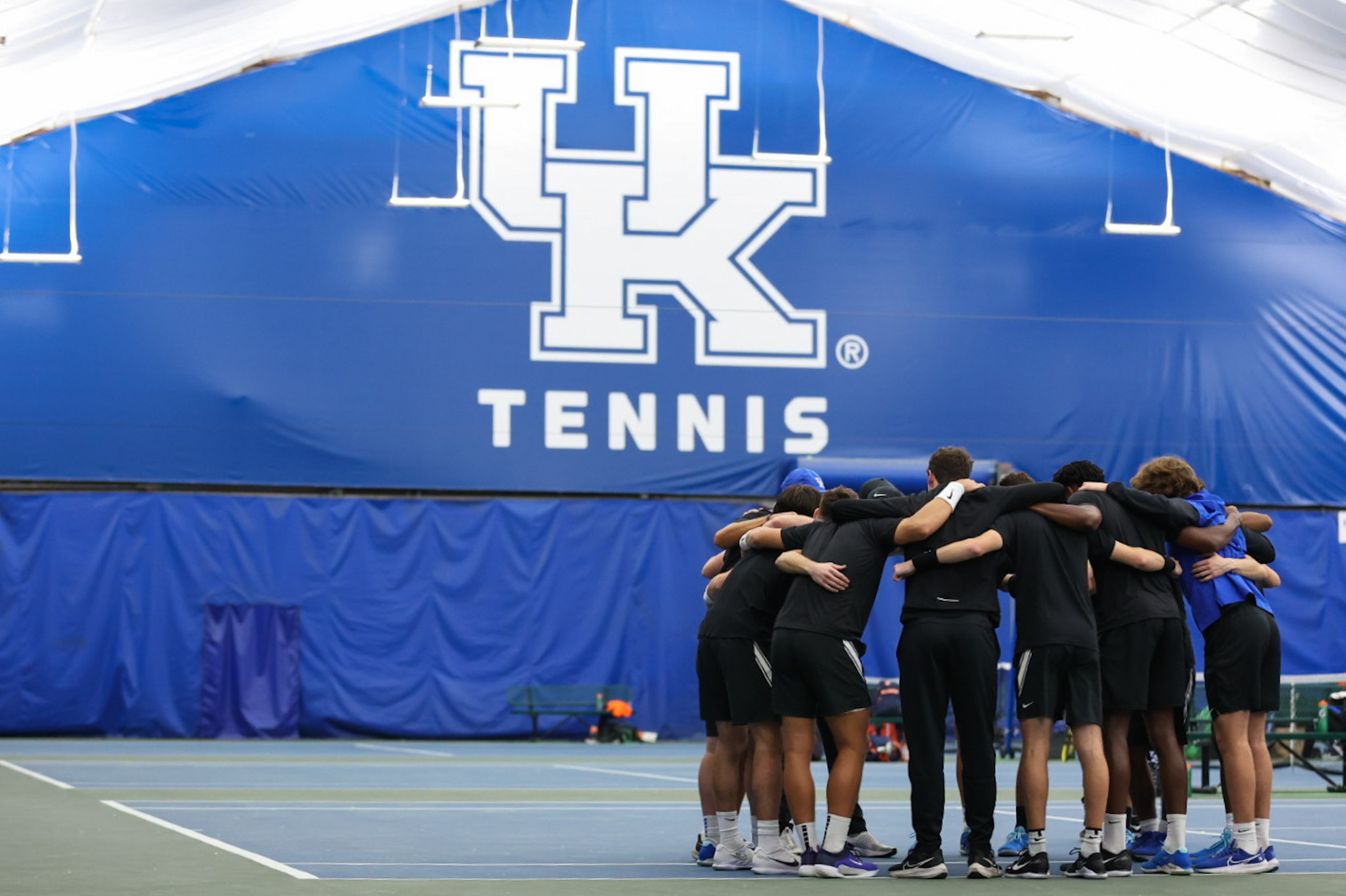 January 21, 2023 - 05:24 PM
No. 4 Kentucky takes down Illinois, 4-1
LEXINGTON, Ky. – The fourth-ranked Kentucky Men's Tennis team moved to 3-0 on the 2023 campaign with a solid 4-1 win over Illinois at the Hillary J. Boone Indoor Tennis Center on Saturday. The victory over the Big Ten's Fighting Illini was the first of the season over an opponent from a Power Five conference. Today's match marked the first time Kentucky defeated Illinois since 2018, a 4-3 win in Lexington.
Two Wildcats went undefeated on the day, led by 2021 National Player of the Year Liam Draxl. Draxl, teaming up with Alafia Ayeni, took care of business in doubles with a 6-4 victory. Following that, the captain took down unanimous All-Big Ten selection Hunter Heck on the No. 1 singles court, 7-5, 6-2. Joshua Lapadat also had a successful day at the Boone, claiming victory in both the clinching singles and doubles matches.
Today's action commenced with doubles play as the Wildcats rallied from a court down to claim the opening advantage. Illinois's William Mroz and Karlis Ozolins claimed a 6-3 victory on court two over Kentucky's Alexandre LeBlanc and Jaden Weekes. Despite trailing, Kentucky claimed the remaining two courts in the span of a minute, as the teams of Draxl & Ayeni and Lapadat and JJ Mercer both claimed 6-4 victories to hand the opening point to the 'Cats.
In singles action, Kentucky was paced by senior transfer Taha Baadi. While the other three Wildcats on court were locked in tight battles, Baadi raced out to an easy 6-1, 6-0 victory at No. 4 singles in less than fifty minutes. The Illini would, however, avoid the sweep by claiming victory at No. 2 singles. Ozolins would knock off Ayeni, 6-4, 6-4 to hand the fifth-year senior his first defeat of the season. The match would end soon after that, as Draxl and Lapadat each claimed their matches within minutes of each other. The two teams did not play out the remaining singles matches, leaving the final score at 4-1 in favor of the 'Cats.
On the season, the no. 1 doubles team of Ayeni and Draxl moved to 3-0 on the year. Draxl is also 3-0 in singles, with wins on both courts no. 1 and no. 2. The team of Lapadat and Mercer also moved to 3-0 on the season with today's win marking their first at No. 3 doubles.
The Wildcats will return to the court on Friday, Jan. 27th, as they host the ITA Kickoff Weekend. One of 15 national host sites, the four-team regional will be played inside the Hillary J. Boone Tennis Center on Friday and Saturday. On Friday, Kentucky will open play, facing off against Liberty at 1 p.m. That match will be followed by a contest featuring Washington and Notre Dame. On Saturday, the winners from Friday will square off in the Kickoff Weekend Championship, with the winner of that match qualifying for the ITA Indoor National Championships to be held in Chicago from Feb. 16-19. Fans can follow along with live stats or watch live on Track Tennis. Admission is free to the public.
RESULTS
Kentucky vs. Illinois
Doubles
Ayeni/Draxl (UK) def. Heck/Hovre (ILL) 6-4
Mroz/Ozolins (ILL) def. LeBlanc/Weekes (UK) 6-3
Lapadat/Mercer (UK) def.  Debru/Okonkwo (ILL) 6-4
Singles
Liam Draxl (UK) def. Heck (ILL) 7-5, 6-2
Karlis Ozolins (ILL) def. Alafia Ayeni (UK) 6-4, 6-4
Joshua Lapadat (UK) def. William Mroz (ILL) 6-3, 6-4
Taha Baadi (UK) def. Kenta Miyoshi (ILL) 6-1, 6-0
Jaden Weekes (UK) vs. Oliver Okonkwo (ILL) 3-3 (unfinished)
JJ Mercer (UK) vs. Mathis Debru (ILL) 0-0 (unfinished)
Order of Finish:
Doubles—2, 1, 3
Singles—4, 2, 1, 3
For the latest on UK Men's Tennis, follow the Wildcats on Twitter and Instagram at @UKMensTennis.