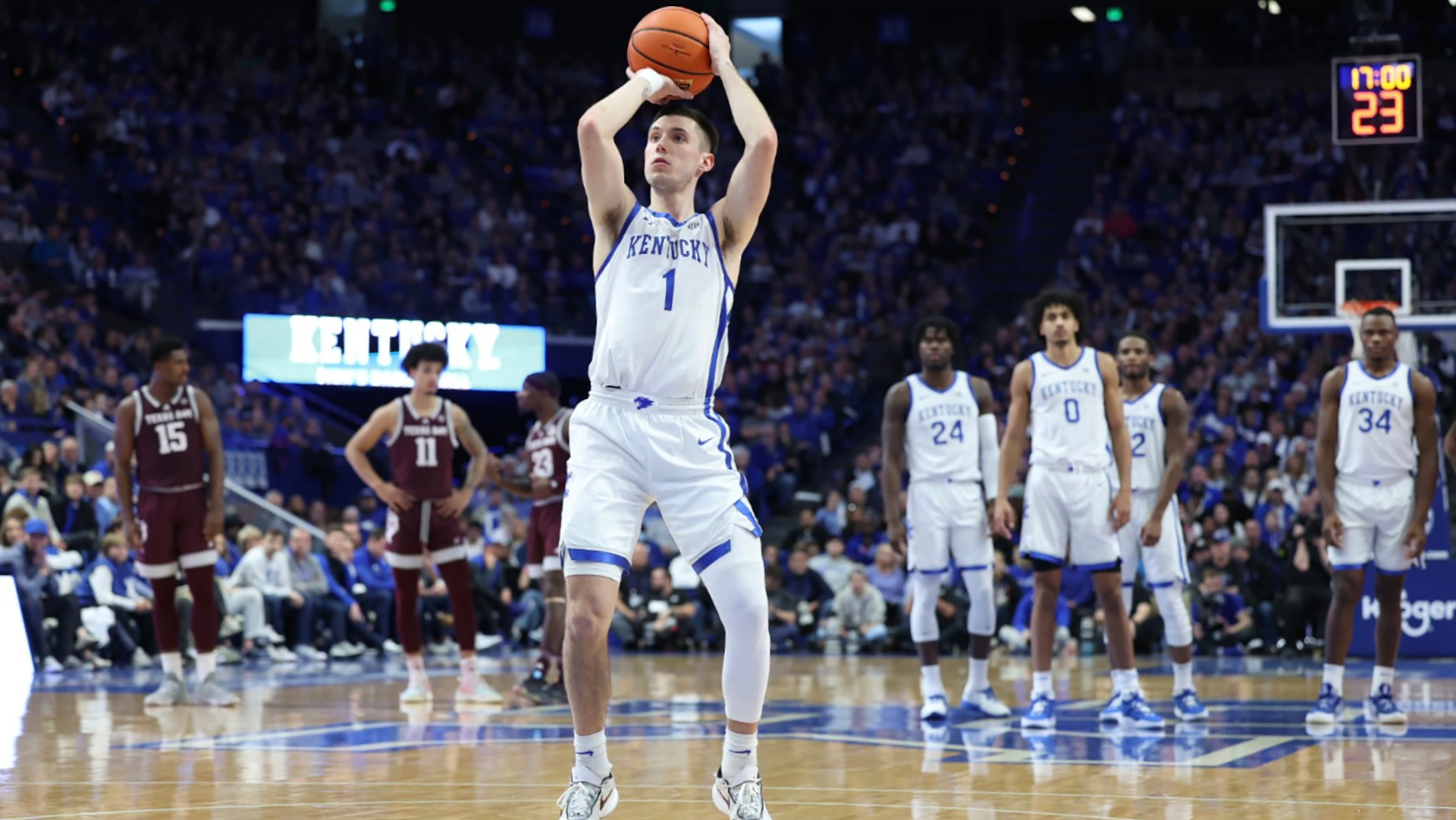 January 21, 2023 - 05:50 PM
Kentucky-Texas A&M Postgame Notes
KENTUCKY MEN'S BASKETBALL POSTGAME NOTES
RUPP ARENA AT CENTRAL BANK CENTER | LEXINGTON, KY
JAN. 21, 2023
ATTENDANCE: 20,017
Final Score: Kentucky 76, Texas A&M 67
Team Records and Series Notes
Kentucky won its third in a row and is 13-6 overall, 4-3 in the Southeastern Conference.
Texas A&M is 13-6 overall, ending a seven-game win streak, and is 5-1 in league play.
Kentucky holds a 13-4 advantage in the all-time series and has won the last four.
UK leads 7-2 in games played in Lexington and has won the last five vs. the Aggies in Rupp Arena.
Next for UK: on Tuesday, the Wildcats travel to Nashville to take on Vanderbilt. Game time is 9 p.m. ET (8 p.m. CT in Nashville) and the game will be televised on SEC Network.
Team Notes
In a game featuring 10 ties and 11 lead changes, UK took the lead for good with 8:29 to go and won 76-67.
For the second game in a row, Kentucky trailed at halftime but came back to win.

The last time that happened was Jan. 2 and 5, 2021, when the Wildcats rallied from halftime deficits to win at Mississippi State and at home vs. Vanderbilt.

Kentucky made 11 of 32 on 3-point shots. It's the most threes attempted since the Wildcats launched 33 long balls vs. Chattanooga on Dec. 17, 2011.
Kentucky won the rebounding 39-30, including 23-10 in the decisive second half.

UK won offensive rebounding 18-4, leading to a 16-2 advantage in second-chance points.

Kentucky won despite Texas A&M going 16 of 16 at the foul line. The last time a Kentucky opponent went perfect on at least 16 attempts from the line in a single game was Arkansas in a 71-67 Razorback overtime win Feb. 27, 2014.
Player Notes
Antonio Reeves came off the bench to lead the Wildcats with a season-high 23 points, his 14th double-figure game of the season.

He made five 3-pointers, one shy of his career best. With 8:29 remaining, he hit the 3-pointer that broke a tie and put the Wildcats ahead for good, 56-53.

Jacob Toppin had 17 points, four rebounds and three assists.

UK is 4-0 this season when Toppin scores at least 17.

CJ Fredrick had 12 points, his third time in the last four games in double figures.
Cason Wallace had 11 points, his 11th double-figure scoring game of the season.

He led the Wildcats with four assists, the sixth time this season he has paced the Cats in that category.

After scoring no points and grabbing three rebounds in the first half while limited by foul trouble, Oscar Tshiebwe bounced back to finish with seven points and 17 rebounds.

It is the fourth time this season he has garnered at least 17 boards in a game and 13th time in his two seasons as a Wildcat.
Coach John Calipari
Calipari is 12-3 vs. Texas A&M, with all but one win coming at UK.
Calipari has an 823-247 all-time on-court record and is 378-107 in 14 seasons at UK.
UK is 310-60 (83.8%) against unranked competition under Calipari.
Rupp Arena
Kentucky is 644-78 (89.2%) in the 47-year history of Rupp Arena, including 349-47 (88.1%) vs. SEC foes.
Kentucky is 217-18 (92.3%) in Rupp Arena under Calipari.
In the First Half
Kentucky opened with a starting lineup of Cason Wallace, CJ Fredrick, Chris Livingston, Jacob Toppin and Oscar Tshiebwe for the third game in a row.
Both teams struggled early with Texas A&M getting the first basket at the 17:42 mark.
UK trailed 4-0 when Fredrick got UK on the board with a 3-pointer at 16:35.
Antonio Reeves was the first substitute at the 15:56 mark and immediately hit a 3-pointer, tying the game at 6.
Trailing 13-12, UK got consecutive threes from Reeves, Livingston and Livingston again to go up 21-15.
TAMU replied with a 14-2 run to go up 29-23, coaxing UK's second timeout at 4:09.
TAMU went to halftime with a 31-29 lead (see note above on UK trailing at halftime). Reeves led the Wildcats with nine points and Toppin added nine.
In the Second Half
Kentucky began the second half with the starting lineup.
Kentucky scored the first five points of the half, with a three by Fredrick putting the Cats up 34-31.
With UK up 36-35 at the 17:00 mark, Tshiebwe was fouled on a shot attempt. After video review, Tshiebwe was called for a previously unviewed flagrant foul and Julius Marble of A&M was called for a common foul and technical foul.

Marble made two free throws, Fredrick made two free throws; UK was given the ball out of bounds and Wallace made a jumper to make the score 40-35.

Tshiebwe scored at the 13:55 mark, his first points of the game, to make it 47-44.
TAMU scored seven straight points to make it 51-47.
Trailing 53-51, UK got seven in a row to go back ahead 58-53 and the Wildcats never trailed again.
Ahead 59-57, Toppin made a free throw, missed the second, Wallace tracked down the rebound and found Reeves for his fifth 3-pointer of the game (63-57).