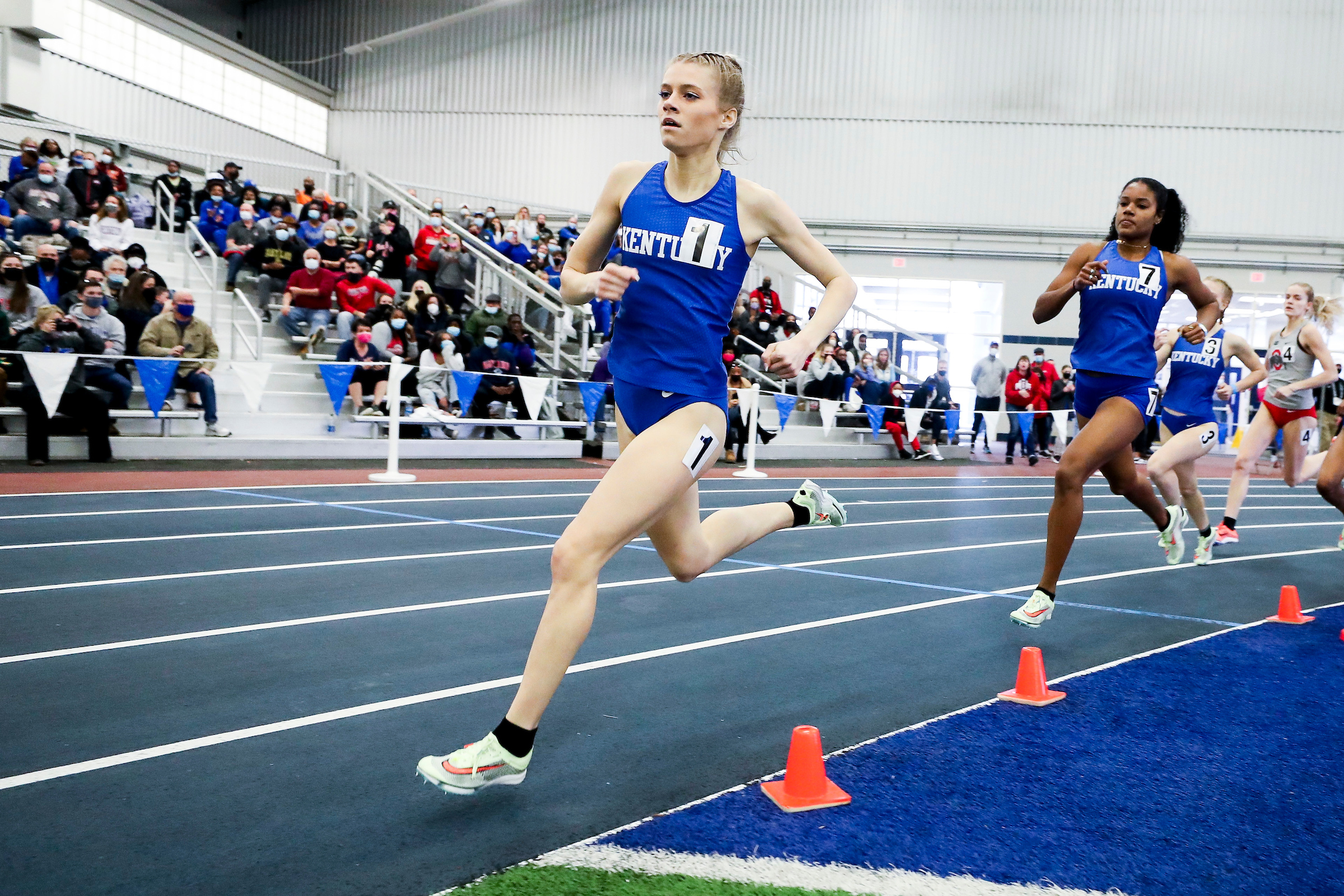 January 21, 2023 - 07:58 PM
Jenna Schwinghamer, Josh Sobota Wins Wrap Up Record-Setting Weekend
NASHVILLE, Tenn. – The Kentucky men's and women's track and field teams wrapped up a successful weekend with two more victories Saturday at the Vanderbilt Invitational as Jenna Schwinghamer got her second win in as many days and Josh Sobota claimed the men's shot put.
Sobota got his second win from three competitions this indoor season with today's toss of 64 feet, 7.75 inches/19.70 meters. HIs season-best mark of 66'5.75″/20.26m, recorded in a win in December, remains the No. 2 mark in the nation this year.
After setting a school record in winning the 1000-meter run Friday night, Schwinghamer added another win on Saturday in the 800m in 2:05.97. Wildcats went 1-2-3-4 with Sydney Steely running her 800m best in a UK uniform, 2:06.15, which ranks No. 8 on UK indoor all-time list. Phoebe McCowan was third in 2:08.39 followed by DeAnna Martin in fourth (2:08.95). Bryanna Lucas was eighth in 2:13.27.
Saturday's action improved UK to eight wins for the weekend, a collegiate record, two school records, a UK freshman record and a total of 20 personal bests.
On Friday, the Wildcats competed in two meets, the Red Raider Open in Lubbock, Texas, along with the Vanderbilt Invitational.  The Wildcats won six events on Friday, highlighted by Masai Russell's collegiate record 7.75 seconds in the women's 60m hurdles, followed by Jordan Anthony's UK freshman record 6.55 seconds in the men's 60m dash. Both of those races were in Lubbock.
Kentucky returns to action January 27-28 in the Razorback Invitational at the University of Arkansas.
Follow along with the Cats on Facebook, Instagram, Twitter and on the web at UKathletics.com.
Vanderbilt Invitational, Saturday, January 21
Men
Shot Put Open
Prelim/Final
23. Jacob Sobota: 39'7.75"/12.08m
Women
Mile
Final
6. Ally Kruger: 4:55.25, personal best

14. Julz Williams: 5:00.83

21. Mollie Roden: 5:05.06

Men
Shot Put Invite
Prelim/Final
1. Josh Sobota: 64'7.75"/19.70m

5. Dennis Ohene-Adu: 57'10.25"/17.63m

Women
Pole Vault Invite
Final
3. Siobhan Szerencsits: 13'4.5"/4.08m
Women
Pole Vault Open
Final
8. Kaitlyn Cain: 11'3.75"/3.43m
Men
Mile
Final
6. Jake Allen: 4:04.88, personal best

14. Dylan Allen: 4:07.08

19. Jackson Watts: 4:10.22, pers. best

32. McLean Griffin: 4:16.19

36. Alex Alston: 4:18.83

Women
Triple Jump
Prelim/Final
8. Sophie Galloway: 41'7"/12.67m
Men
Triple Jump
Prelim/Final
7. Joseph Palmer: 48'11.75'/14.93m

Women
400 Meter
Final
11. Mahogany Mobley: 47.91, PB

35. Iantha Wright: 1:01.40

Women
Shot Put
Prelim/Final
8. Simi Akinrinsola: 49'8.25"/15.14m, personal best

19. Leah Moore: 45'2.5"/13.78m

23. Annika Williams: 41'5.75"/12.64m

Men
400 Meter
Final
15. Tavon Williams: 49.53
Women
800 Meter
Final
1. Jenna Schwinghamer: 2:05.97

2. Sydney Steely: 2:06.15, No. 8 on UK all-time list but not a PB she ran faster at Mississippi State

3. Phoebe McCowan: 2:08.39

4. DeAnna Martin: 2:08.95

8. Bryanna Lucas: 2:13.27

Men
800 Meter
Final
8. Alex Justus: 1:51.62

10. John O'Donnell: 1:52.51

11. Justin Swann: 1:52.53

Men
3000 Meter
Final
7. Harper Moore: 8:22.88

9. Miles Brush: 8:24.06

Women
4 x 400 Meter
Final
7. UK (Seven Simms, Reynei Wallace, Iantha Wright, Mahogany Mobley): 3:53.93
Men
4 x 400 Meter
Final
6. UK (Tavon Williams, Justin Swann, John O'Donnell, Jacob Sobota): 3:17.53