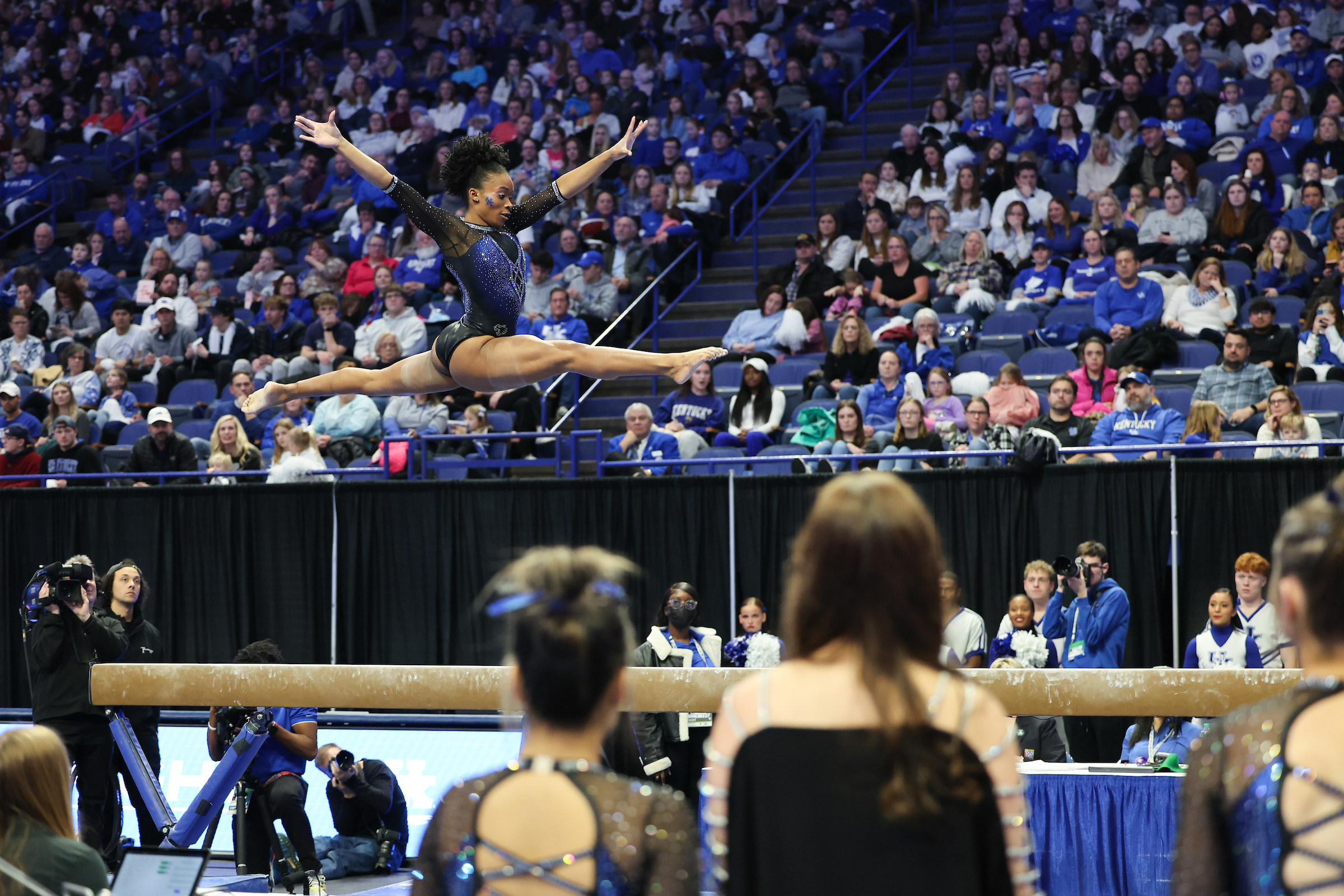 January 20, 2023 - 11:02 PM
Wildcats Struggle to Get Ahead of Bulldogs in Athens
ATHENS, Ga. – No. 9 Kentucky gymnastics fell to Southeastern Conference rival Georgia 196.575-197.225 on Friday in Stegeman Coliseum.
The tough defeat in the early stages of the 2023 season was Kentucky's second loss and first in the SEC.
Beginning the night on the uneven bars, seniors Kaitlin DeGuzman and Raena Worley held the top marks on the event with a 9.850 for DeGuzman and 9.875 for Worley. Both sophomore Makenzie Wilson and Worley held a 9.825 each on vault while fifth-year senior Arianna Patterson led Team 49 with a 9.875.
In the third rotation, junior Isabella Magnelli set a new season record with her 9.900 performance on the floor. Worley also scored a 9.900 on the event with junior Hailey Davis scoring a 9.850.
The last event of the night was the balance beam where Magnelli and Patterson each set new season highs and career bests. Patterson executed a beautiful 9.950 worthy routine. Her previous best on the event was a 9.925. Anchoring for the Wildcats, Magnelli followed Patterson's lead and set her own top score. With a 9.985 in the last competition, she topped it with a 9.925.
Kentucky and Georgia now hold a 1-13 all-time series record with the only Wildcat victory coming last season where the Cats came out on top of a quad meet with Central Michigan, Illinois and UGA, 197.450.
The Wildcats will be back in Lexington Jan. 27 for its first home meet in Memorial Coliseum of 2023. UK will host No. 11 Alabama for a 7:30 p.m. EST meet.
Single-meet tickets to all five Kentucky gymnastics home meets are now on sale through the UK Athletics Ticket Office. UK students may attend meets for free following the presentation of a valid UK Student ID upon entry.
For the latest on the Kentucky gymnastics team, follow @UKGymnastics on Twitter, Facebook and Instagram, as well as on the web at UKAthletics.com.