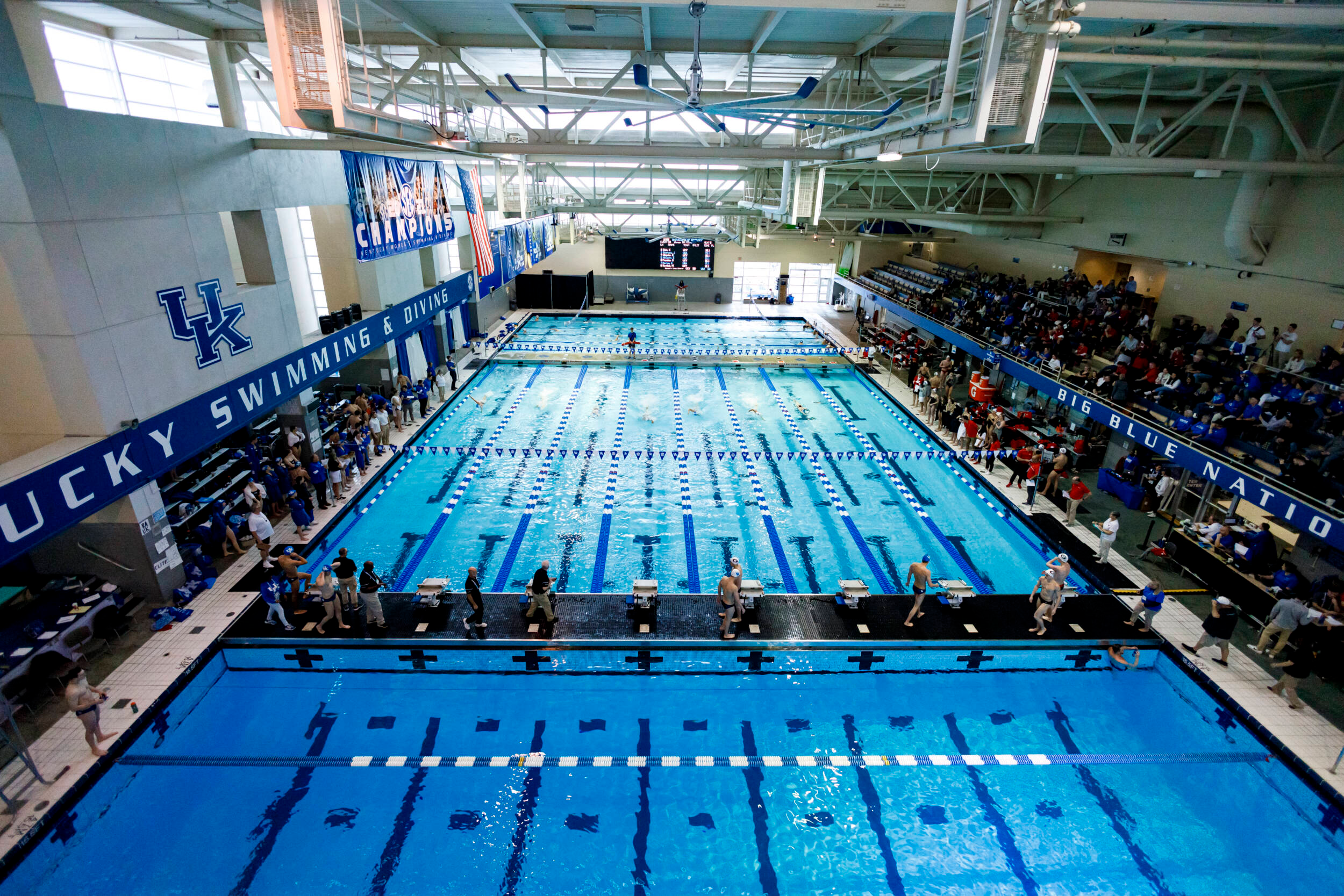 January 20, 2023 - 10:01 AM
Swim & Dive Hosts Louisville for Senior Day on Saturday
LEXINGTON, Ky. – Kentucky swimming & diving is set for its final home meet of the season this Saturday when the No. 20/UR Wildcats host No. 7/17 Louisville inside the Lancaster Aquatic Center at 1 p.m.
The meet will serve as senior day for UK as a total of 14 seniors will be honored at a pre-meet ceremony beginning at 12:45 p.m. Admission is free for all fans. The action can also be streamed on SECN+ with live results available on the Meet Mobile app.
Kentucky seniors to be recognized include: Emily Baeth, Caitlin Brooks, Gillian Davey, Keanan Dols, Tim Ellett, John Michael Gordon, Max Hawton, Beth McNeese, Henry Miller, Jodi Ogle, Lauren Poole, Morgan Southall, Kaitlynn Wheeler and Callie Blandford (manager).
Saturday is also the final home meet for four Wildcat fifth-years: Mason Wilby, Adam Rosipal, Izzy Gati and Kyndal Knight.
This weekend's meet will mark the first competition for the Cats since its dual meet vs. Georgia on Dec. 19. There, UK earned a split with the top-10 ranked Bulldogs as the women defeated UGA for the first-time in program history.
UK swimmers with top-20 times in the country this season individually consist of Levi Sandidge (6th, 1650 free and 10th, 1000 free) Kaitlynn Wheeler (10th, 500 free), Caitlin Brooks (13th, 200 back) and Gillian Davey (18th, 200 breast). In relays, Kentucky's women rank ninth in the 800 FR and 17th in the 400 MR.
On the boards, Kyndal Knight has the fifth-best average score in the country on the 1-meter springboard and fourth best on the 3-meter.
Louisville is the fifth-straight Wildcat dual meet opponent to have both the men's and women's teams ranked in the top-25. The Cardinals' women have compiled a 4-0 dual meet record this season while also placing first at the Purdue Invitational. The men have gone 3-1 in duals and were second among six teams in West Lafayette.
The No. 7 ranked Louisville women are led by Gabi Albiero, Christiana Regenauer and Liberty Williams, all of whom rank inside the top-25 in three events. For the men, Ilia Sirbirtsev, Denis Loktev and Denis Petrashov have been the top-point earners.
In the last five meetings between the two in-state rivals, the Kentucky women own a 4-1 advantage over the Cardinals while the UK men are 1-4.
For the latest on UK Swim & Dive, follow the Wildcats on Twitter and Instagram at @UKSwimDive, and on Facebook at Kentucky Swimming and Diving.