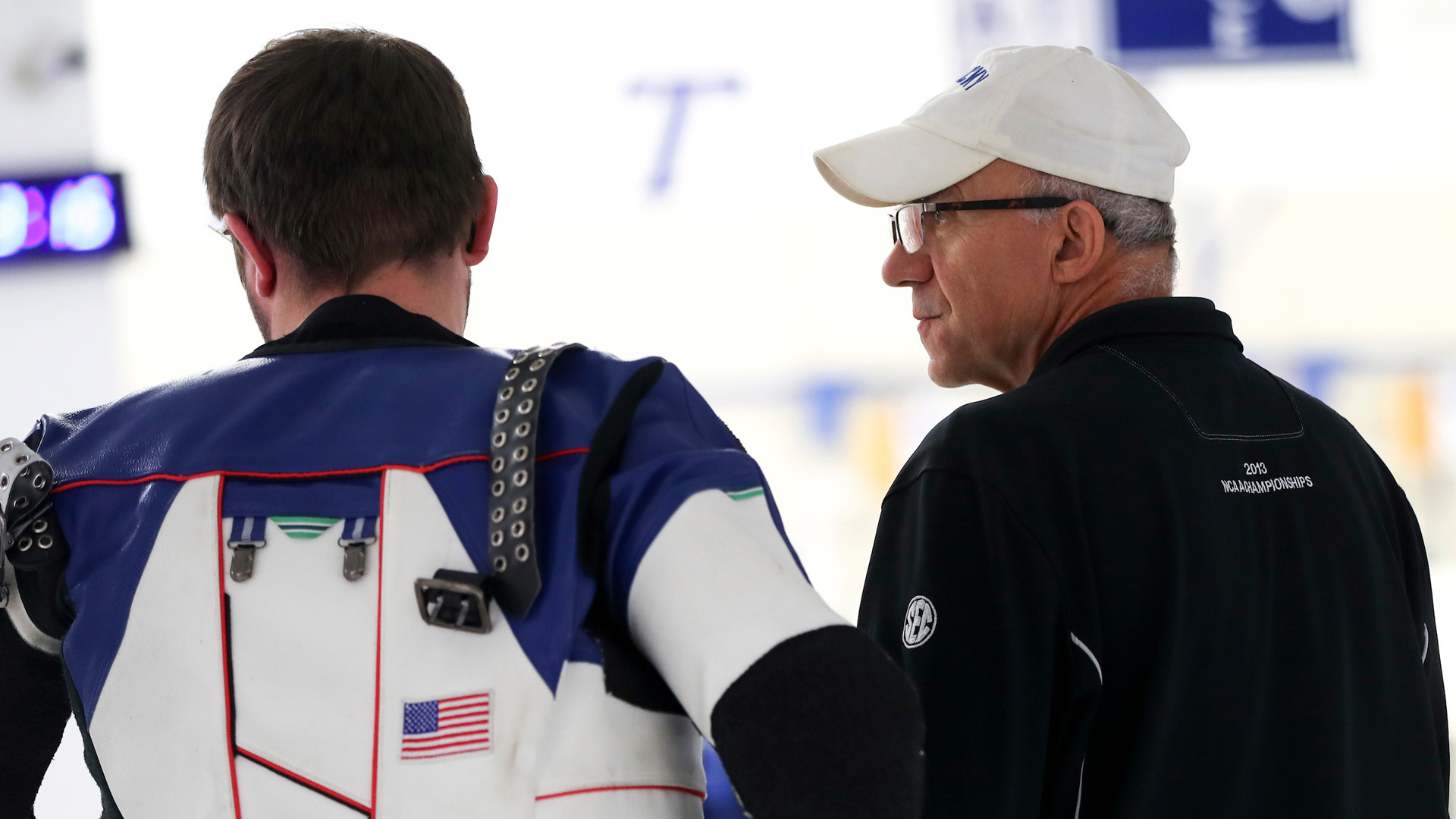 LEXINGTON, Ky. – The No. 4 University of Kentucky rifle team continues its 2023 schedule Saturday as it travels to Murray, Kentucky to compete in the annual Withrow Invitational.
The event, which also includes UAB, Memphis, NC State, North Georgia and host Murray State will take place inside the Pat Spurgin Rifle Range on the campus of Murray State University. Several teams will compete Friday and Sunday, but Kentucky and Murray State are set to begin sights and prep on Saturday around 10 a.m. ET. Live results and live targets will be available online at UKathletics.com.
"The Withrow Open is always a fun event for our squad and we are looking forward to competing again on Saturday," UK head coach Harry Mullins said. "We obviously didn't compete at our best last weekend, but I think the team responded well in training this week and I am looking forward to being back in the range with them this weekend."
Last weekend, Kentucky traveled to Fairbanks, Alaska to compete in two dual matches. UK posted strong scores in both matches, earning a 4726 against Alaska and a 4739 against Georgia Southern. Freshman Sofia Ceccarello led the Wildcats with strong scores in both matches, setting career highs both days in smallbore. Super senior Mitchell Nelson earned a career-high in smallbore during Sunday's match with Martin Voss and Mason Hamilton each securing career-best numbers.
On the season, Kentucky is averaging a 2343.22 in smallbore and 2381.00 in air rifle for an aggregate average of 4724.22. Ceccarello leads Kentucky with a 589 smallbore average and 597.875 air rifle average. Super senior Richard Clark is averaging 587.111 in smallbore and 594.111 in air rifle. Fellow super senior Will Shaner is averaging 585.429 in smallbore and 594.714 in air rifle, while sophomore Allison Buesseler is earning 583.222 in smallbore and 594 in air rifle. Nelson improved his season averages with a 582.556 in smallbore and 592.222 in air rifle. Voss did the same and is earning a 582.667 in smallbore and 590.333 in air rifle, while sophomore Kayla Kalenza is earning a 580.125 in smallbore and 588.625 in air rifle.
Seniors Emmie Sellers and Jaden Thompson are having a good seasons with Sellers earning a 578.75 in smallbore and 589.25 in air rifle, while Thompson is averaging 577.25 in smallbore and 590 in air rifle. Sophomore Tori Kopelen is earning a 574.625 in smallbore and 586.714 in air rifle, while Hamilton is earning a 573.75 in smallbore and 583.375 in air rifle and freshman AJ Hotko posting a 563.5 in smallbore and 582.375 in air rifle.
UAB will be competing this weekend for the first time in 2023 after averaging a 4570 aggregate in the fall with a 2258.25 in smallbore and 2312 in air rifle. Gracie Turk leads the team with a 562.5 smallbore average and 582.75 air rifle average.
Memphis will also be competing in 2023 for the first time. The Tigers last match was when it hosted Kentucky in late November, scoring a 4691. The Tigers are averaging a 2310.75 in smallbore and 2362.25 in air rifle for a 4673 aggregate average.
Murray State had an impressive start to the 2023 season last weekend, scoring a 4716 at UT-Martin. The Racers are averaging 2328.10 in smallbore and 2362.80 in air rifle for an aggregate average of 4680.90.
NC State will start its 2023 season this weekend after averaging a 2314.67 in smallbore and 2357 in air rifle during the fall campaign.
North Georgia and Kentucky have already met once this season with the Wildcats hosting UNG along with Navy. UNG is earning a 2274.86 in smallbore and 2339.29 in air rifle this season.
For more information on the Kentucky rifle team, visit UKathletics.com or follow UKRifle on Twitter, Instagram and Facebook.