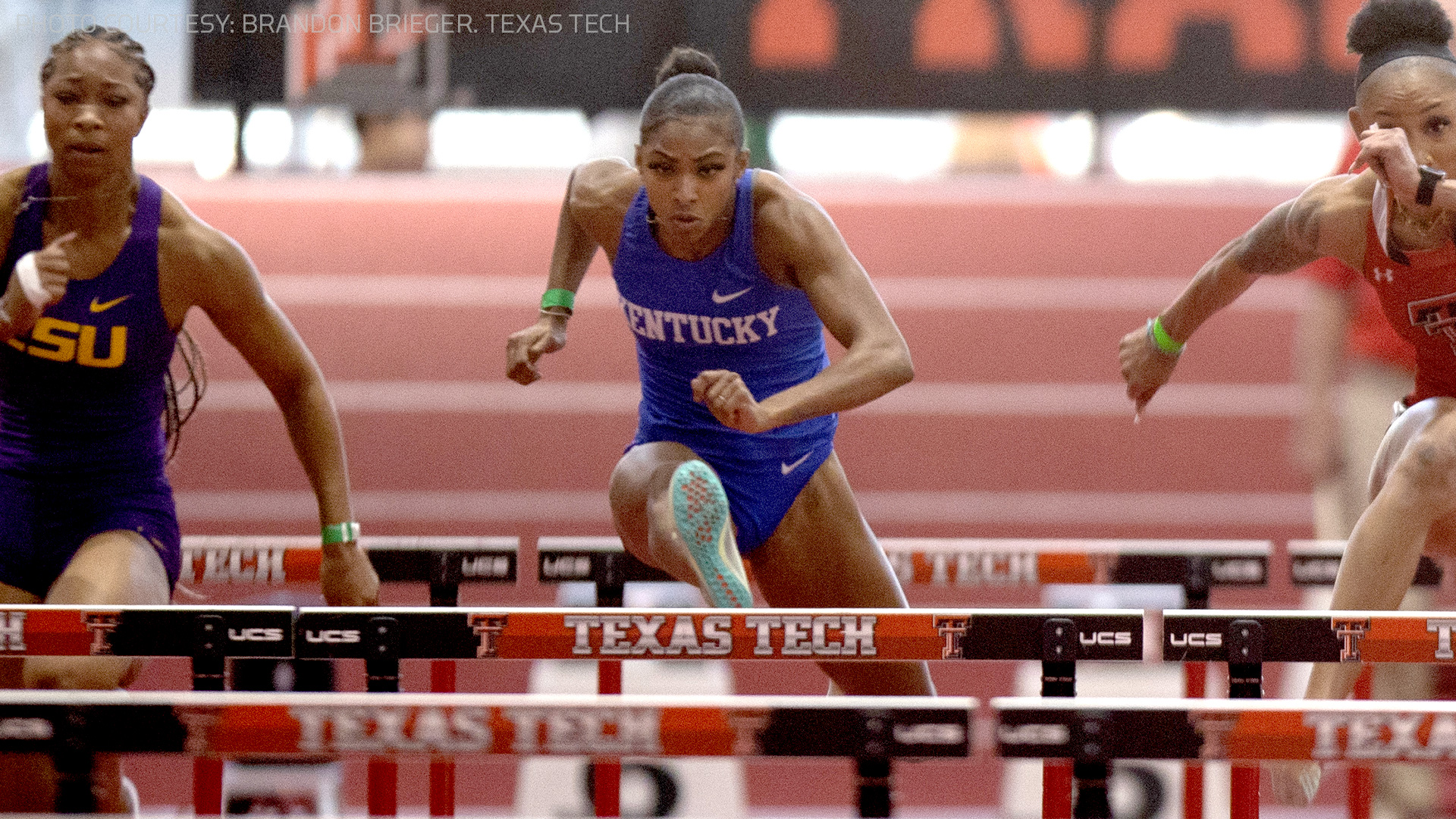 January 20, 2023 - 09:38 PM
Masai Russell Breaks Collegiate Record in 60-Meter Hurdles
LUBBOCK, Texas / NASHVILLE, Tenn. – Having entered the all-time collegiate top-10 list in the 60-meter hurdles just six days ago, Masai Russell zoomed to the top of the chart Friday at the Red Raider Open in Lubbock, Texas, setting the collegiate record with a scintillating time of 7.75 seconds. 
Russell eclipsed the mark of 7.78 seconds set by Grace Stark of Florida at the 2022 NCAA Championships. Russell also moved past the Kentucky standard of 7.87 seconds owned by Keni Harrison, an eventual Olympic medalist, since 2015. Harrison's 7.87 was her winning time in the 2015 NCAA Final. 
Kentucky now owns five collegiate records as Russell joins a distinguished group that includes Abby Steiner (200m indoor and outdoor, 2022); Sydney McLaughlin (400m hurdles, 2018); and UK's 2022 4×400 outdoor relay (Megan Moss, Steiner, Karimah Davis, Alexis Holmes).  
With the sprinters and hurdlers in Lubbock and the distance runners and field athletes in Nashville's Vanderbilt Invitational, Kentucky totaled six wins on the day.  
Russell's triumph was followed quickly – literally and figuratively – by Jordan Anthony, who won the men's 60m dash in 6.55 seconds. In the process, Anthony broke the UK freshman record for the second week in a row and moved within 0.01 of the school record held by Wildcat Olympian Tim Harden.  
Next at the top of the leaderboard was senior Dajour Miles, who claimed the 400m dash with a time of 52.45 and moved to No. 5 in Kentucky history in that event.  
Senior Kennedy Lightner notched UK's fourth win in Lubbock with a 200m dash of 20.64 seconds.
Meanwhile in Nashville, senior Keaton Daniel made it three wins in as many meets this season in the pole vault. He ascended to 18 feet, 1.25 inches / 5.52 and has won all three meets with clearances of at least 18 feet.  
Kentucky was strong in the women's 1,000-meter run, placing 1-3-4-5 with Jenna Schwinghamer taking first place in a personal-best time of 2:42.39.  
The Wildcats totaled 16 personal bests on the day, with 11 coming in Lubbock and five more in Nashville.  
The Red Raider Open was a one-day event and has concluded. Action continues Saturday in Nashville. Here is the Vanderbilt meet schedule.   The live stream link for Saturday is http://vanderbi.lt/-qdob  The live results link is http://vanderbi.lt/j7ct3 
Red Raider Open results: https://live.pttiming.com/?mid=5363 
Red Raider Open — Friday, January 20

 

Men

 

400 Meter, section B

 

Final

 

6. Brandon Nyandoro, 49.50

 

7. Beck O'Daniel, 49.68 

Women

 

200 Meter, section B

 

Final

 

4. Shadajah Ballard, 24.28

 

10. Anthaya Charlton, 24.62, personal best 

Women

 

60 Meter

 

 

Preliminary

 

4. Victoria Perrow, 7.38q

 

6. Masai Russell, 7.40q, tied personal best 

10. Anthaya Charlton, 7.45 

14. Colleen Branch, 7.46, personal best 

19. Tamiia Fuller, 7.59 

Men

 

60 Meter

 

Preliminary

 

3. Jordan Anthony, 6.66q

 

11. Langston Jackson, 6.76 

Women

 

Long Jump

 

Prelim/Final

 

4. Anthaya Charlton: 19'9"/6.02m

 

Women

 

60m Hurdles

 

Preliminary

 

2. Masai Russell, 8.10Q

 

3. Yasmin Brooks, 8.22Q 

12. Shadajah Ballard, 8.47 

Men

 

600 Yard

 

Final

 

5. Wayne Lawrence Jr., 1:10.06, pers. best

 

Women

 

60m Hurdles

 

Final

 

1. Masai Russell, 7.75, New collegiate record

 

5. Yasmin Brooks, 8.17, personal best 

Women

 

60 Meter

 

Final

 

5. Victoria Perrow, 9.42

 

Men

 

60 Meter

 

Final

 

1. Jordan Anthony: 6.55, Improves UK freshman record, .01 off the school record

 

Women

 

400 Meter, section A

 

Final

 

1. Dajour Miles: 52.45, No. 5 UK all-time list

 

7. Christal Mosley: 54.26 

Women

 

200 Meter, section A

 

Final

 

11. Tamiia Fuller: 23.99, personal best

 

12. Victoria Perrow: 24.10, personal best 

14. Colleen Branch: 24.49 

Men

 

200 Meter, section A

 

 

Final

 

1. Kennedy Lightner: 20.64, No. 7 on UK all-time list

 

2. Brandon Miller: 20.80 

6. Jordan Anthony: 20.98 

10. Langston Jackson: 21.25 

Women

 

4 x 400 Meter Relay

 

 

Final

 

4. UK (Yasmin Brooks, Masai Russell, Christal Mosley, Dajour Miles): 3:38.37

 

16. UK (Tamiia Fuller, Colleen Branch, Victoria Perrow, Shadajah Ballard): 4:10.63 

Men

 

4 x 400 Meter Relay

 

 

Final

 

2. UK (Wayne Lawrence Jr., Brandon Miller, Brandon Nyandoro, Kennedy Lightner): 3:06.72

 
Vanderbilt Invitational 

 

Friday, January 20 

 

Men 

 

Weight Throw 

 

Prelim/Final 

 

5. Michael Browning: 63'3.25"/19.28m

 

11. Logan Coles: 59'10.5"/18.25m 

13. Dennis Ohene-Adu: 58'9.5"/17.92m 

15. Daroyce Flemons, 56'8.5"/17.28m 

Women 

 

High Jump Invite 

 

Final 

 

6. Mallory Mullen: 5'6"/1.68m (xo at 5'6")

 

8. Annika Williams: 5'6"/1.68m (xxo at 5'6") 

Men 

 

High Jump 

 

Final 

 

7. Donsten Brown: 6'4"/1.93m

 

Men 

 

Long Jump 

 

Prelim/Final 

 

4. Robbie Springfield: 24'10"/7.57m

 

Men 

 

Pole Vault Invite 

 

Final 

 

1. Keaton Daniel: 18'1.25"/5.52m

 

8. Dalton Shepler: 16'1.75"/4.92m 

10. Jacob Sobota: 15'7.75"/4.77m  

Women 

 

200 Meter 

 

Final 

 

13. Reynei Wallace: 25.08

 

17. Seven Simms: 25.30 

23. Mahogany Mobley: 25.49 

25. Iantha Wright: 25.54 

Men 

 

200 Meter 

 

Final 

 

29. Tavon Williams: 22.77

 

Women 

 

Long Jump 

 

Prelim/Final 

 

27. Meg Wilson: 18'0.5"/5.50m

 

Women 

 

Weight Throw Open 

 

Prelim/Final 

 

4. Simi Akinrinsola: 61'10.25"/18.85m

 

9. Leah Moore: 55'3.5"/16.85m, pers. best 

Women 

 

1000 Meter 

 

Final 

 

Jenna Schwinghamer: 2:42.39, per. Best, school record

Sydney Steely: 2:43.87, No. 2 on uk all-time list

Phoebe McCowan: 2:44.71, pers. Best, no. 3 on uk all-time list

DeAnna Martin: 2:44.87, personal best, no. 4 on uk all-time list

Ally Kruger: 2:52.23

Julz Williams: 2:55.77

Men 

 

1000 Meter 

 

Final 

 

Alex Justus: 2:24.17, personal best
5. John O'Donnell: 2:26.77
Saturday, January 21

 

10 AM 

 

Men 

 

Shot Put Open 

 

Prelim/Final 

 

Ja. Sobota

 

Noon

 

Women 

 

60 Hurdles 

 

Prelim 

 

 

 

12:15 PM 

 

Men 

 

60 Hurdles 

 

Prelim 

 

 

 

12:30 PM 

 

Women 

 

60 Meter 

 

Prelim 

 

 

 

12:45 PM 

 

Men 

 

60 Meter 

 

Prelim 

 

 

 

1:05 PM 

 

Women 

 

Mile 

 

Final 

 

J. Williams, Kruger, Roden 

 

1:15 PM 

 

Men 

 

Shot Put Invite 

 

Prelim/Final 

 

Jo. Sobota, Ohene-Adu

 

1:30 PM 

 

Women 

 

Pole Vault Invite 

 

Final 

 

Szerencsits, Phillips 

 

1 hr after completion of Invite 

 

Women 

 

Pole Vault Open 

 

Final 

 

Cain 

 

1:35 PM 

 

Men 

 

Mile 

 

Final 

 

D. Allen, J. Allen, Alston, Watts, Griffin 

 

2:00 PM 

 

Women 

 

Triple Jump 

 

Prelim/Final 

 

Galloway 

 

2:00 PM 

 

Men 

 

Triple Jump 

 

Prelim/Final 

 

Palmer 

 

2:15 PM 

 

Men 

 

60 Hurdles 

 

Final 

 

 

 

2:20 PM 

 

Women 

 

60 Hurdles 

 

Final 

 

 

 

2:25 PM 

 

Men 

 

60 Meter 

 

Final 

 

 

 

2:30 PM 

 

Women 

 

60 Meter 

 

Final 

 

 

 

2:35 PM 

 

Women 

 

400 Meter 

 

Final 

 

Wright, Mobley 

 

2:45 PM 

 

Women 

 

Shot Put 

 

Prelim/Final 

 

Akinrinsola, Moore, A. Williams 

 

3:00 PM 

 

Men 

 

400 Meter 

 

Final 

 

T, Wilson 

 

3:25 PM 

 

Women 

 

800 Meter 

 

Final 

 

Schwinghamer, Steely, Martin, McCowan, Lucas

 

3:40 PM 

 

Men 

 

800 Meter 

 

Final 

 

Justus, Swann, O'Donnell 

 

4:10 PM 

 

Women 

 

3000 Meter 

 

Final 

 

 

 

5:00 PM 

 

Men 

 

3000 Meter 

 

Final 

 

Brush, Moore 

 

5:40 PM 

 

Women 

 

4 x 400 Meter 

 

Final 

 

UK

 

6:10 PM 

 

Men 

 

4 x 400 Meter 

 

Final 

 

UK