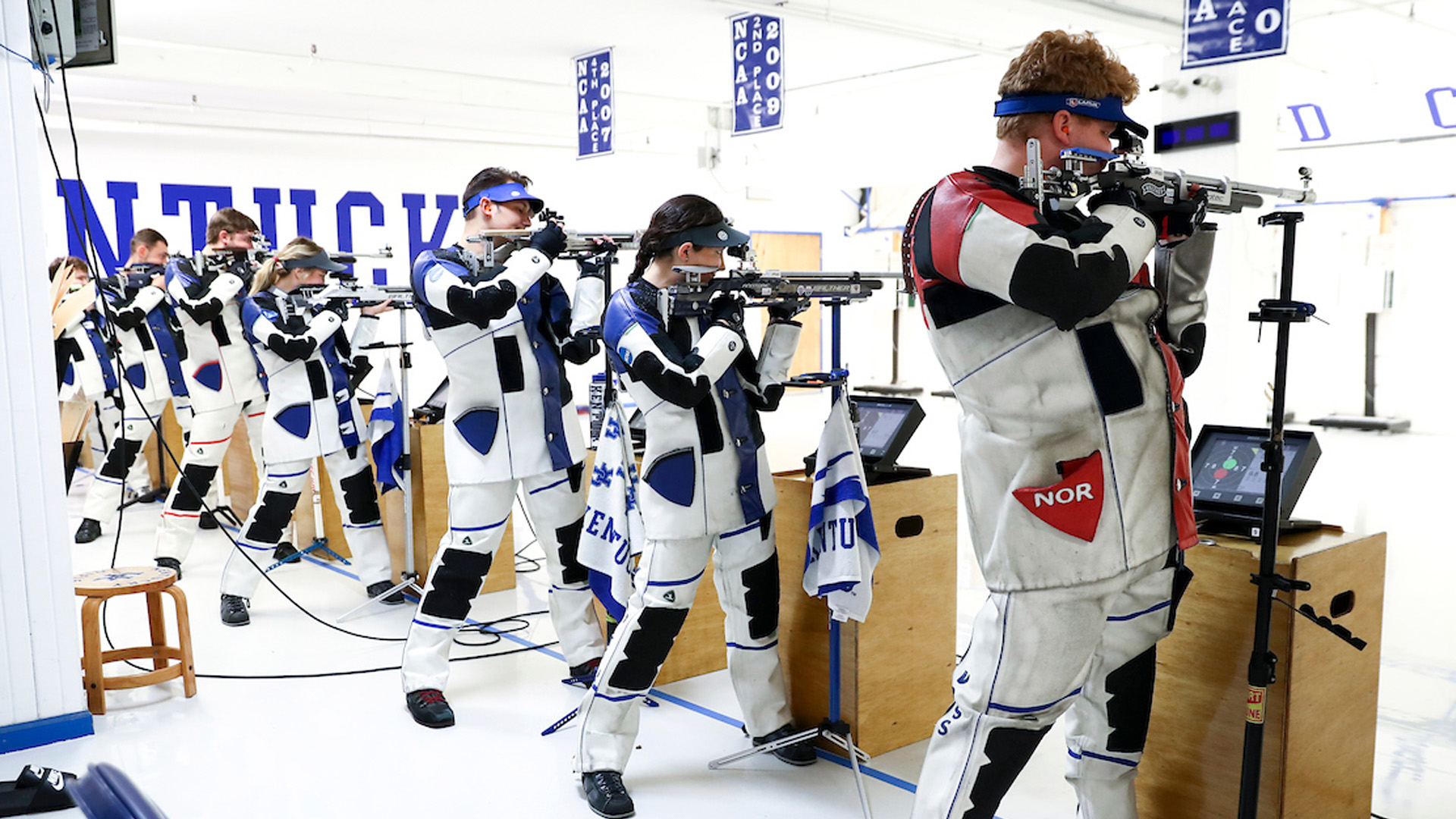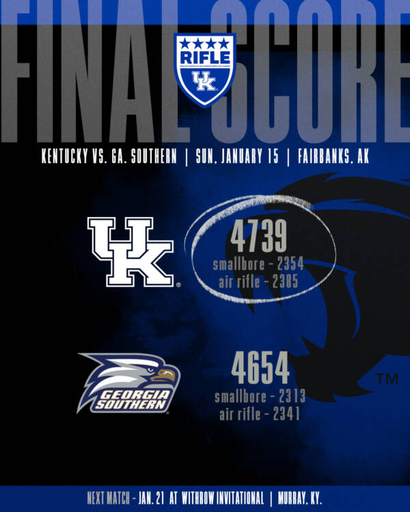 LEXINGTON, Ky. – The No. 3 University of Kentucky rifle team bounced back Sunday in a dual-match vs. Georgia Southern, posting a team score of 4739 in a winning effort in Fairbanks, Alaska.
The Wildcats improved team scores in both disciplines Sunday, scoring a 2354 in smallbore and 2385 in air rifle. The aggregate team score was the third highest of the season for the Wildcats. Georgia Southern posted a 2313 in smallbore and 2341 in air rifle
"Proud of how the team responded today," UK head coach Harry Mullins said. "I think we saw some good things overall. These matches are all about us perfecting the details so when NCAAs come around we are ready to be at our best. I think we are working towards that match by match. Looking forward to getting back to training this week and competing in the Withrow next weekend."
It was freshman Sofia Ceccarello leading the Wildcats again vs. Southern Georgia, posting a career-high 595 in smallbore with a 596 in air rifle for a 1191 aggregate. Super senior Mitchell Nelson scored a 590 in both disciplines with his smallbore score being a career high, while freshman Martin Voss was strong for the second straight day with a 588 in smallbore and 591 in air rifle. Super senior Richard Clark scored a 587 in smallbore and 596 in air rifle, while senior Emmie Sellers posted a 586 in smallbore and 595 in air rifle. Super senior Will Shaner posted a 582 in smallbore and 598 in air rifle.
Sophomore Allison Buesseler scored a 578 in smallbore and 595 in air rifle, while senior Mason Hamilton had a 576 in smallbore and a career-high 591 in air rifle. Sophomore Kayla Kalenza earned a 575 in smallbore and 581 in air rifle, while senior Jaden Thompson posted a 574 in smallbore and 594 in air rifle. Sophomore Torie Kopelen posted a 570 in smallbore and 586 in air rifle, while freshman AJ Hotko scored a 568 in smallbore and 582 in air rifle.
Georgia Southern was led by Addy Burrow, who scored a 585 in smallbore and 595 in air rifle, while Amy Visconti earned a 581 in both disciplines.
Kentucky will return to action next weekend in the annual Withrow Invitational, hosted by Murray State. UK will compete in the event Saturday with live scores and live targets available online at UKathletics.com.
For more information on the Kentucky rifle team, visit UKathletics.com or follow UKRifle on Twitter, Instagram and Facebook.