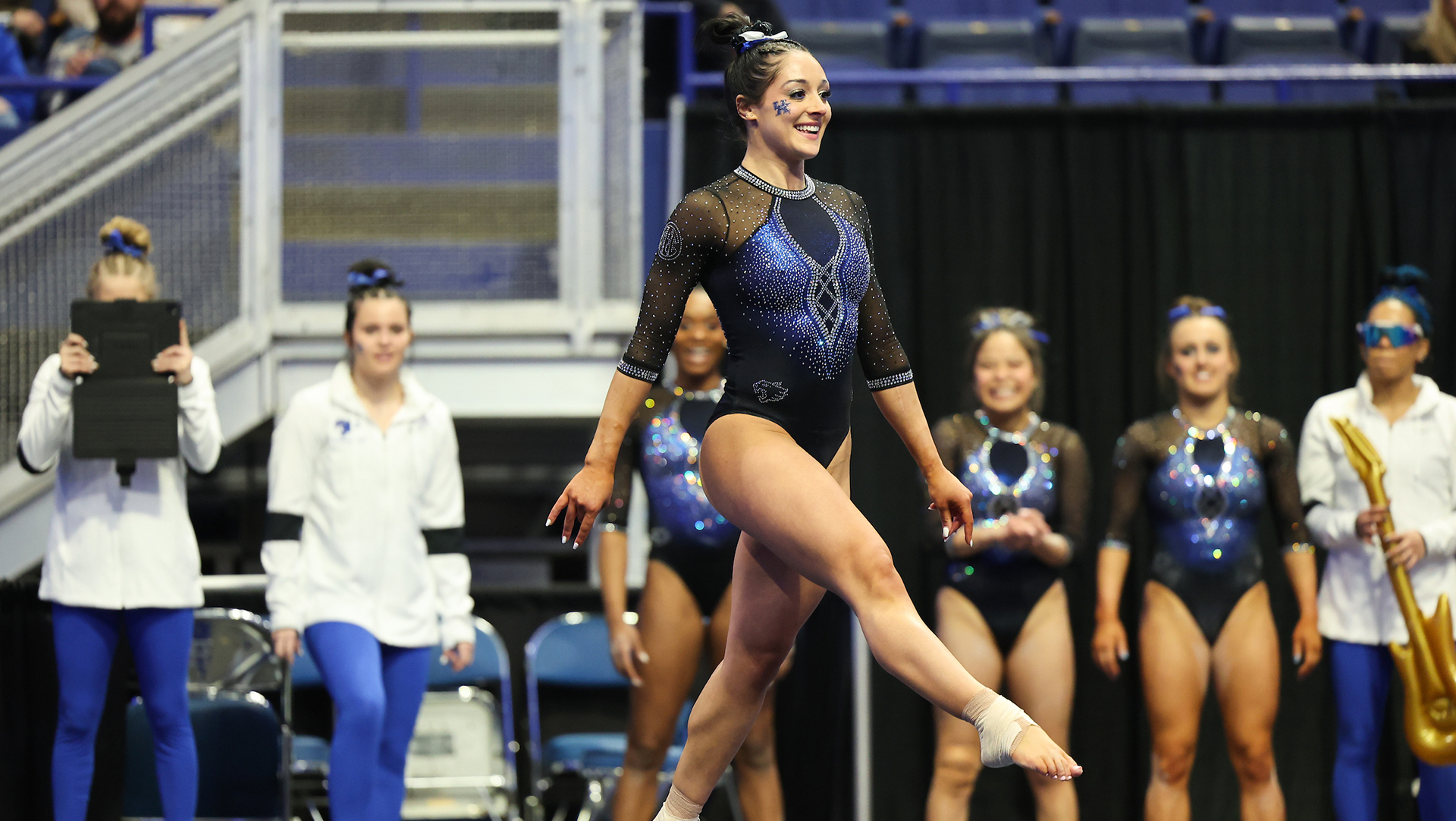 January 13, 2023 - 10:11 PM
UK Gymnastics Feeds Off Huge Crowd in Excite Night Win
Kentucky's annual gymnastics Excite Night drew a crowd of more than 10,000 fans at Rupp Arena on Friday night. And the Cats gave the big crowd plenty to be excited about.
The 12th-ranked Cats took the lead in the third rotation and went on to top No. 10 LSU 197.125-196.750 in Friday's Southeastern Conference opener. UK head coach Tim Garrison knows that the crowd played a huge role in his team's big performance on this night.
"The crowd was so amazing and our girls really feed off that energy," Garrison said. "To have this big crowd in here on Excite Night, to have a Top 10 team come in here and be able to get the win, it's a good feeling."
In a surprise to absolutely no one in attendance, UK senior Raena Worley led Kentucky in the all-around competition. Worley scored at least 9.800 on each rotation and finished with a 39.525 all-around score.
Worley was excited to perform in front of such a huge, energetic crowd.
"They always deliver but tonight was something special," Worley said. "There was so much energy, you just thrived off of it. It was great."
Worley has been such a steady performer for the Cats for three plus seasons, Garrison says that he and the UK staff have come to expect her steady performance.
"It's easy to take her for granted," Garrison said. "She's allowed us to feel that way and that's the great part. And she's pretty much going to hit it every time it goes out there. That's been the history."
Worley embraces that spot.
"I kind of trust myself in that role," Worley said. "I trust myself to be a steady person for the team."
Junior Isabella Magnelli also had a big night for the Cats. Magnelli competed in three rotations and was outstanding in all three disciplines. The New York native posted an event-winning score of 9.925 on vault, a 9.850 on beam and a 9.800 on floor. Magnelli was inspired by the large crowd in Rupp on Friday.
"Kentucky brought the crowd tonight," Magnelli said. "We've never seen anything like this. They lit up Rupp. Me and my team are just so excited to come out here and show Kentucky what we have done all preseason. It was just amazing."
The crowd was not only large but was also engaged in the meet. Magnelli knows that made a huge difference for herself and the UK team.
"I feel like when the crowd is so powerful and energetic, we feed off of it," Magnelli said. "Without the crowd, we wouldn't have a (team score of) 197 second meet of the year. It's amazing what the BBN is like."
Garrison is counting on Magnelli to take on an even bigger role this season. He likes what he has seen from her so far this season.
"Three events and she's really executing well," Garrison said. "Like her vault tonight. She's ready to go in on bars but that's just me not ready to put her in there just yet."
The Cats gave the large Rupp Arena crowd an outstanding performance on Friday night. Hopefully for the Cats, this is just the beginning of a special season.