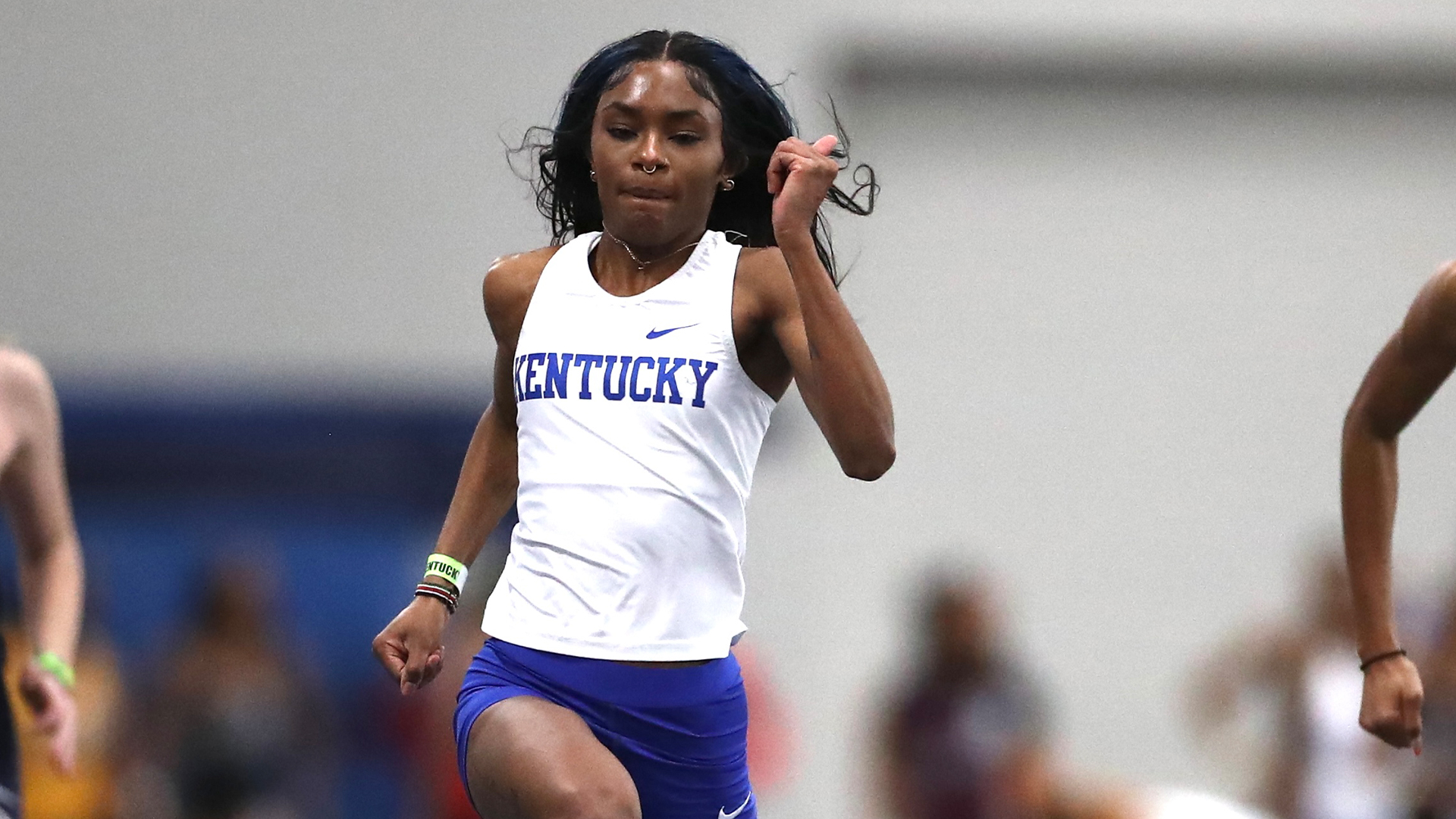 January 13, 2023 - 09:14 PM
Kentucky Track & Field Posts Five Wins Friday at McCravy Memorial
Live Results | Saturday Heat Sheets | SEC Network+ Stream | Meet Schedule 
LEXINGTON, Ky. – The Kentucky indoor track and field teams posted five event victories Friday at the Rod McCravy Memorial Meet held at UK's Nutter Field House. 
Sophomore Anthaya Charlton claimed the first Wildcat win of the day by eclipsing 20 feet in the long jump, finishing at 20'3.5"/6.18 meters.  Charlton moved to No. 8 on the UK all-time list. 
The women's DMR of Jenna Schwinghamer, Mahogany Mobley, Phoebe McCowan and Tori Herman won with the ninth fastest time in program history (11:17.69).
Junior Simi Akinrinsola was the next Wildcat victor, hurling 63'2"/19.25m in the women's weight throw. 
Robbie Springfield won the men's long jump with a strong winning mark of 25'3.5"/7.71m. 
Brandon Miller won the men's 200m (20.98) and Wildcats went 1-2-3 in the event (Kennedy Lightner and Jackson) with unattached Myles Anders fourth. 
Freshman Jordan Anthony moved to No. 5 on the UK all-time list with a time of 6.63Q in the men's 60m first round. He and Langston Jackson were the top two qualfiers in the 60m prelims.
Six Wildcats qualified for the women's 60m final: Masai Russell, Colleen Branch, Victoria Perrow, Shadajah Ballard, Anthaya Charlton and Tamiia Fuller.
Russell, Ballard, Yasmin Brooks and Annika Williams qualified for the women's 60H final.
Mallory Mullen took second place in the women's high jump. Payton Phillips earned second place in the women's pole vault. Alumnus Brian Faust was runner-up in the men's 600m. UK's women's DMR of Sydney Steely, Cristal Mosley, DeAnna Martin and and Kaylie Kenne were runners-up. Karimah Davis, competing unattached was second in the women's 200m. UK's Men's DMR of Alex Alston, Brandon Nyandoro, John O'Donnell, Aaron Withrow took second place in 10:02.36. 
Justin Swann placed third in the men's 600m. Michael Browning earned third place in the men's weight throw. 
Saturday's action begins at noon.  In addition to Kentucky, the list of teams slated to participate features Alabama State, Butler, Campbellsville, Cumberlands, Grambling, Eastern Kentucky, Howard, Kennesaw State, Life, Midway, Northern Kentucky, Oakland, Ohio State, Transylvania, Tulane and Union (Ky.) 
The meet is open to the public. Admission is free and parking is available in the Green Lot adjacent to Kroger Field.  Fan information is available at https://ukathletics.com/news/2023/01/05/kentucky-track-field-indoor-home-meet-information-2/.  Live results are available at https://kentucky.tfresult.com/?mid=5376. The meet is being streamed live onSEC Network+. 
The event is named in honor of Kentucky track athlete Rod McCravy, who had established himself as a leader with great respect and care for others before he died in 1987 at the age of 19. 
Follow along with the Cats on Facebook, Instagram, Twitter and on the web at UKathletics.com.  
Friday, January 13th

 

Women

 

High Jump 

 

Final

 

2. Mallory Mullen: 5'8.5"/1.74m

 

Men

 

High Jump

 

Final

 

4. Donsten Brown: 6'4.75"/1.95m

 

Women

 

Long Jump

 

Prelim/Final

 

1. Anthaya Charlton: 

 

20'3.5"/6.18m | PB, T-No. 8 on UK all-time list 

5. Sophie Galloway:  

18'7.75"/5.68m 

7. Meg Wilson: 17'11"/5.46m 

Men

 

Long Jump

 

Prelim/Final

 

1. Robbie Springfield: 25'3.5"/7.71m

 

9. Trey Causey III: 22'2.25"/6.76m 

Women

 

Weight Throw

 

Prelim/Final

 

1. Simi Akinrinsola, 63'2"/19.25m

 

7. Leah Moore, 53'9"/16.38m 

Men

 

Weight Throw

 

Prelim/Final

 

3. Michael Browning: 64'5.25"/19.64m

 

6. Daroyce Flemons: 57'3.75"/17.47m 

10. Dennis Ohene-Adu: 54'0"/16.46m 

Women

 

60 Meter

 

First Round

 

2. Masai Russell: 7.45Q

 

5. Colleen Branch: 7.53Q  

7. Victoria Perrow: 7.54Q  

8. Shadajah Ballard: 7.54Q 

9. Anthaya Charlton, 7.61Q  

13. Tamiia Fuller, 7.67Q 

Men

 

60 Meter

 

First Round

 

1. Jordan Anthony, 6.63Q | No. 5 on UK all-time list

 

2. Langston Jackson, 6.74Q 

Women

 

Pole Vault

 

Final

 

2. Payton Phillips: 12'8.25"/3.87m

 

4. Kaitlyn Cain: 12'8.25"/3.87m 

Women

 

60 Hurdles

 

First Round

 

1. Masai Russell, 8.09Q

 

2. Shadajah Ballard, 8.40Q 

4. Yasmin Brooks, 8.51Q 

14. Annika Williams, 8.81q 

Women

 

600 Meter

 

Final

 

4. Bryanna Lucas, 1:35.98

 

Men

 

600 Meter

 

Final

 

2. Brian Faust (Alum): 1:18.01

 

3. Justin Swann: 1:18.89 

Women

 

DMR

 

Final

 

1. UK (Jenna Schwinghamer, Christal Mosley, DeAnna Martin, Tori Herman): 11:17.69 | No. 9 on UK all-time list

2. UK (Sydney Steely, Mahogany Mobley, Phoebe McCowan, Kaylie Kenne): 11:30.72

Men

 

DMR

 

Final

 

2. UK (Alex Alston, Brandon Nyandoro, John O'Donnell, Aaron Withrow): 10:02.36

 

5. UK (McLean Griffin, Tavon Williams, Alex Justus, Harper Moore): 10:15.34 

Women

 

200 Meter

 

Final

 

2. Karimah Davis (unattached): 24.10

 

4. Victoria Perrow: 24.27 

5. Tamiia Fuller: 24.31 

7. Colleen Branch: 24.40 

14. Anthaya Charlton: 24.90 

15. Megan Moss: 24.91 

21. Seven Simms: 25.35 

55. Cierra Fogg: 28.15 

56. Patrice Cornelius: 28.17 

Men

 

200 Meter

 

Final

 

1. Brandon Miller: 20.98

 

2. Kennedy Lightner: 21.04 

3. Langston Jackson: 21.13 

4. Myles Anders (Unattached): 21.70 

Saturday, January 14th

 

12:00 PM

 

Women

 

Shot Put

 

Prelim/Final

 

Akinrinsola, Moore, A. Williams

 

to follow

 

Men

 

Shot Put

 

Prelim/Final

 

Jo. Sobota, Ohene-Adu, Ja. Sobota

 

12:00 PM

 

Women

 

Triple Jump

 

Prelim/Final

 

Galloway

 

to follow

 

Men

 

Triple Jump

 

Prelim/Final

 

Palmer

 

12:00 PM

 

Women

 

60 Meter

 

Semifinal

 

Perrow, Ballard, Charlton, Fuller, Russell, Branch

 

12:10 PM

 

Men

 

60 Meter

 

Semifinal

 

L. Jackson, Anthony

 

12:20 PM

 

Women

 

60 Hurdles

 

Semifinal

 

Russell, Brooks, Ballard, A. Williams, Galloway

 

12:30 PM

 

Men

 

60 Hurdles

 

Semifinal

 

 

 

12:40 PM

 

Women

 

Mile

 

Final

 

Kruger, Roden

 

1:00 PM

 

Men

 

Mile

 

Final

 

Brush, Duvall

 

1:00 PM

 

Men

 

Pole Vault

 

Final

 

Daniel, Shepler, Ja. Sobota

 

1:20 PM

 

Women

 

60 Meter

 

Final

 

Perrow, Ballard, Charlton, Fuller, Russell, Branch

 

1:25 PM

 

Men

 

60 Meter

 

Final

 

L. Jackson, Anthony

 

1:30 PM

 

Women

 

60 Hurdles

 

Final

 

Russell, Brooks, Ballard, A. Williams, Galloway

 

1:35 PM

 

Men

 

60 Hurdles

 

Final

 

 

 

1:45 PM

 

Women

 

400 Meter

 

Final

 

Moss, Mosley, Wallace, J. Jackson, Mobley

 

2:20 PM

 

Men

 

400 Meter

 

Final

 

Lawrence Jr., Nyandoro, O'Daniel, T. Williams

 

2:50 PM

 

Women

 

800 Meter

 

Final

 

Lucas, Miles, Scoggin

 

3:00 PM

 

Men

 

800 Meter

 

Final

 

Swann, O'Donnell

 

3:15 PM

 

Women

 

3000 Meter

 

Final

 

Melzer, Aydt

 

3:45 PM

 

Men

 

3000 Meter

 

Final

 

 

 

4:15 PM

 

Women

 

4 x 400 Meter Relay

 

Final

 

UK

 

4:35 PM

 

Men

 

4 x 400 Meter Relay

 

Final

 

UK