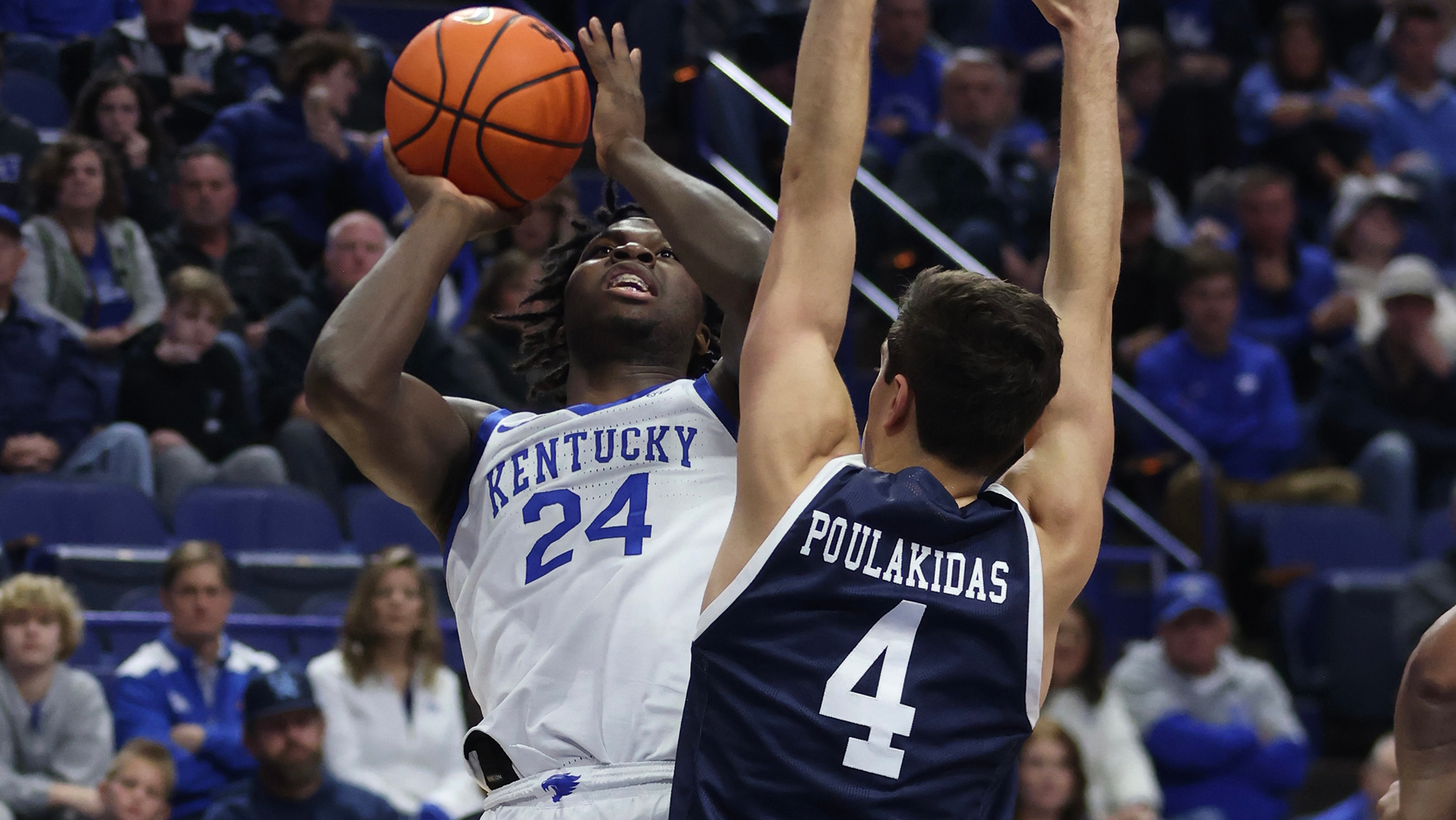 January 13, 2023 - 12:46 PM
Big Blue Preview: Kentucky at Tennessee
In the world of sports, the margin between winning and losing can be razor thin at times. Even the smallest error can be the difference between a positive outcome and a negative one.
Kentucky assistant coach Bruser Flint pointed that out on Friday as he previewed the Cats' Saturday game against fifth-ranked Tennessee.
"Our details have to be more consistent," Flint said. "I think sometimes, our details are not consistent and it shows in the game and we go through periods in the game where we struggle. We've got to get better at our details as a team."
After beating LSU, Flint and the UK staff thought that the team was turning a corner. But after losses at Alabama and at home to South Carolina, it appears that the turning of the corner still has not quite happened fully, which goes back to details.
"I thought we made some progress, then we took a step back," Flint said. "Our details have to be better and be more consistent in the game."
Now, for the second consecutive Saturday, the Cats go on the road to face a Southeastern Conference opponent that's ranked in the top seven nationally. Last week, the Cats fell at Alabama 78-52. Now, a Tennessee team that has risen to number five in the national polls awaits Kentucky. Flint knows there's only one way to handle this situation.
"Just working, trying to get our guys prepared for what we're trying to do," he said. "That's all you can do as a coach."
Kentucky is coming off perhaps its most disappointing result of the season, a 71-68 loss, in Rupp Arena, to South Carolina. Despite 19 points and 12 rebounds from Oscar Tshiebwe, the Cats could not hold off the Gamecocks.
The Cats are hoping to get that corner turned sooner rather than later. And if they are to do that, paying closer attention to the details will be key.
Calipari Leading the Way in SEC Play
John Calipari leads the way among all current SEC head coaches in 2022-23 in career wins, league victories and titles. He is also ascending the all-time charts in league history:
• Calipari owns 375 victories as UK's head coach, ranking as the fourth-most wins by a coach leading an SEC program in the conference's history. Adolph Rupp (875), Billy Donovan (467) and Dale Brown (448) are the only others who have more
• Calipari ranks seventh all-time in SEC regular-season wins with 174. Rupp (397) has the most. Calipari needs just five more to pass Harry Rabenhorst (178) for sixth place
• Calipari is 24-5 in the SEC Tournament. His 24 victories are tied with Tubby Smith for the third-most in tournament history. Only Donovan (27) and Wimp Anderson (25) have more
• Calipari has won six SEC Tournament titles. Only Alabama (7) has more in program history than Calipari has won in total
Injury Bug a Story with the Cats
A season after playing just 17 games at full strength, the Wildcats are once again dealing with a multitude of injuries.
Kentucky has played just eight complete games at full strength this season.
CJ Fredrick: Exited the Missouri game with a right-hand injury after playing four minutes. Missed the Louisville, LSU and Alabama games
Jacob Toppin: Exited the Alabama game with a right-shoulder injury and did not return. Missed the South Carolina game
Oscar Tshiebwe: Had a minor knee procedure and missed the duration of the preseason as well as the team's games against Howard and Duquesne
Cason Wallace: Exited the South Carolina game with a lower-back injury and did not return after playing eight minutes
Lance Ware: Missed the North Florida game due to an illness and the LSU game with a left-shoulder injury
Sahvir Wheeler: Missed both exhibition games and the team's opener vs. Howard with a right-leg injury
Big-Game Cal, Cats
Some notes about Cal's teams against the best of the best:
• Not only does Kentucky own a 67-47 record (58.8%) vs. Associated Press Top 25 teams under John Calipari, UK is 7-5 when both teams are ranked in the AP top five
• All-time, Calipari is 13-9 when both teams are ranked in the AP top five
• When both teams are ranked in the AP Top 25, Calipari's all-time record is 89-66, including a 58-38 mark at Kentucky
• When both are ranked in the top 10 he has a 27-22 record, including 16-15 at UK
• By defeating top-ranked Michigan State to start the 2019-20 season, UK knocked off the No. 1 team in consecutive seasons for the first time in school history. Kentucky downed Tennessee on Feb. 19, 2019
• With the win over MSU to begin 2019-20, the Wildcats have nine victories over the No. 1 team in 25 tries in program history
• Calipari improved to 6-4 vs. the No. 1 team in his career with the win vs. Michigan State, including 3-2 at Kentucky. According to ESPN, Calipari is the only coach with a winning (.600) percentage against No. 1 ranked teams with a minimum of 10 games faced against the No. 1
Taking Care of Business
Kentucky's 67-47 record vs. opponents ranked in the Associated Press Top 25 in John Calipari's tenure is impressive, but the Wildcats' ability to beat all-comers can't be overlooked. Under Calipari, UK is 308-60 vs. unranked competition, 83.7%