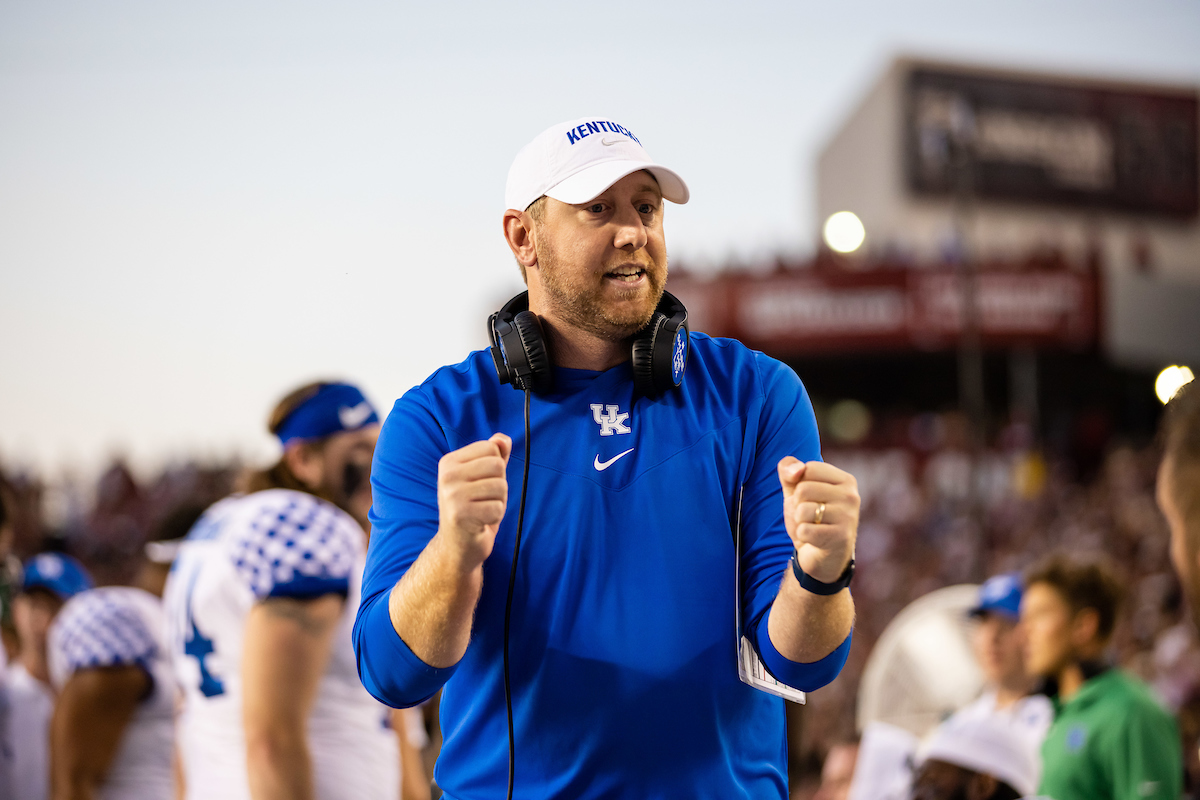 When Liam Coen was asked why he chose to come back to Kentucky after a year with the Los Angeles Rams, he didn't hesitate with his answer.
"Just being a part of the Kentucky culture again. Just coming back to a place that I truly didn't want to leave," Coen said. "The opportunity to come back and coach for Coach Stoops and be around these players and have an impact on young people's lives was ultimately the deciding factor. Couldn't be more thankful."
With Coen in charge of the Kentucky offense in 2021, the Cats had a potent offensive attack. Behind quarterback Will Levis, running back Chris Rodriguez Jr. and wide receiver Wan'Dale Robinson, Kentucky averaged 32.3 points per game and compiled a 10-3 record.
The Cats also averaged 425.2 yards per game and were able to finish the season by beating Iowa in the Citrus Bowl on New Year's Day.
Coen cautions that the group he had here in 2021 is a lot different than the group he has now.
"We had experience. It was different," Coen said. "We had three players on that offensive line that went on to play in the National Football League."
After the season, Coen departed to become the offensive coordinator of the Los Angeles Rams. But after one season in L.A., Coen came back to Lexington. What went into that decision?
"It was just one of those decisions, as a family, we felt as though we had to take," Coen said. "But we truly did not want to leave Lexington."
Now, he returns to Lexington hoping to revitalize the UK offense, which will have a new quarterback in Devin Leary to go with a number of talented returning players, some of whom were recruited by Coen. Knowing something about the players before even setting foot back on campus should be beneficial for Coen.
"There is some familiarity with some of these guys that I have been able to be in contact with and have a prior relationship with, which helps," Coen said. "It just helps knowing their skillset a little bit. Maybe what makes them tick, how do we get them to practice harder, how do we get them to play harder. How do we get them to do things are not just surface-level football."
Coen said he was able to see some of the Cats' 2022 games and he knows what he needs to address immediately when he gets to town – the offensive line.
"That's the number one priority when we get there," Coen said. "Diving into that position group. Both personnel-wise, schematically, fundamentally, technique, attitude, demeanor. It all needs to be dove into really quickly when we get there. I do remember, the first time I came, that was the unit that I never really worried about. I never worried about if they were going to come to play. I never worried about third-and-one, not getting a first down. It was never something that crossed my mind."
Coen returns to run the Cats' offense and is hoping that the second time around is as productive as the first.