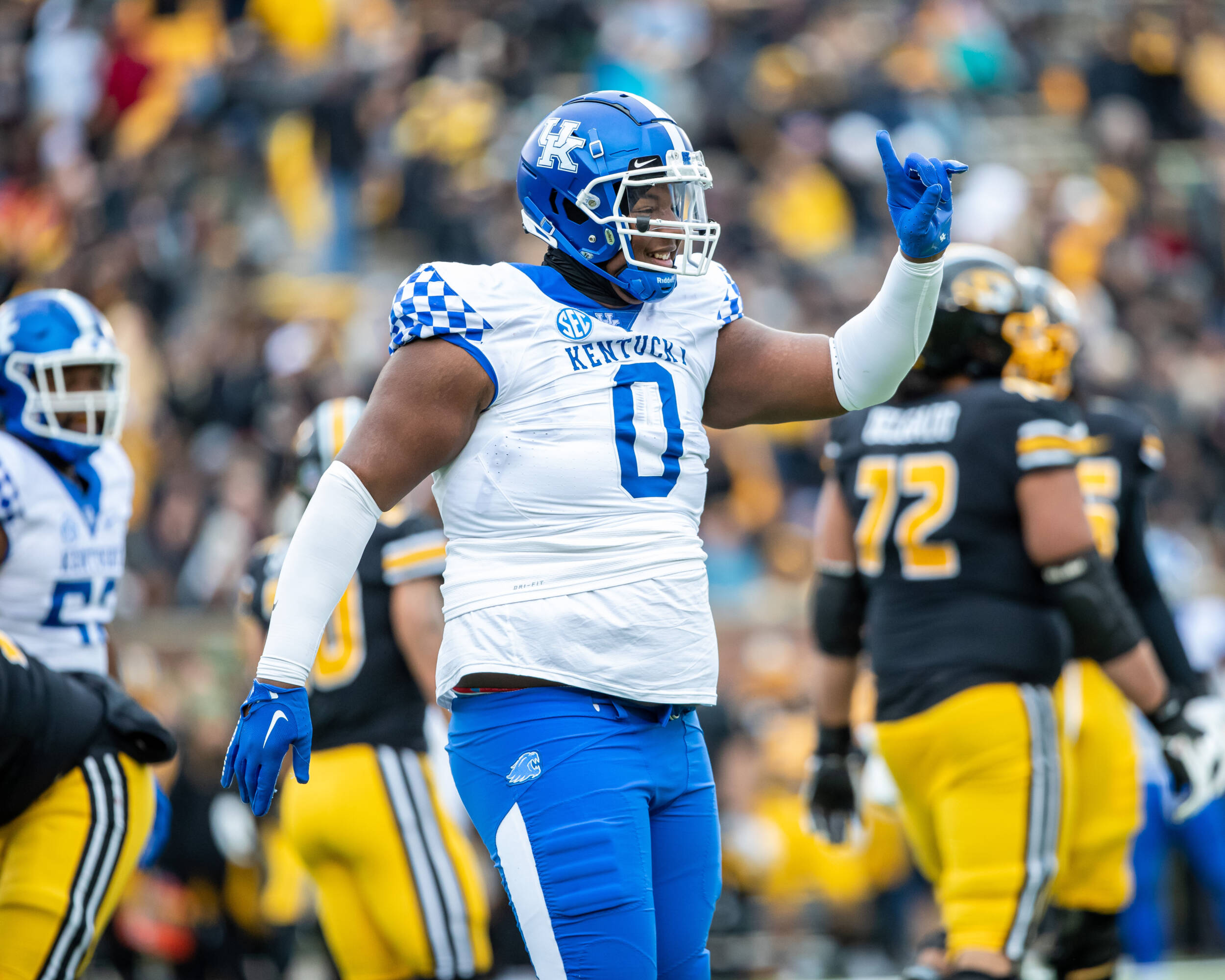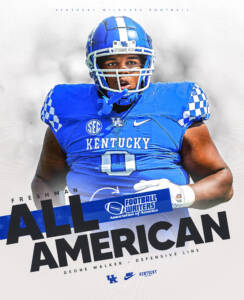 University of Kentucky freshman defensive lineman Deone Walker has been named to the Football Writers Association of American (FWAA) Freshman All-America Team presented by Chris Doering Mortgage, it was announced Thursday. He is UK's third FWAA Freshman All-American since the award's inception in 2001 and its first since Benny Snell Jr. in 2016.
Walker, a 6-foot-6, 330-pounder from Detroit, played in all 13 games with 11 starting assignments in his rookie season. Because of his size and physicality, he was an absolute force on the defensive line, finishing with 40 total tackles, 4.5 tackles for loss (third on the team), five quarterback hurries (second on the team), two pass breakups, one sack and one forced fumble.
He also earned freshman All-America honors from The Athletic, College Football News, on3.com, 247Sports.com and Pro Football Focus.  Additionally, he was named to the All-Southeastern Conference Freshman Team, was named second team All-SEC by The Associated Press, Pro Football Focus and Phil Steele's College Football and was a semifinalist for the Shaun Alexander Freshman of the Year Award.
UK FWAA Freshman All-Americans Since 2001:
2006 – Trevard Lindley
2016 – Benny Snell Jr.
2022 – Deone Walker
Walker is one of 32 first-year players on the prestigious list and one of 14 defensive players.
The complete 2022 FWAA Freshman All-America Team:
OFFENSE
QB Drake Maye, North Carolina (6-4, 220, Huntersville, N.C.)
• RB Quinshon Judkins, Ole Miss (5-11, 210, Pike Road, Ala.)
• RB Richard Reese, Baylor (5-9, 175, Bellville, Texas)
WR Jared Brown, Coastal Carolina (6-0, 185, Lilburn, Ga.)
• WR Evan Stewart, Texas A&M (5-11, 170, Frisco, Texas)
WR J. Michael Sturdivant, Cal (6-3, 205, Highland Village, Texas)
TE Brady Hunt, Ball State (6-6, 245, Muncie, Ind.)
• OL Kelvin Banks Jr., Texas (6-4, 320, Humble, Texas)
• OL Will Campbell, LSU (6-6, 325, Monroe, La.)
• OL Blake Miller, Clemson (6-6, 315, Strongsville, Ohio)
OL Mason Randolph, Boise State (6-4, 320, Yorba Linda, Calif.)
OL Roger Rosengarten, Washington (6-6, 303, Highlands Ranch, Colo.)
• OL Jonah Savaiinaea, Arizona (6-5, 330, Tafuna, American Samoa)
DEFENSE
DL Dontay Corleone, Cincinnati (6-2, 320, Cincinnati, Ohio)
• DL Gabe Jacas, Illinois (6-3, 265, Port St. Lucie, Fla.)
• DL Deone Walker, Kentucky (6-6, 330, Detroit, Mich.)
• DL Mykel Williams, Georgia (6-5, 265, Columbus, Ga.)
• LB Jaishawn Barham, Maryland (6-3, 230, District Heights, Md.)
• LB Abdul Carter, Penn State (6-3, 233, Philadelphia, Pa.)
LB Trey Moore, UTSA (6-3, 230, San Antonio, Texas)
• LB Harold Perkins Jr., LSU (6-2, 220, New Orleans, La.)
DB Terrion Arnold, Alabama (6-0, 188, Tallahassee, Fla.)
DB Kendal Daniels, Oklahoma State (6-4, 205, Beggs, Okla.)
• DB Mansoor Delane, Virginia Tech (6-1, 177, Silver Spring, Md.)
DB Demetrius Hill, FIU (6-2, 190, Miami, Fla.)
• DB Benjamin Morrison, Notre Dame (6-0, 179, Phoenix, Ariz.)
• DB Malaki Starks, Georgia (6-1, 205, Jefferson, Ga.)
SPECIALISTS
K Dominic Zvada, Arkansas State (6-2, 155, Chandler, Ariz.)
• P Anthony Venneri, Buffalo (6-0, 225, Hamilton, Ontario)
• KR Jaylin Lucas, Indiana (5-9, 185, Houma, La.)
• PR Zavion Thomas, Mississippi State (5-11, 190, Woodmere, La.)
• AP Nicholas Singleton, Penn State (6-0, 219, Shillington, Pa.)
Denotes true freshman
Selections by conference: SEC 9, Big Ten 5, ACC 3, Pac-12 3, Big 12 3, Conference USA 2, Mid-American 2, Sun Belt 2, Independents 1, American Athletic 1, Mountain West 1.
Home states: Texas 5, Louisiana 4, Georgia 3, Florida 3, Arizona 2, Maryland 2, Ohio 2, Pennsylvania 2, Alabama, California, Colorado, Indiana, Michigan, North Carolina, Oklahoma State 1, and American Samoa and Ontario 1.
Chris Doering Mortgage, based in Gainesville, FL, was established in April 2007 as a residential lending company providing mortgage products including conventional, FHA, USDA and VA loans. The branch is a division of MortgageAdvisors.com – 3940 NW 16th Blvd., Suite A, Gainesville, FL 32605 – NMLS 70168/1937321. FHA Lender ID 2631500094. For more information, visit ChrisDoeringMortgage.com. College football analyst Chris Doering, former player for Coach Spurrier both in college and professionally, serves as the branch manager.
Founded in 1941, the Football Writers Association of America consists of journalists, broadcasters, publicists, photographers and key executives in all areas of college football. The FWAA works to govern media access and gameday operations while presenting awards and honors, including an annual All-America team. For more information about the FWAA and its programs and initiatives, contact Executive Director Steve Richardson at (214) 870-6516 or tiger@fwaa.com.