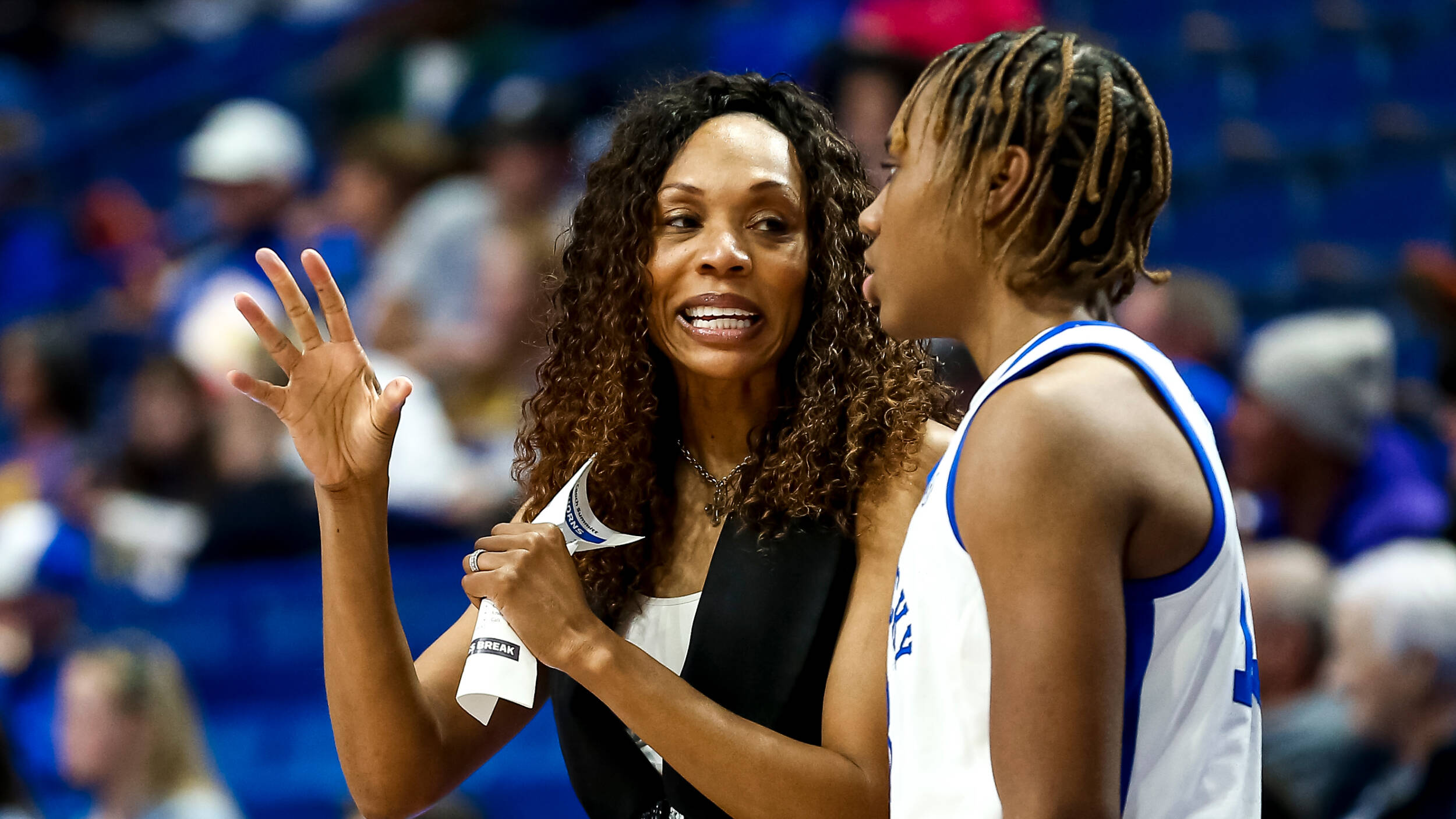 January 11, 2023 - 10:19 AM
Kentucky Hosts No. 1/1 South Carolina on Fandemonium Night
LEXINGTON, Ky. – Just three teams remain undefeated in college women's basketball and Kentucky will face two of those teams in back-to-back games.
The University of Kentucky women's basketball program will play host to No. 1/1 South Carolina on Thursday, Jan. 12 at 7 p.m. ET inside Memorial Coliseum on SEC Network+. The Wildcats will meet their third ranked opponent in the last three games when they host the top-ranked Gamecocks, a stretch that includes their second straight top-10 opponent.
Kentucky and South Carolina, who will meet for the 73rd time in the all-time series, have met at least twice a season every season since 1996. Kentucky trails in the all-time meetings with South Carolina, 35-37, in a series that began in 1979, however UK leads USC, 20-12, in games played in Lexington. The Gamecocks have won six of the last seven meetings with the Wildcats, with the Cats coming out on top in their latest appearance en route to win the 2022 Southeastern Conference Tournament Title.
The Wildcats would like to invite Big Blue Nation to take part in their Fandemonium activities at the game. Fans in attendance can enter to win from a selection of prizes. There is one entry per person, and the person must be present to win. Those winners will be announced throughout the game.
Doors to Memorial Coliseum will open one hour prior to the tip time.
Bags must adhere to the UK Athletics Clear Bag policy, and bags and items will be searched. To avoid additional touch points, fans are strongly encouraged to not bring unnecessary bags to Memorial Coliseum. More on UK Athletics' Clear Bag policy can be found online here.
Parking for games is available starting three hours prior to tipoff in a majority of surface lots surrounding Memorial Coliseum, including the High Street Lot, East Maxwell Lot, Joe Craft Center Lot, College View Lot, Alumni Center Lot and Career Center Lot. The Cornerstone Garage and Parking Structure No. 2 will open two hours prior to tip. The Gatton Student Center Lot is pay-to-park while all other parking options are free. The JCC Lot is primarily used for limited mobility/handicap parking.
For fans that are unable to attend the game, Darren Headrick will have the call on the UK Sports Network on 630AM WLAP in Lexington. Free live audio will be available online at UKathletics.com and live stats will be available online at KentuckyStats.com.
The Wildcats, who are 8-8 this season and 0-4 in the league, are still looking for their first conference win after Kentucky dropped a home contest to then-No. 7/6 LSU, 67-48, in Rupp Arena at Central Bank Center last Sunday. It was a two-point game by the middle of the second quarter, before the Tigers went on a 12-0 run to close out the half and never looked back.
Maddie Scherr scored a career-high 22 points in the game, while adding four rebounds, three assists and a pair of steals. The junior guard is the only player in the league averaging at least 8.8 points per game and 5.7 rebounds per game that also has at least 5.1 assists per game and 2.19 steals per game. She is also the only player in the league that has at least 81 assists and 35 steals.
Overall this season, the Cats are making 41.1 percent of their shots from the floor for 69.1 points per game. Robyn Benton is leading the team with 16.3 points per game, while Jada Walker is right behind her with 12.4 points per game. Meanwhile, the Cats are holding opponents to 41.0 percent shooting for 65.5 points per game.
Kentucky continues to be disruptive on defense, leading the league all season with 22.6 turnovers forced per game. In the process, UK is scoring more than 33.0 percent of its points off turnovers. Kentucky is wreaking havoc on that side of the ball, with the league's top three leaders in steals per game, including Walker (1st, 2.44), Scherr (2nd, 2.19) and Benton (3rd, 2.13).
South Carolina has a 16-0 overall record, including a 6-0 mark on the road and a 4-0 mark in the SEC. USC is coming off a win at Mississippi State, 58-51, on the road last Sunday. The Gamecocks were held to a season-low point total on 19-of-65 shooting (29.0 percent), but they were able to find a way with Zia Cooke's 16 points and Aliyah Boston's 12 points and 15 rebounds.
Two Gamecocks are averaging at least 10 points per game in Cooke (15.0) and Boston (11.5), while Boston is also leading the team in rebounds per game (9.3). The team is collectively hitting 47.0 percent of their shots and scoring 80.9 points per game, while keeping their opponents to under 30.0 percent shooting and 44.0 points per game.
South Carolina is leading the nation in several categories, including blocks per game (9.6), field-goal percentage defense (27.5), scoring defense (44.0) and three-point field goal defense (21.3). Its one of just three teams remaining in the nation that is undefeated, joining No. 3/3 Ohio State (17-0) and No. 5/5 LSU (16-0).
For more information on the Kentucky women's basketball team, visit UKathletics.com or follow @KentuckyWBB on Twitter, Instagram and Facebook.