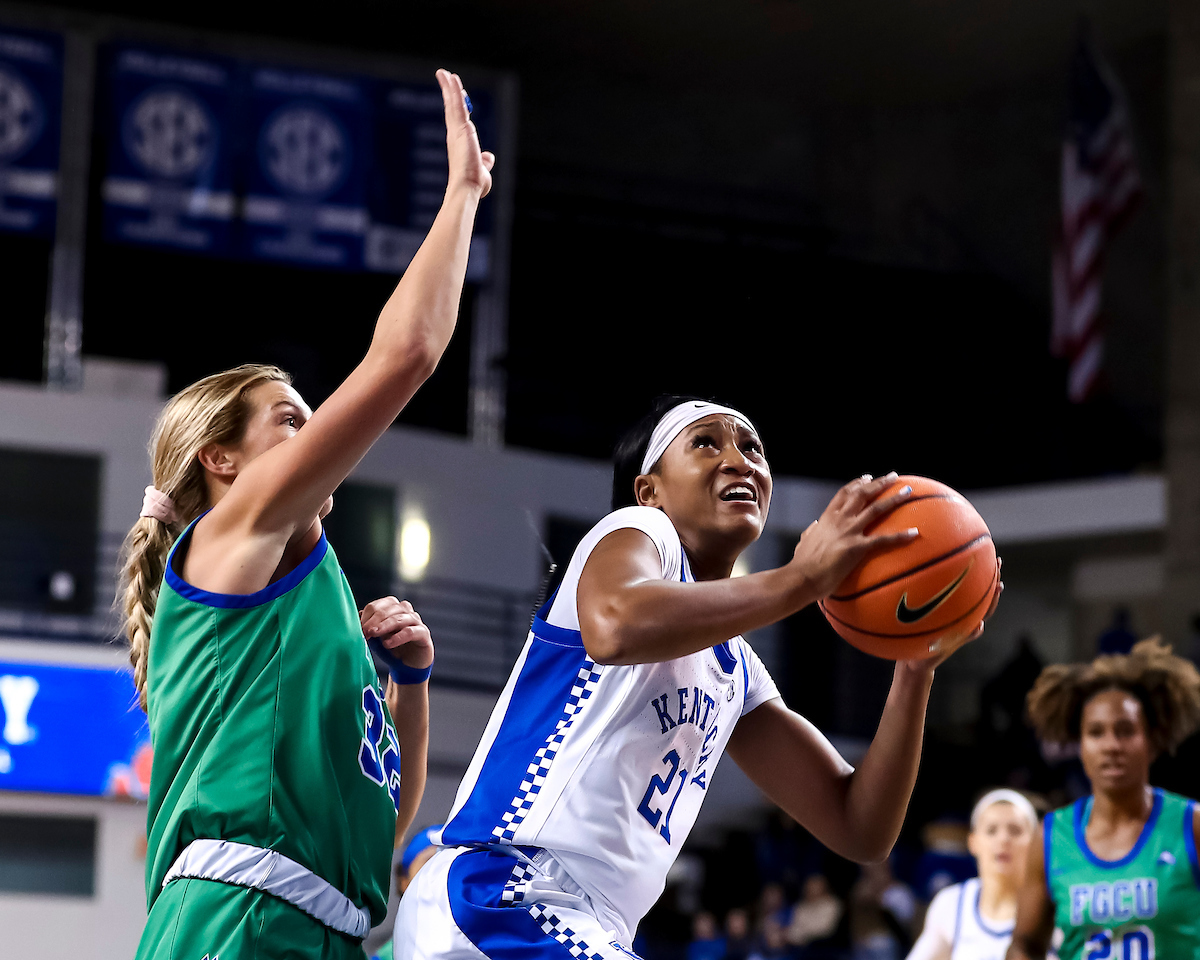 January 10, 2023 - 12:36 PM
Nyah Leveretter Molded by Disciplined Upbringing
Kentucky women's basketball forward Nyah Leveretter is never late and lives a very structured life. Coming from a military family, the lessons she has learned about organization and discipline directly translate to her life as a student athlete.
The junior was born at Fort Campbell, Kentucky, an Army base that sits right on the border of Tennessee and the Bluegrass State. She lived there for a few years and moved to Japan once she turned five.
"I was young, so I didn't understand what overseas meant," Leveretter said. "I was thinking we were moving down the street. But no, we got on the plane and it was a long flight. They even gave us meals on the flight."
In Japan, her family lived on an Air Force base named Kadena, even though her dad was in the Army. Nyah remembers it being "like a whole other world… It was 10 minutes from the beach, and you could go off post and just explore Japan and the culture there. It was just very different. It was like a little America in Japan."
Though sometimes it felt like a little America, she still experienced some culture shock with things like not having weekends off from school, and the different foods she got to try.
"Even just going out with my parents off base, we would go to restaurants, we would have curry," Leveretter said. "You would think some of the best food there would be sushi and seafood, but I think one of my favorite restaurants was a steak restaurant. The steak was just so different there. I want to go back so bad, so I can just experience it as an adult."
Another shock was how safe it was in Japan. Though she was still too young to go places by herself, her parents felt comfortable with her older brother going both on and off post with his friends, without having to worry about a lot of danger and crime. When they moved back to the states in Georgia, the freedom and leniency she did have was adjusted tremendously.
Being back in the U.S. brought its own forms of culture shock as well.
"My dad is a big (Philadelphia) Eagles fan and he was also a big Duke fan," Leveretter said. "We moved to Georgia and everybody is a Falcons fan in Atlanta. I didn't know who the Falcons were. I didn't know any SEC basketball. I didn't even know what March Madness was. I had no idea about any of this because I was so young and all I knew was Japan. It was very different."
Her family stayed in McDonough, Georgia off post for about a year, then moved to South Carolina, where Nyah considers home. Her dad was placed at an airbase in Fort Sumter, but they lived an hour away in Blythewood, due to higher crime rates in the Fort Sumter area. This is where she would stay for the remainder of her middle and high school years. To finally be somewhere for a long period of time was an adjustment for her as well.
"It was really weird. I'm used to meeting friends, and having to be friendly really quick and not be shy and just be comfortable with people, and then the heartbreak of leaving," Leveretter said. "And this was before we had social media, so once I left Japan or Georgia, I just don't hear from them again. So, it just felt cool to finally be somewhere for a long time and to be stabilized."
Being in a military family, there are some ideals and practices that become so normal you don't realize it. For Nyah, that comes into play through her discipline and organization.
"I'm a very structured person. Like very. And I didn't realize it until I was around other people who weren't as structured," Leveretter said. "I felt like I was a structure maniac, and they weren't and it drives me insane. When people are late to things, it makes me tick so bad. And I didn't realize it was because I was raised this way."
This shows up for her as a student as well.
"Even when I'm turning in assignments, I don't like turning things in late," Leveretter said. "I don't ever do that. If I don't have an A, or at least a B, I'm mad at myself, like really mad."
She also found that because she had to move around and make friends so quickly, she finds it easier to mesh with new teammates.
"Robyn (Benton) was telling me the other day that I'm kind of like the mixer of the team," Leveretter said. "The team doesn't have cliques, but we have people that we talk to more so than others, but she said I'm not really like that. I talk to everybody and that's really the truth honestly, because I've had to go my whole life that way."
Leadership was another area she felt her military family background helps her in as a collegiate athlete. She is also on the team's leadership committee that Coach Kyra Elzy formed.
"Sometimes, we'll have meetings with the coaches-its about five or six of us- and we'll just talk about what we're doing for the team, what does the team need from us, what does the team need from the coaches because you know, we're the ones inside the locker room," Leveretter said. "Not everyone is going to be comfortable enough to just go up to Coach Elzy and literally tell her what they need, but they'll do that to us, and we can relay that information."
This has forced her to speak up more, which is something she struggled with her first two years on the team.
"That's something that Coach Elzy challenged me with this year," Leveretter said. "We have so many young players, so that's like a really big deal when you only have five returners, because we're the ones that know the standard and knows what she wants, so when we see things that are out of line and I don't open my mouth, we're going to be on the line running the next day , and nobody wants that."
When asked if she still made her bed everyday, she responded with a laugh.
"Oh no. When you have to be up at 4:30 in the morning for practice, you just get up, get out the bed, and hit the door," Leveretter said. "When I go home on breaks though, my dad and mom make me and my brother make up our beds."
Growing up in a military family has provided the foundation that makes Leveretter the person she is today.