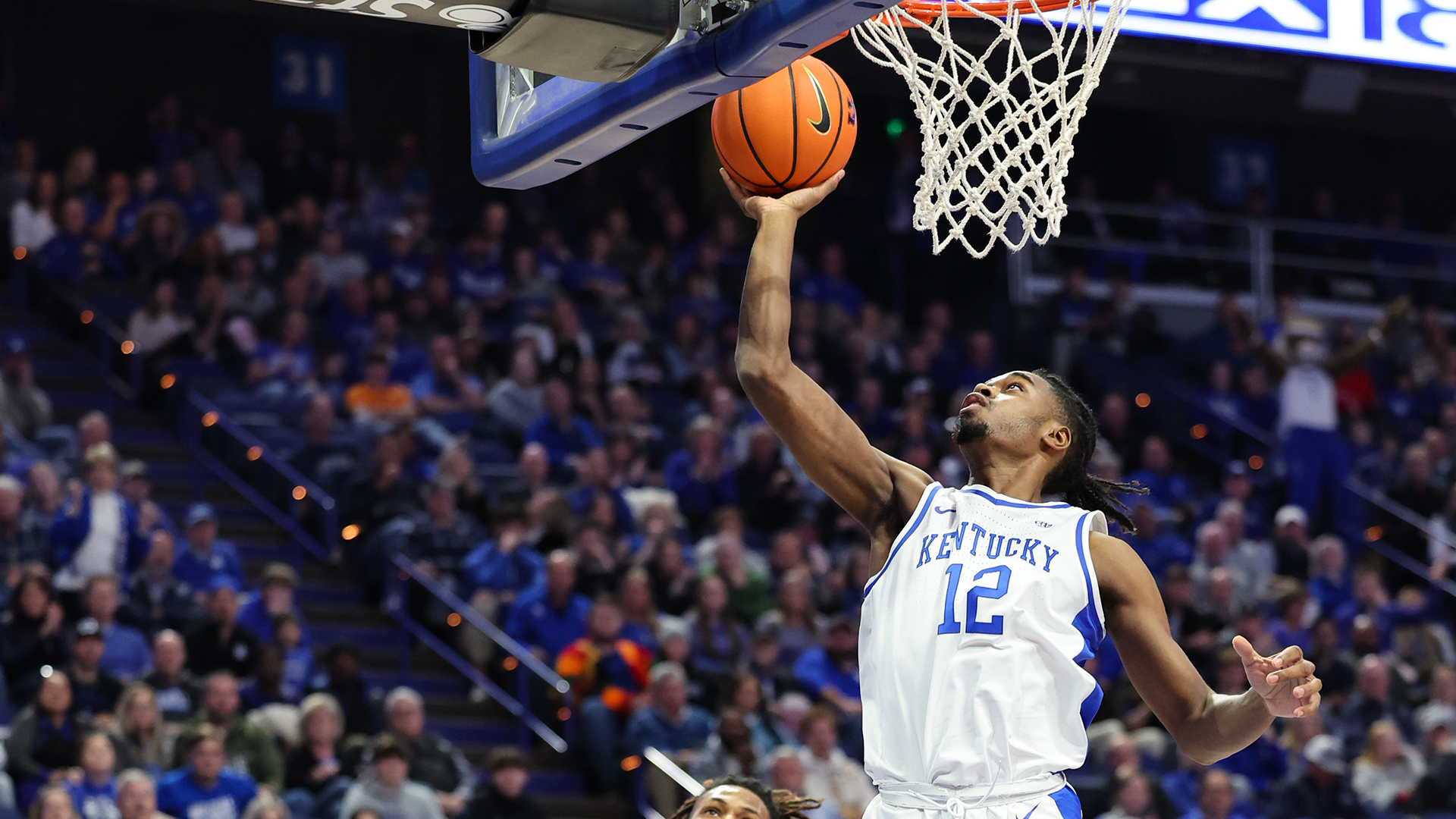 January 10, 2023 - 10:22 PM
Kentucky-South Carolina Postgame Notes
KENTUCKY MEN'S BASKETBALL POSTGAME NOTES
RUPP ARENA AT CENTRAL BANK CENTER | LEXINGTON, KY
JAN. 10, 2023
ATTENDANCE: 19,393
Final Score: South Carolina 71, Kentucky 68
Team Records and Series Notes
Kentucky is now 10-6 on the season, 1-3 in the Southeastern Conference.
South Carolina is 8-8, 1-2 in league play.
Kentucky holds a 54-14 advantage in the all-time series, including 29-3 in Lexington.
Next for UK: on Saturday, the Wildcats are at Tennessee for a noon game that will be televised on ESPN.
Team Notes
Kentucky opened with a starting lineup of Sahvir Wheeler, Cason Wallace, Chris Livingston, Daimion Collins and Oscar Tshiebwe for the first time this year.

Wallace was limited to just eight minutes because of back spasms and usual starter Jacob Toppin missed the game because of an injury sustained at Alabama.

Kentucky shot 50.9 percent from the field, the seventh game this season that the Wildcats made at least half their shots.
Coming in as one of the best rebounding teams in the nation, the Wildcats were outrebounded for only the fourth time this season, 32-28, and USC won second-chance points 21-12.
Player Notes
Oscar Tshiebwe had 19 points and 12 rebounds, his SEC-best ninth double-double of the season.

Tshiebwe has 37 double-doubles in 48 career games for UK.
He also had three steals, tying his season high.
He entered the game leading the nation with 13.2 boards per contest.

Dealing with a right-hand injury that forced him to miss the previous three games, CJ Fredrick played a season-high 29 minutes.

He had 14 points, most since the South Carolina State game on November 17.

Antonio Reeves had 13 points, his 11th double-figure game of the season.
Sahvir Wheeler had 10 points, his third straight game with double-figure scoring, with three assists.

This marked the 12th time this season and 83rd time in his career he led the team in assists.

Daimion Collins made his first start of the season and second of his career, also one during his freshman season in 2020-21. He had two points, four rebounds and blocked three shots while playing a season-high 21 minutes.
Cason Wallace scored four points in eight minutes in the first half but departed the game with a lower back injury and did not play in the second half.

Wallace entered the game as the only freshman in the nation averaging at least 12 points, 3.0 rebounds, 3.0 assists and two steals per game.

Jacob Toppin did not play because of an injury sustained in the Alabama game.
Coach John Calipari
Calipari is 16-5 vs. South Carolina, including 13-5 at UK.
Calipari has an 820-247 all-time on-court record and is 375-107 in 14 seasons at UK.
UK is 308-60 (83.7%) against unranked competition under Calipari.
Rupp Arena
Tonight's game ended UK's 28-game home win streak (last game of 2021 season, 18-0 in 2021-22, and 9-0 this season). It is the fifth-longest streak in Rupp history and was the second-longest active win streak in the nation.
Kentucky is 642-78 (89.2%) in the 47-year history of Rupp Arena.
Kentucky is 215-18 (92.3%) in Rupp Arena under Calipari.
In the First Half
South Carolina scored the first five points and had a 13-2 lead when UK called timeout at the 15:34 mark.
The Gamecocks extended the lead to 15 points, its largest of the game, at 21-6 at the 13:10 mark.
Kentucky pulled within four points at 26-22 but the Gamecocks steadied and went to halftime ahead 42-32.
Meechie Johnson scored 16 points for South Carolina in the first half, making 4 of 5 on 3-pointers. Tshiebwe paced Kentucky with 12 points and eight rebounds.
In the Second Half
Kentucky opened the second half with Wheeler, Reeves, Fredrick, Collins and Tshiebwe.
Trailing 59-48 with 12 minutes remaining, Kentucky rallied within 61-58, with 6:47 left.
South Carolina replied with eight straight points to push the count back to 69-58 with 3:58 to go.
Reeves hit a 3-pointer, Collins got a tip-in, Wheeler scored on a drive, and a Fredrick 3-pointer with 50 seconds left got the Cats within 69-68.
Jacobi Wright hit two free throws for South Carolina with 31 seconds left to make it 71-68.
The Wildcats had two shots to tie but were unable to do so as the Gamecocks held on to win.