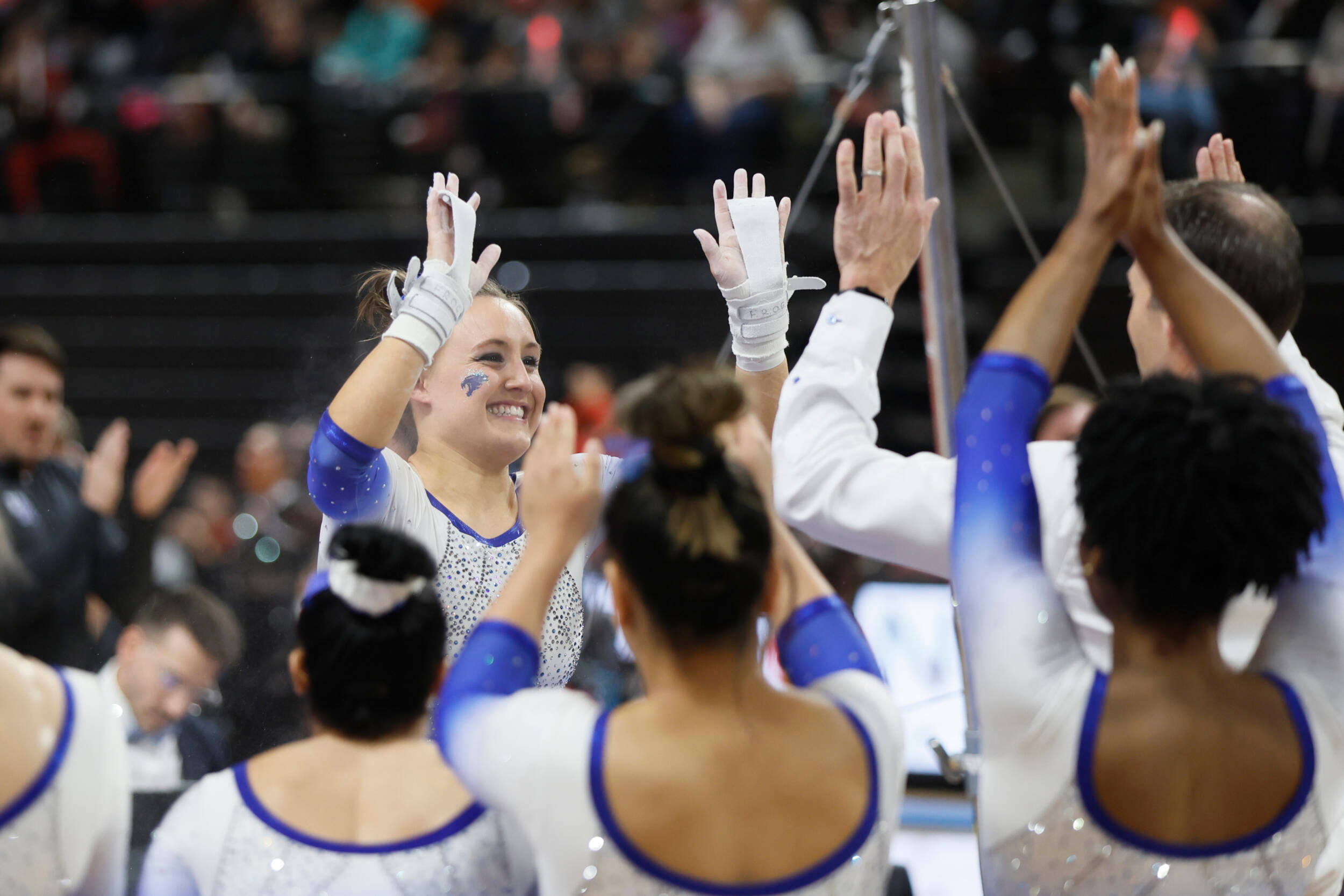 January 8, 2023 - 06:12 PM
Kentucky Gymnastics Completes First Meet of 2023 Campaign
COLUMBUS, Ohio – The No. 11 University of Kentucky gymnastics program began its 2023 meet slate on Sunday facing host No. 19 Ohio State, No. 25 Arizona and Greenville, who made its program debut in Covelli Center.
The Wildcats tallied an overall meet score of 196.575 placing second behind the Buckeyes (196.775) and ahead of the Arizona Wildcats (194.050) and Greenville (181.425).
Senior Raena Worley was the overall all-around winner with a total of 39.425 after all four apparatuses. Her best performance of the day took place on the floor exercise where she captivated the crowd with a 9.925-worthy routine. She also stood out on the balance beam where she held the overall meet high score with a 9.900. Worley earned a 9.825 on vault and 9.775 on bars.
Starting the quad-meet on the uneven bars, senior Kaitlin DeGuzman was the top sport holder for the Cats with a 9.875 performance. She tied Ohio State's Colby Miller for the first-place finish overall. Hailey Davis (9.800), Annie Riegert (9.800) , Worley (9.775) and Jillian Procasky (9.775) also held top-10 overall spots for UK.
Moving on to beam, Worley led the meet with the judges awarding a 9.900 for her efforts. Isabella Magnelli was behind her in sixth place overall with a 9.875 while Procasky recorded 9.850. Bailey Bunn placed 10th with a 9.825.
Fifth-year Senior Arianna Patterson had the second highest score on floor, tying for fourth place overall with a 9.875. Ashlyn LaClair, Davis, Magnelli and Procasky found themselves in a seven-way tie for eighth overall scoring 9.825.
To round out the evening, Kentucky competed vault as its last apparatus seeing Procasky with the highest score for the Cats. She tied for second overall with a 9.825. Her all-around title tallied 39.325 placing her in third overall. Worley and Patterson each earned 9.825 from the judges while Wilson was awarded 9.800. All four Cats were in the top-10 overall placements for the meet.
Kentucky last competed against Ohio State in Memorial Coliseum in 2018 what the Cats came out on top with a final score of 196.850. UK last competed against Arizona in the second round of the 2021 NCAA Regional where Kentucky found success with a final meet score of 197.125. This will be the first meeting between the Cats and Greenville.
Head coach Tim Garrison will begin his 12th season at the helm of Kentucky gymnastics where he has guided UK to an appearance in the Women's College Gymnastics Association (WCGA) preseason poll each year. The Wildcats were ranked No. 13 at the start of last season and No. 12 at the start of both 2020 and 2021, following back-to-back top-10 preseason placements in what would prove to be historic 2018 and 2019 campaigns.
Nine out of 10 of Kentucky's 2023 regular-season opponents appeared among the WCGA's 36-team preseason group. The Cats will open the season Sunday on the road before hosting No. 6 LSU for Excite Night inside Rupp Arena at Central Bank Center on Jan. 13 at 6 p.m. EST.
Kentucky will face No. 20 Georgia (Jan. 20), No. 9 Missouri (Feb. 3), No. 2 Florida (Feb. 24) and No. 23 Illinois (March 11) on the road, as well as No. 7 Alabama (Jan. 27), Eastern Michigan (Feb. 10), No. 15 Arkansas (Feb. 17) and No. 5 Auburn (March 3) for senior night at home.
2023 single-meet tickets to all five Kentucky gymnastics home meets are now on sale through the UK Athletics Ticket Office.
For the latest on the Kentucky gymnastics team, follow @UKGymnastics on Twitter, Facebook and Instagram, as well as on the web at UKAthletics.com.