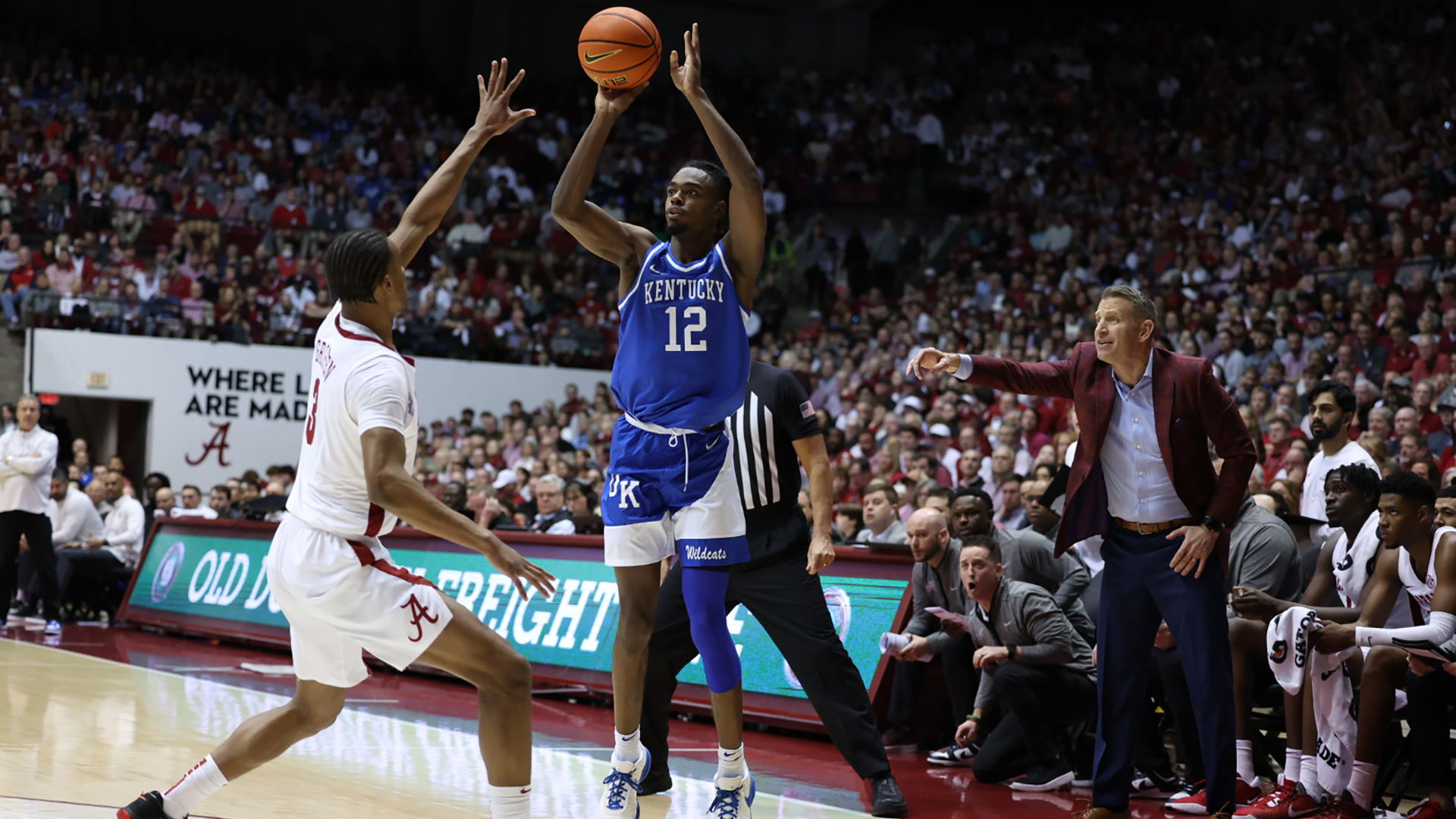 January 7, 2023 - 03:27 PM
No. 7 Alabama Tops Kentucky on Saturday
No. 25 Kentucky got off to a slow start in each half on Saturday against Alabama. And the second half Crimson Tide run proved to be too much for the Cats to overcome.
Alabama scored the first eight points of the game and took an early 11-2 lead. Kentucky was able to battle back, using tough defense to get back within one point on two occasions, the last at 20-19. But the Tide closed the first half on a 15-5 run to lead 35-24 at the break.
In the second half, the Tide started with a 13-3 run and Alabama went on to top the Cats 78-52 at Coleman Coliseum.
Kentucky (10-5, 1-2 SEC) struggled from the floor all day long. UK hit just 21 of 73 (28.8 percent) from the floor in the game, including just five of 20 (25 percent) from behind the arc. UK managed just seven assists on its 21 made field goals.
"We did what we wanted to do but we missed every shot," UK head coach John Calipari said. "You can't have your starters go three for 27, three of your starters, that you're banking on to make baskets and expect to win."
Alabama (13-2, 3-0) made 18 of 26 from the free throw line, while Kentucky took just eight free throws and made five.
"You've got to give them credit, they went right after us," Calipari said. "I'm disappointed that we did not play better because I thought we were ready to play a good game on the road. We're going to have to prove at some point that we can play on the road."
Antonio Reeves was one of the few bright spots for the Cats in this game. Reeves came off the bench to score 20 points, making seven of 13 from the field, including four of seven from behind the arc. Sahvir Wheeler had 15 points and three assists for Kentucky. Oscar Tshiebwe was held to just four points and six rebounds.
Kentucky returns to action on Tuesday, hosting South Carolina at Rupp Arena. Tipoff is set for 7 p.m. ET and the game can be seen on ESPN2.