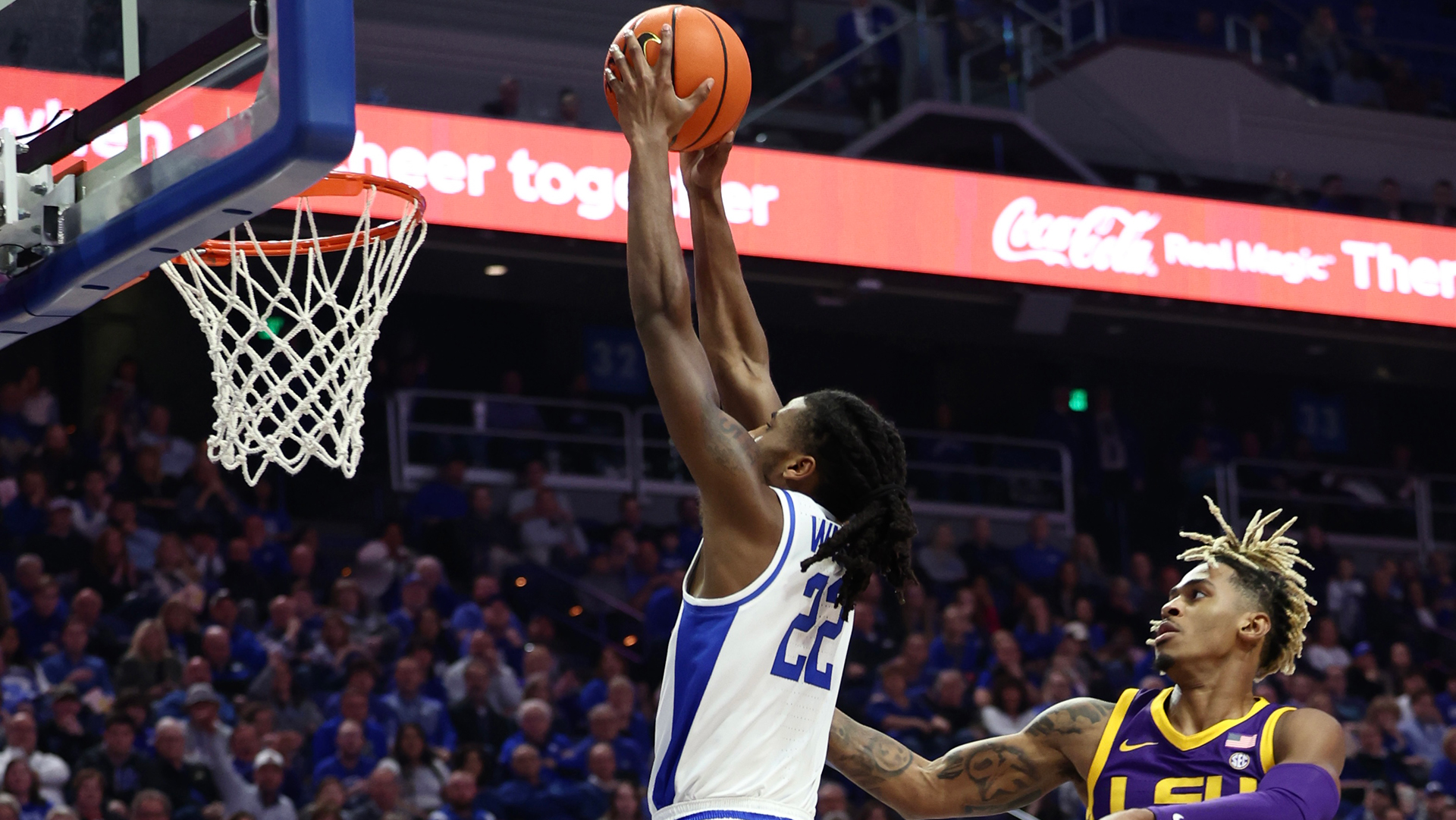 January 6, 2023 - 03:25 PM
Big Blue Preview: Kentucky at Alabama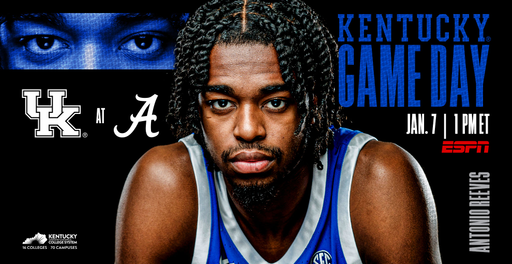 Winners of two games in a row, No. 25 Kentucky hits the road for one of its biggest tests of the season as the Cats visit No. 7 Alabama in Tuscaloosa.
Kentucky (10-4, 1-1 Southeastern Conference) beat Louisville 86-63 on New Year's Eve, then held off LSU 74-71 on Tuesday night. UK opened SEC play with a loss at Missouri.
The Crimson Tide has won three in a row, including its first two SEC games. Alabama won at No. 21 Mississippi State 78-67 on Dec. 28, then beat Ole Miss in T-Town 84-62 on Tuesday.
Alabama ranks second in the SEC and 15th in the country in scoring, averaging 83.3 points per outing.  The Crimson Tide is 12-2 overall and has twice beaten a top-ranked team this season. Bama topped then-No. 1 North Carolina in November. Two weeks later, Alabama beat then-No. 1 Houston on the road. Alabama has a 4-2 mark against ranked teams this season.
For those who like to look at common opponents, both the Cats and the Tide have faced Gonzaga. Kentucky went to Spokane in November and lost to the Bulldogs 88-72. Alabama faced Gonzaga in Birmingham in December. In that game, Gonzaga pulled away late to win 100-90.
As usual, Alabama head coach Nate Oats has his team shooting a ton of three-pointers. Alabama has hit 140 threes this season compared to just 78 for its opponents.
Brandon Miller leads the Tide in scoring. He's averaging 19.1 points per game, which leads the SEC and its 34th in the country. Mark Sears also averages double figures for Alabama, posting 14.6 points per contest.
Kentucky continues to be paced by defending National Player of the Year Oscar Tshiebwe, who is fifth in the SEC, averaging 16.8 points per game. Tshiebwe leads the nation in rebounds, averaging 13.8 per game.
The game will tip off just after 1 p.m. ET and it can be seen on ESPN.
#OscarWorthy Part II
Senior Oscar Tshiebwe is once again in the thick of the conversation for the nation's best player after sweeping every major National Player of the Year honor a season ago. Tshiebwe currently leads the Cats in points per game (16.8), rebounds per game (13.8) and field-goal percentage (.611) and is second in blocks per game (1.3) and steals per game (1.7).
• Oscar Tshiebwe's 23-point, 19-rebound game against Missouri was the fourth such contest of his UK career. He now has four of the seven games of 20 or more points and at least 18 rebounds by an SEC player in the last 10 seasons. No other player has more than one and the feat had not been accomplished since South Carolina's Sindarius Thornwell did so against Alabama on Feb. 7, 2017
• Tshiebwe also has tallied three 20-point, 15-rebound games so far this season after seven a season ago. He has 10 of the 52 20-point, 15-rebound contests by SEC players in the last 10 seasons
• Tshiebwe is one of two players in the NCAA this season averaging more than 15 points and 13 rebounds per game (Zach Edey – Purdue)
• He is the only player in the country averaging at least 15 points, at least 13 rebounds, at least 1.5 steals and at least 1.0 blocks per game
• Tshiebwe leads the country with 13.8 rebounds per game
• He leads the nation with 5.75 offensive rebounds per game and fifth with 8.08 defensive boards per contest
• With 1,224 points and 1,046 boards, Tshiebwe is one of two players nationally to total at least 1,000 points and 1,000 rebounds over the last four seasons, joining North Carolina's Armando Bacot (1,540 points, 1,148 rebounds). Tshiebwe has played 26 fewer games than Bacot
• Tshiebwe made his season debut at the Champions Classic and played 34 minutes in his first action of the season. Tshiebwe had a team-high 22 points and a game-high 18 rebounds
• In two games in the event (including last year vs. Duke), Tshiebwe averaged 19.5 points and 19.0 rebounds per game
• In just 46 games for Kentucky, Tshiebwe ranks 25th all-time in program history with 681 rebounds
• He has registered a double-double in 36 of 46 career games for the Wildcats, ranking fourth all-time in program history. Dan Issel owns the record with 64 over three seasons
• In 46 games as a Wildcat, Tshiebwe has never been outrebounded by an individual opponent. Two of his teammates (Jacob Toppin this season vs. South Carolina State and TyTy Washington Jr., last season against Ohio) have been the only players to outrebound him in a game
Floor General Wheeler
Sahvir Wheeler has paced the Southeastern Conference in assists per game in each of his last two seasons. He's once again leading the conference with 6.8 dimes per game. A Bob Cousy Award finalist a season ago, Wheeler is once again providing the Wildcats with one of the best floor generals in the country.
• Wheeler leads the SEC and ranks fifth nationally with 6.8 assists per game. He has generated two games with 10 or more, six with eight or more and 11 with five or more thus far
• Since the start of the 2019-20 season, his freshman season at Georgia, Wheeler's 628 total assists rank second nationally, only behind the 703 by Yuri Collins of Saint Louis
• A season after becoming just the fourth player in program history to amass at least 200 assists in a season, Wheeler is moving up the career charts as well. In just 40 games with the Wildcats, Wheeler already ranks 19th in program history with 296 dimes
Wallace Next Freshman Sensation
With a maturity well beyond his years and a calm and cool approach to the game, Cason Wallace has solidified himself as one of the best first-year players in the country.
• Wallace ranks fifth in the SEC and 30th nationally with 2.29 steals per game. The 2.29 steals per contest are the most in the country among freshmen
• He's induced at least one steal in all but one game, and has multiple steals in nine games thus far
• Wallace tied the UK single-game record with eight steals against Michigan State. Ashton Hagans (vs. North Carolina on Dec. 22, 2018), Rajon Rondo (vs. Mississippi State on Feb. 19, 2005) and Wayne Turner (vs. George Washington on Nov. 24, 1997) are the others to turn the trick
• Wallace is the only freshman in the country averaging at least 12.0 points, at least 3.0 assists, at least 3.0 rebounds and at least 2.0 steals per game
• Wallace recorded the second-most assists (9) in a UK freshman debut against Harvard, while becoming the first UK freshman in school history to have at least 15 points, eight rebounds, and nine assists in a collegiate debut
• Wallace was one of only two freshmen to accomplish the season-opening feat since the 2010-11 season, joining Lonzo Ball, who went for 19 points, 11 assists, eight rebounds and two steals in a 119-80 win over Pacific on Nov. 11, 2016