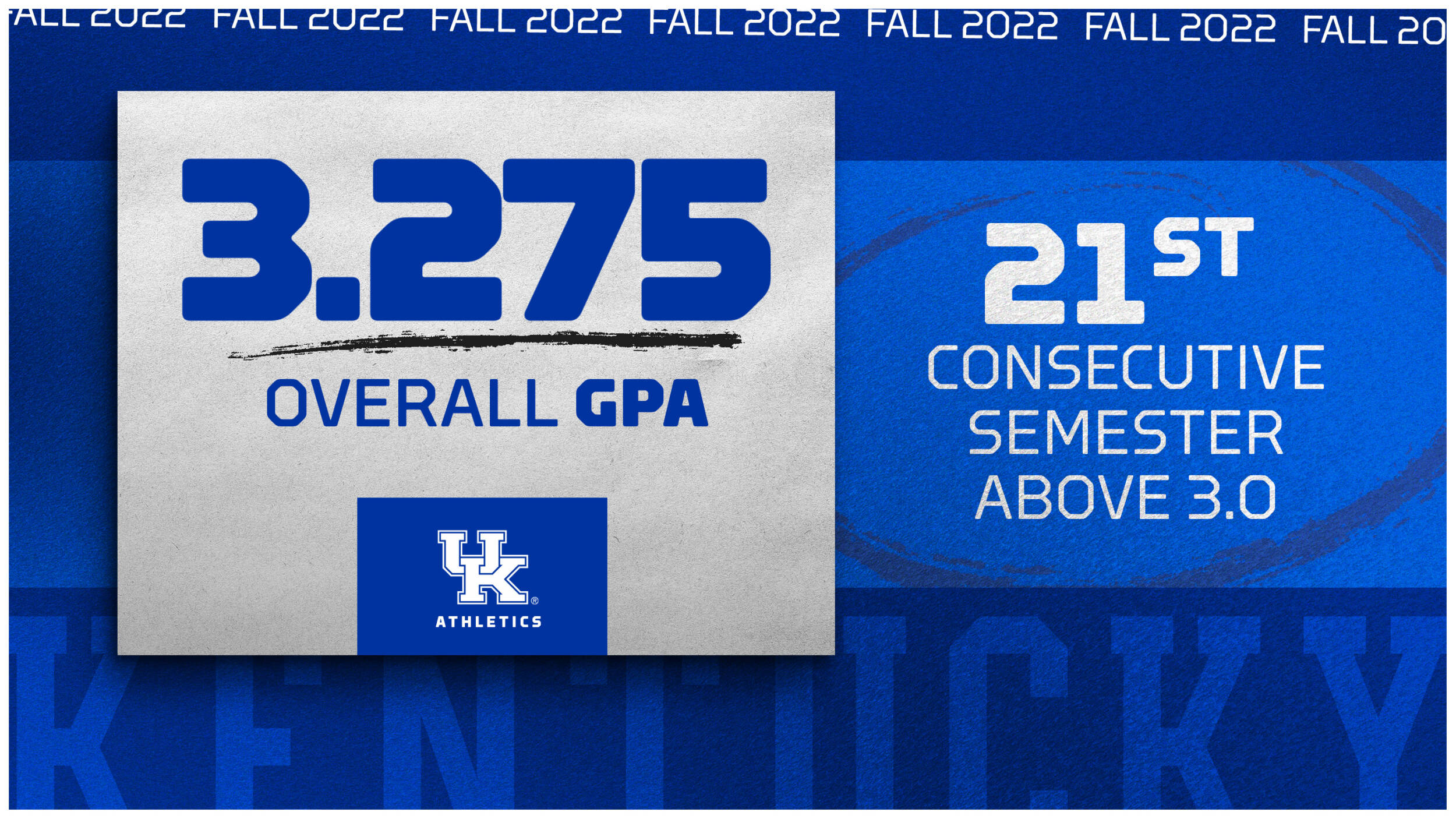 With grades for the 2022 fall semester now finalized, University of Kentucky Athletics has surpassed its goal of a 3.0 cumulative grade-point average for 21 straight semesters, as Wildcat scholarship student-athletes combined to achieve a GPA of 3.243. Including non-scholarship athletes from all-sports, the overall UK Athletics GPA was 3.275.
The gymnastics team led the department with a fall GPA of 3.767 among scholarship student-athletes. The golf team led the way for UK men's sports, posting a GPA of 3.578 among scholarship players.
Individually, 411 Wildcats achieved a GPA of 3.0 or higher, including 109 Cats who reached 4.0 for the semester.
UK's high marks in the fall semester continue the trend of strong academic news:
In November, UK student-athletes tied the school record in the NCAA's Graduation Success Rate with a mark of 92 percent.  UK has broken or tied the GSR school record every year since the NCAA began measuring that statistic in 2005. UK's 92 percent is three points above the Division I national average of 89 percent.
Including the 2022 spring and fall commencements, 156 Wildcat student-athletes earned degrees or certifications during the calendar year – 14 of whom were master's degree graduates.
UK Athletics supports the academic success of its student-athletes through CATS – the first academic center of its kind dedicated solely to serving student-athletes. CATS is an important component of UK's Student-Athlete Experience division, which prepares student-athletes to enter life after UK.
University of Kentucky – Fall 2022 Team GPA Report
Sport
Competing
Scholarship
Competing Scholarship and Non-Scholarship
Baseball
3.501
3.505
Men's Basketball
2.816
3.005
Women's Basketball
3.144
3.144
Football
2.592
2.720
Men's Golf
3.578
3.578
Women's Golf
3.606
3.606
Gymnastics
3.767
3.709
Rifle
3.491
3.491
Men's Soccer
3.460
3.460
Women's Soccer
3.501
3.517
Softball
3.570
3.567
STUNT
3.429
3.363
Men's Swimming and Diving
3.195
3.192
Women's Swimming and Diving
3.565
3.595
Men's Tennis
3.312
3.309
Women's Tennis
3.496
3.596
Men's Track
2.964
3.073
Women's Track
3.162
3.232
Men's Cross Country
3.384
3.540
Women's Cross Country
3.484
3.411
Volleyball
3.188
3.225
Men's Sports
3.072
3.123
Women's Sports
3.444
3.436
Overall
3.243
3.275